What are the winners of 2020
Some companies stock prices soared last year amid the Covid-19 pandemic. Keep reading to find out which company's stocks gained the most.
The biggest price gains
The Financial Times recently published a report ranking the top 100 companies that saw the biggest price increases during 2020. In its analysis, the Financial Times looked at every public company with a market value of at least $10 billion at the start of 2020. We zoom in on the top five, which are all either American or Asian companies.
Tesla
While investors and analysts alike often debate if Tesla is overvalued or not, it is without question that the electric carmaker had an impressive run in 2020. Prices climbed by 787%, ending the year with a $669 billion market cap. To put this staggering amount into perspective, in December 2020, Tesla's market cap was greater than that of Toyota, Daimler, General Motors, Volkswagen, BMW, Honda and Ford combined.
Aside from becoming the most valuable car company, Tesla's stock made headlines for many other significant events. To name a couple, in August 2020, Tesla announced a five-for-one stock split, citing that it would make stock ownership more accessible to employees and investors. It also made history in December 2020 as the most valuable company to join the S&P 500.
Tesla released its fourth quarter results at the end of January 2021. Some highlights were that it was Tesla's first annual net profit ever, and there was a record amount of vehicle deliveries on a yearly basis.
Fun fact: Tesla was the overall most traded stock via our platform in 2020.
Sea Group
Sea Group takes the number two spot, with prices increasing by 446%. If you are unfamiliar with Sea, it is a leading consumer internet company based in Singapore.
The company operates three core businesses: Garena, Shopee and SeaMoney. Garena is a global online games developer and publisher, creating popular games such as League of Legends, Free Fire and Call of Duty Mobile. Shopee is its e-commerce shopping platform and is the largest pan-regional platform of its kind in Southeast Asia and Taiwan. Lastly, SeaMoney offers digital payments and financial services in Southeast Asia.
In the third quarter of 2020, the three segments of Sea's revenue, Digital Entertainment, E-commerce & other services and Sales of goods, all saw significant year-over-year increases of 72.9%, 113.1% and 199.3%, respectively. Total revenue increased by 98.7% year-over-year, and gross profit approximately doubled.
Zoom Video<
With stay-at-home orders forcing people to rely on online communication platforms for work, school and/or social calls, Zoom became a rising star. Prices for the video conferencing company surged by 413% last year.
Zoom measures its customers as companies with more than 10 employees. At the end of Zoom's third fiscal quarter, which ended 31 October 2020, the company had 433,700 customers. This is a 485% increase from the same quarter in the fiscal year prior. Revenue growth was also three-digits. Revenues were $797.2 million, a 382% increase year-over-year.
More information and inspiration?
If you're interested in reading more financially related articles, visit the DEGIRO financial blog and read about:
The most traded stock on the DEGIRO platform, per month
How growth stocks are competing with value stocks
How to invest in silver and gold
Popular commission free ETF's you can trade with DEGIRO
ANT group IPO
Investing in the housing market
Tesla and Apple stock splits
The information in this article is not written for advisory purposes, nor does it intend to recommend any investments. Please be aware that facts may have changed since the article was originally written. Investing involves risks. You can lose (a part of) your deposit. We advise you to only invest in financial products that match your knowledge and experience.
Deemed authorized and regulated by the Financial Conduct Authority. The nature and extent of consumer protections may differ from those for firms based in the UK. Details of the Temporary Permissions Regime, which allows EEA-based firms to operate in the UK for a limited period while seeking full authorization, are available on the Financial Conduct Authority's website.
Author: Ron Smit
Author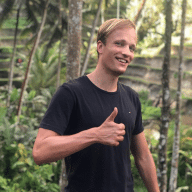 About
When I was 16, I secretly bought my first stock. Since that 'proud moment' I have been managing trading.info for over 10 years. It is my goal to educate people about financial freedom. After my studies business administration and psychology, I decided to put all my time in developing this website. Since I love to travel, I work from all over the world. Click here to read more about trading.info! Don't hesitate to leave a comment under this article.