How to buy ING shares (2023) – invest in ING stocks
This article provides information on how to invest in ING shares . You can also find a detailed analysis of the stock and examine the latest stock price.
When you buy ING shares, you invest in a company with a history. ING bank is a large, stable bank that has survived multiple economic crises. To achieve a good result with your ING investment, it is important to buy the stocks from a cost-effective platform.
Below are some brokers you can use to buy ING stocks:
| Brokers | Benefits | Register |
| --- | --- | --- |
| | Buy ING without commissions. Your capital is at risk. Other fees may apply. | |
| | Speculate on price increases and decreases of ING with a free demo! | |
| | Benefit from low fees, an innovative platform & high security! | |
What is the current stock price of ING?
The price of a stock is constantly changing. If you want to know the current stock price of ING shares, you can see how the stock has performed over time in the chart below. You can also use the buttons to place an order.
Company information of ING
Below is some key company information of ING.
Analysis of ING stocks
Before you decide whether to buy or sell ING shares, it is essential to analyze the stock first. The table below shows how ING has performed in the past.
Stock prices of ING for the last 5 days
The table below shows the stock prices of ING for the last 5 days:
If you're interested in what analysts predict for ING's future performance in 2023 and beyond, we have combined the predictions of analysts using Alpha Vantage data. Keep in mind that this is only a prediction about the stock's future performance and may not come true.
Diversification: ING provides different financial services, which makes the bank less dependent on a specific product.
Sustainability: ING emphasizes sustainability, which can attract customers who consider this important.
Strong brand: ING is a globally recognized brand with a growing number of customers on its online banking application.
Strong financial position: ING has achieved solid results for years, which makes it an appealing investment.
What risks should you consider when investing in ING Bank stocks?
Interest: ING's profitability depends on interest rates. In a low-interest environment, it may be more difficult for the bank to generate a profit.
Competition: ING faces strong competition from other large, international banks.
Credit risk: ING makes money by lending money. When parties cannot repay the borrowed money, the bank may face difficulties.
External factors: ING depends on external factors like the economic situation for its success or failure.
How to invest in ING stocks?
Step 1: You need an account with a stockbroker to invest in ING shares. It is important to compare the different options to discover which party best suits your needs.
Step 2: Before you can start investing in ING shares, you need to activate your account. You can activate your account by uploading a copy of your passport and address.
Step 3: You can now deposit money directly from your bank account to your stock account. Then, select the ING share within the trading platform to place an order immediately.
Step 4: Enter the amount you want to invest. You can choose between a market order that opens the investment immediately or a limit order that sets a maximum price.
Step 5: Don't forget to regularly evaluate whether ING shares still fit within your investment strategy.
Before you buy ING shares, it is essential to understand the strengths and weaknesses of the bank. In this brief analysis, we analyze the ING stock.
The role of interest rates
Low-interest rates are not beneficial for banks. After all, banks make a profit with the so-called interest margin.
An interest margin is the difference between the interest rate the bank itself pays and the interest rate the bank can charge on loans. A bank, for example, makes an X percentage profit on a mortgage. However, when interest rates fall, this margin decreases.
Interest, therefore, plays an important role in the price development of the ING share. If interest rates increase in the future, this could be good news for the bank. In such a case, you can actively invest in ING shares.
In 2023, the ECB started raising interest rates, which makes it easier for ING to make a profit. This is also positive for future price expectations.
MiFID II
MiFID II has also not been favourable for ING shares, which is reflected in the stock price of the company. MiFID status for Markets in Financial Instruments Directive.
The purpose of this legislation is to better protect European investors. However, the result is that banks need to hire more people to remain compliant. These requirements put pressure on the profitability of ING Bank.
Settlements
The importance of compliance for banks can be seen in the money laundering lawsuit that took place in 2018. The bank then paid a fine of 675 million and also had to repay another 100 million in profit. This settlement has significantly reduced the profit for the year 2018.
The bank naturally tries to prevent such situations in the future. However, this requires a lot of extra staff. In 2018, for example, personnel costs increased by more than 8.6%.
Strong growth points for ING Bank
Digitalization
The ING bank is also working on digitization, which could reduce costs. I have already had experience with this myself. When I took out a mortgage via ING, the process was fully digital.
The digitalization would save ING 900 million on an annual basis. Do you think this will be beneficial for long-term results? Then it can be smart to buy ING shares!
Dividend
ING pays out dividends twice a year. As a shareholder, this is a solid source of income. The quarterly figures also seem to continue to grow steadily. Overall, ING seems to be a stable investment.
Too big to fail
The ING bank is a massive bank with a significant stake. In the past, it has been shown that when things go wrong, the government is willing to step in. This is an extra consideration that can help you in deciding whether to invest in ING shares.
However, you should not rely solely on this. In the past, we also thought very arrogantly that banks were too big to fail. In 2008, it turned out that this is not always the case. Moreover, as a shareholder, you often lose your investment when a bank is nationalized.
ZKRP Development
Also interesting is the development of ZKRP by ING Bank. This is a code within the blockchain that allows certain information to be anonymized. This code can guarantee that certain data is correct, without showing the figure itself.
If you have confidence in ING's innovative capabilities, an investment in ING shares might be worth a consideration.
Sustainability
Sustainability is a hot topic, and the ING bank makes this a key element in their strategy. Since 2017, ING Bank has only invested in green projects. If the project is not green enough, the company refuses financing. Recent research by Sustainalytics indicated that ING is the most sustainable bank in the Netherlands.
Social media
ING Bank is also very active on social media. By using social media, the bank can reach a whole new target group. The company has even won the Digital Dominance Award. If you trust that ING will put together better campaigns than its competitors, buying ING shares could be a good idea.
Long-term investment
ING Bank could be a good long-term investment. It is a company that has been around for over 100 years. There is an enormous amount of knowledge to within the company an the brand is widely recognized.
More information about ING
Mission and values
A company without a vision is like a ship without a captain. Fortunately, ING definitely has an ambitious mission. ING aims to become the most chosen bank worldwide, without acting unethical.
In addition to ethical values, ING Bank also focuses on accessibility and safety. ING is currently active in over 41 countries and is constantly looking for new regions to expand to. This diversification makes an investment in ING Bank less risky.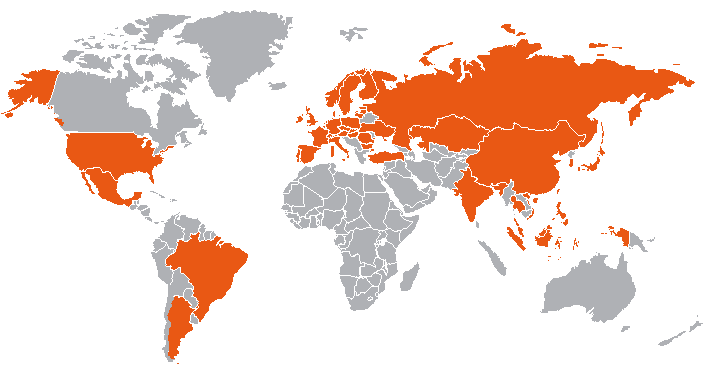 Services and interests
ING Bank is massive in retail banking, which involves offering various services to consumers, such as maintaining a bank account. At the same time, the company also invests in other businesses. For example, ING Bank has a stake in the Chinese bank "Bank of Beijing."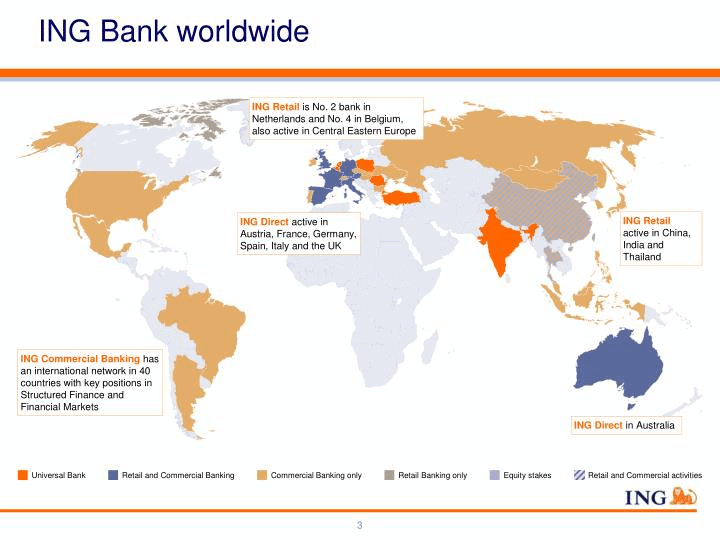 About ING Bank
The current ING was formed in 1991 through a merger of Nationale-Nederlanden and the NMB Postbank Group. The shares of ING Groep NV are listed on the stock exchanges of Amsterdam, Brussels, and New York.
If you want to invest in a banking stock, ING may be an interesting option. The ING brand is globally recognized and has a long history. Furthermore, the company offers various financial products in dozens of different countries, which lowers the risks of investing in ING Bank.
However, it is important to keep an eye on the economic climate. Changes in interest rates strongly affect ING Bank's results. It is also advisable to compare ING Bank with the competition to determine which investment is the most appealing.
Remember to always draw an investment plan: this helps you to avoid investing in stocks that do not match your risk profile.
Author