Opening positions when trading CFDs
If you want to invest in certain security via CFDs, you can open a position. In this article, we will explain how you can open and manage a trading position. For this tutorial, we used Plus500's trading platform. Once you understand how opening a position with leverage works, you are ready to start investing with an online broker.
Long or short: buy or sell
With CFD brokers you can go long and short. When you go long (buy) you speculate on a rise in the price of, for example, a share. When you short sell, you speculate on a fall in the price of a share.
You can use the buy and sell buttons within the Plus500 platform.

Opening position and leverage
When investing, you must decide how much you want to buy. If you want to trade in the Dow Jones with a leverage of 1 : 4 and a capital of $1000.00, you open a CFD position worth $4000 on the Dow Jones.
When you open a position, the value indicates the total value of the investment. The required margin indicates the minimum amount of money that must be present in your account to prevent a margin call. With a margin call you lose your entire trading position.
Do you want to know more about investing with leverage? In our article about trading with leverage you read everything you need to know: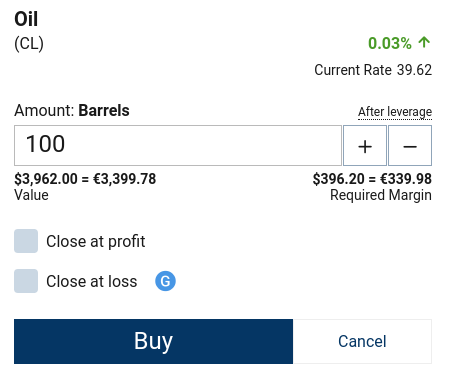 Illustrative prices. Open a position at Plus500
Take profit/stop-loss
It is always advisable to enter a take profit and stop loss. These are the values ​​at which you close the position automatically.
Within the Plus500 platform, you do this with the close at profit and close at loss buttons.

Orders: buy at a certain price
The nice thing about trading with CFDs is that you can also use orders. You only buy or sell a security when a certain value has been reached. When you combine orders with a take profit and stop loss, you can develop an automatic investment strategy yourself where you only have to update your orders a few times a week.
For this, you can use the option only to buy when the price is at Plus500 under advanced.

Manage open positions
With an open position, you can always see the profit or loss. You can close a position manually at any time. However, always do this because it fits your strategy. It is also possible to adjust other aspects of your trade like the take profit and stop loss.
When a position is closed, you will see the result under closed positions. Your win or loss is automatically updated when trading in CFDs. You can read how this works here.
Author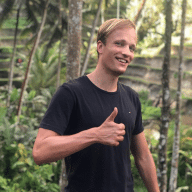 About
When I was 16, I secretly bought my first stock. Since that 'proud moment' I have been managing trading.info for over 10 years. It is my goal to educate people about financial freedom. After my studies business administration and psychology, I decided to put all my time in developing this website. Since I love to travel, I work from all over the world. Click here to read more about trading.info! Don't hesitate to leave a comment under this article.