Trade risk-free with a small amount
In this article we look at how you can trade risk-free with a small amount.
Risk-free trading
Want to trade completely risk-free? You can! Nowadays, several brokers offer you a way to try-out trading completely risk-free using a demo account. Opening an account with a broker usually only takes a few minutes, and you can get started soon after. You can receive a registration bonus for your real money account:
eToro: trading CFDs, free demo of 100,000 dollars. Sign-up now >>
Markets.com: trade in Forex, free bonus of 50 pounds (T&C apply). Sign-up now >>
How do you start
After you've opened the account, it can be tricky to know where to start. With a free bonus, you can at least try a broker. However, the most fun is, of course, making money right away. To get good results trading, you must develop your own trading system or strategy. In this article I will talk about how I trade using an example.
Keep in mind that this article suits my trading system. At the end of the day, everyone has his or her own trading style, and it is important to experiment so you discover what trading style fits you best. You can experiment with a small amount of money.
Search for important levels
With my own trades I use a lot of technical indicators. Before you jump into complicated indicators like moving averages and Fibonacci levels, you should start with the most important levels. Important levels are those that the price can't seem to break through.
Discovering these levels won't make it possible to completely trade risk-free, but it increases your chances of success greatly. To discover an important level, you must zoom out. Doing so gives you a better look at the situation on the market and you can discover these levels.
Example: trading AUD/USD
The price of the Australian dollar has reached an ultimate low against the American dollar and it hasn't moved away from this low level for a few years (11th of June 2013).

When the level was tested again after a while, the price went up and I took a buy position on AUD/USD. Thus I would make money if the price went up. The last time the price went up a lot and by placing my stop loss just below the crucial level and by placing my take profit a lot higher, I would either make a lot or lose just a little.

By using a similar strategy, you can also make money trading when the price goes up! Risk-free trading is impossible, but by starting out with a small amount you can discover how to trade in a way that is 100% profitable.
Author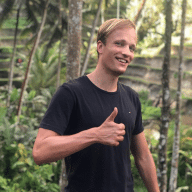 About
When I was 16, I secretly bought my first stock. Since that 'proud moment' I have been managing trading.info for over 10 years. It is my goal to educate people about financial freedom. After my studies business administration and psychology, I decided to put all my time in developing this website. Since I love to travel, I work from all over the world. Click here to read more about trading.info! Don't hesitate to leave a comment under this article.