What you need to know before you start trading
In this article we look at what you need to know before you start trading. Do you know how you can benefit from trading? Trading is no longer only for the rich!
What you need to know about trading:
Trading is not only for the rich; you can start with just 100 pounds.
Even in a downward market you can profit by shorting.
Trading doesn't take up a lot of time.
You don't pay any commission fees if you pick the right broker.
You can try-out trading for free through a demo.
Get started with a demo?
It's recommended that you start out with a demo. A lot of people know a little bit about trading, but not a lot of people actually try it out and dare to discover how good they can be at trading. The beauty of trading with a demo is that it is free and, when you are ready, you can start out with a small amount of money.
Want to try out trading with a free demo? Click here to compare accounts >>
Trading isn't just for the rich
The first thing you need to know is that trading is no longer exclusively something for rich people. There are many online brokers with low fees that private investors can also use to trade and make money on the exchange. An interesting extra feature is the presence of leverage. With leverage you can profit a lot with just a little stake of your own.
Leverage makes it possible to invest up to 2000 pounds with just 100 pounds of your own. You can decide to buy 2000 stocks worth 1 pound each with an amount of 100 pounds. And if the price of the stocks goes up by just one cent, you profit 20 pounds! The great thing about leverage is that you can accelerate your results.
Market prices falling? Not a problem!
It is also important to know that a market that is going down can be your best friend. It used to be only possible to make money when the market was in an upward trend. Thanks to the introduction of shorting, that is no longer the case. When you short on a stock, you make money when the price goes down!
A huge advantage of this feature is the fact that you can profit from negative news. Rumours can collapse the price of a stock. For example, if the price goes down by ten percent, you can profit greatly! This is especially true if you combine the short with the earlier-mentioned leverage.
Trading isn't extremely hard…
You don't have to be highly intelligent to be a successful trader. Think to yourself; are your smart friends really rich? The answer is probably no. History has shown that anyone can be successful at trading. It is all about the mindset.
With trading there are two important skills that you need to learn: managing the risks and dealing with losing. Once you have mastered these skills, you can become very successful regardless of your age, background or education.
Basically, there is only one thing that you really need to know about trading: Trading is profitable and anyone can get started for free.
Author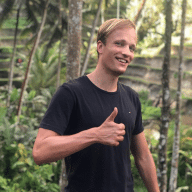 About
When I was 16, I secretly bought my first stock. Since that 'proud moment' I have been managing trading.info for over 10 years. It is my goal to educate people about financial freedom. After my studies business administration and psychology, I decided to put all my time in developing this website. Since I love to travel, I work from all over the world. Click here to read more about trading.info! Don't hesitate to leave a comment under this article.