Investing in Ripple or XPRs: how do you buy it?
Cryptocurrencies are booming! Most people know exactly what the Bitcoin is, but other digital currencies like the Ripple are regularly overlooked. That's too bad! Especially when you consider that by investing in multiple cryptocurrencies you can spread your chances. In this article we look at how you can invest in Ripple, and we also look at the possibilities of this digital currency.
What is the Ripple?
Much like the bitcoin or Ethereum, Ripple is also a cryptocurrency. Nevertheless, there are some important differences. For example, the Ripple is not entirely decentralized: there is a party that determines how many Ripple currencies are coming on the market. Currently, one billion Ripples or XPRs are being released each month. There are still 55 billion XRPs reserved on an Escrow account. If the newly released Ripples are not sold, they will return to this safe.
But what is unique about the Ripple next to the fact that this currency is centrally controlled? Well, the ambition of the Ripple is unique. With XPRs, attempts are being made to build bridges between different physical and non-physical currencies. This is possible because with the Ripple, it is possible to immediately transfer a transaction to another country with extremely low transaction costs, such as a thousandth of a cent!
Investing in Ripple
One of the best ways to invest in Ripple is by investing in the short term in this currency. You do this with a so-called broker. You can then quickly buy or sell XPRs, which means you also can take advantage of shorter market movements. The Ripple is quite volatile, making it an attractive way to make a profit.
One of the few suitable brokers to trade in XPR CFDs is eToro. With eToro you can trade in XPRs by buying or selling the Ripple at the right time. An additional advantage of this provider is that you can try out unlimited possibilities with a demo. It is therefore wise to open a free account right away:

How big is the Ripple?
The Ripple is less well known than the bitcoin. However, the currency must never be underestimated. There are many more XPRs in circulation than there are bitcoins in circulation. The price of an individual Ripple light is obviously lower, but the total market capitalization is a lot higher. Ripple is therefore one of the largest digital currencies on the market.
What further contributes to the success of the Ripple is the fact that the Ripple network is supported by many large banks. The possibility to send money almost free of charge internationally is of course very attractive for large international banks. This attention can increase the profitability of the Ripple in the long term.
Why buy Ripple?
If you already have bitcoins, you may wonder why on earth you should also buy XPRs. Well, the answer is simple! Ripple and bitcoin complement each other nicely! The Ripple has various advantages over the bitcoin. It is, of course, possible to conduct a peer-to-peer transaction directly, which would make it possible to link a bank account with the Ripple network.
Moreover, transactions within the Ripple network are almost immediately validated and executed so that banks can quickly approve the transaction. This of course increases its user-friendliness.
The fact that the currency is issued centrally also provides necessary benefits. This means that measures can be taken more quickly in case of problems. Within the bitcoin network, a consensus of 95% is needed before action can be taken. This makes the algorithm behind this difficult to develop. With the Ripple these problems are not there, because the currency is controlled from a central point.
All these unique characteristics of Ripple make it attractive to buy XPRs. You can also benefit from currency fluctuations in this currency due to its volatility.
Author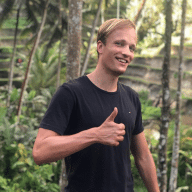 About
When I was 16, I secretly bought my first stock. Since that 'proud moment' I have been managing trading.info for over 10 years. It is my goal to educate people about financial freedom. After my studies business administration and psychology, I decided to put all my time in developing this website. Since I love to travel, I work from all over the world. Click here to read more about trading.info! Don't hesitate to leave a comment under this article.