DEGIRO review: my experiences with this broker
In this review you can read everything you need to know about the broker DEGIRO. In the short DEGIRO manual we will show how you can open your first trade with DEGIRO. We will also discuss the fees that DEGIRO charges their costumers. By combining this information you can quickly decide whether DEGIRO is right for you. Do you want to compare DEGIRO with other brokers? Check out our brokers compare page!
DEGIRO review conclusion
We thoroughly tested the possibilities at DEGIRO for this review. In our opinion DEGIRO is a great broker to buy and sell shares with. DEGIRO is especially attractive because of the relative low fees they charge. The software of DEGIRO is user-friendly, but does not offer many analysis options. DEGIRO will be a great choice for many investors.
Do you want to open an account with DEGIRO? Use the button to open an account with this broker directly:

What are the biggest advantages of DEGIRO?
DEGIRO is one of the cheapest brokers available.
Opening an account with DEGIRO is 100% free.
The software is user-friendly and easy to use.
Depositing and withdrawing money goes smoothly.
What are the biggest disadvantages of DEGIRO?
DEGIRO is not the best fit for active traders.
The options for analyses are fairly limited.
DEGIRO extensive review
We start the article with an extensive review of DEGIRO. If you want to read more about a specific functionality of this broker you can quickly navigate to the section by pressing one of the links:
How does opening an account with DEGIRO work?
Opening an account at DEGIRO is easy. To start, you only need to enter a login name and password.
After you have created an account, you will need to provide some additional information. All brokers are required to check whether the holder of the account actually exists. This way, brokers prevent criminals or terrorists from using the accounts to launder money. At DEGIRO you can choose from different types of accounts. We discuss these types of accounts here briefly:
Regular account
With a regular account, you can trade in all known securities. With a regular account, DEGIRO can lend your shares to third parties. Other parties regularly borrow shares to take a short position. When you take a short position on a share, you can make money on a falling price. DEGIRO receives a fee for the lending of the shares. This is not entirely without risk: the other party can go bankrupt and in theory you can then lose your shares. Fortunately, this rarely happens in practice.
Custody account
Personally, I feel the risk is limited and that is why I created a regular account at DEGIRO. But if you want to minimize the risks, you can choose to create a custody account. DEGIRO is not allowed to lend the shares within a custody account to third parties. A disadvantage of the custody account are the costs charged for receiving dividends.
Active trader account
You can also open an account for active trading at DEGIRO. With this account, you can trade in riskier derivatives. You also get more freedom: you can for example trade using margin. It is then possible to have a negative balance. However, you do have to pay interest on this balance.
In many cases, it is not advisable to use the margin. Invest only with money you can really afford to lose. Moreover, when you owe money, you must pay interest, and the return on your investments has to be a lot higher to achieve a good result. In any case, DEGIRO is less suited to active trade. If you wish to speculate, it is better open to an account with Plus500 or eToro.
What is the quality of the software?
At DEGIRO you make all your investments by using their online trading platform. The basic functionalities are present and opening or closing an order is fairly easy. However, you shouldn't expect miracles when it comes to the software.
The analysis options are quite limited. When you visit a company's company profile, you see some basic information about that stock. You can read a short description with general information about the company, and you can determine the earnings per share. If you want to make more extensive analysis, you need to use other external websites. The lack of extra information is therefore a disadvantage within this review.
Technical analysis
At DEGIRO you can perform technical analysis. The options are sufficient: you can choose from dozens of indicators that you can go back up to ten years. Besides these indicators, DEGIRO does not offer any other forms of advice or education.
Dividend and information
Dividends are automatically added to your account. In my opinion, the provision of information within the online software could be even better. It is sometimes unclear when, for example, dividends are credited. The DEGIRO software could be more user-friendly in this regard.
Mobile platform
You can also invest using DEGIRO's mobile trading platform. The mobile application has roughly the same functionalities as the online web trader. You can place orders and place shares in your favourites list with the mobile platform. The mobile platform makes it possible to track your investments on the road and you can make some adjustments if necessary. The mobile platform, like the web trader, is not very extensive, but offers the functionalities that you can expect. The mobile platform scores as sufficient in our review.
How high are the trading fees with DEGIRO?
The current cost of DEGIRO are clearly visible on the broker's website under fees. DEGIRO does not charge any custodial fees: you only pay for the investments you execute. The same fee applies for every (stock) transaction. There is usually a fixed part and a variable part. The fixed part does not change regardless of the number of securities you purchase, but the variable part obviously does.
For example, if you buy UK shares with DEGIRO you pay £1.75 + 0.014%. If you open a position for £1,000, you would pay £1.89 in transaction costs. If you open a position with a total value of £10,000 this increase to £3.15.
Do you want to know how high the costs are for different investment products at DEGIRO? In this part of the article you can discover which fees you pay for each investment product:
The low cost is a positive point in this review. On UK shares you pay £1.75 + 0.014% which is a lot lower than most competitors. The maximum cost you pay is £5. German, Canadian and US stocks can also be traded at DEGIRO. The costs on the more exotic exchanges such as those of Hong Kong, Japan and Singapore are significantly higher.
What are the costs of ETF's or index funds?
A big advantage of DEGIRO is that you can invest in many index funds without transaction fees. To do so, you must invest in a core selection ETF. These are, for example, the FundShare funds. With an index fund, you can monitor a market or sector at low cost. This can be an attractive way to build equity. It is advisable to take a look at the terms and conditions for this promotion on the website of DEGIRO.
On newly listed investment funds, you do pay higher transaction costs. You pay €7,5 + 0,1% or in some cases even €75 + 0.1%. So, be careful and pay close attention to the type of fund you are purchasing!
What are the costs of bonds?
You also pay low costs on bonds at DEGIRO. However, it is important to note that the choices are somewhat limited. At this moment you can only buy Dutch, Belgium, Portuguese, French and German bonds. Bonds from the Netherlands, Belgium, Portugal and France can be traded at €2 + 0.06%. German bonds are more expensive at €5 + 0.05% and some more exotic bonds are traded at even higher rates. So, be careful when you want to buy exotic bonds!
What are the costs on stock options?
The cost per contract on Eurex shares (Germany) is €0,75. One contract covers 100 shares, the cost per share is then €0.0075 which is very reasonable. German, Belgian, French and Portuguese options are also cheap to trade with DEGIRO.
On U.S. options, you pay only $0.50 per contract at DEGIRO. However, additional stock prices may be charged. For example, you pay €5 for using the market. Even if you only buy one share, you have to pay this amount monthly. Trading US options can therefore become expensive for small investors.
How much does executing an option cost?
To execute an option you pay €1 per contract at DEGIRO. In most cases, it is more attractive to simply sell the option.
How much does investing in futures cost?
On futures listed in Amsterdam, Brussels, Lisbon and Paris you pay €2,5 per contract. It is also possible to invest in American futures. The transaction fee for U.S. futures is $0.50 per contract. However, you will have to pay another $5 per calendar month to take advantage of the US market.
What are the currency costs?
To convert currencies, you normally pay 0.1%. So, when you buy shares in dollars, you immediately lose 0.1%. It is possible to convert currencies manually. You will pay €10 + 0.02% which can be cheaper in large transactions. If you can buy the share in your currency, this is always advisable.
What are the interest costs?
When you borrow money, you pay interest on it. Britain shares are 1.25% above LIBOR. This is cheaper than consumer credit, but can cause your return to fall significantly. Therefore, be careful to invest with borrowed money at DEGIRO.
How much do you pay for quotes?
The Amsterdam, German and American quotes (CME only) are completely free at DEGIRO. For the live quotes at other exchanges you must often pay. The costs vary from a few euros to €10.50. Do you want to trade on a foreign exchange? Then it is important to first consider how much you must pay for quotes.
What are the costs of short positions?
At DEGIRO you can also take a short position on a share. You are then speculating on a drop in the stock price. The rates for this vary depending on the risk of the share. On low-risk stocks you pay 1% and on high-risk stocks you pay 2%.
How much do you pay in case of a deficit?
When trading on margin, you may have to deal with a deficit. The costs of a persistent deficit are €50 + 0.5%. If you exceed the margin by 125% you pay €100 + 1%. So, it's important to make sure you do not exceed the margin on your account.
Are there any other exceptional costs?
Transferring a portfolio to DEGIRO costs €10 per position. When you place orders over the phone, this costs £8,5 extra. Processing dividends is free. When you opt for stock dividends, you pay €7.50 in fees. To subscribe to emissions you pay €2 + 0.02%. Transferring money is free.
For every stock exchange you trade on you also pay €2,5 in connection fees. This is a disadvantage for smaller traders, since it can drive up your transaction fees.
Conclusion: fees at DEGIRO
The fees are a positive point in our test of DEGIRO. Of all professional English brokers, DEGIRO offers investing at the lowest rates. Therefore, DEGIRO is suitable for building a portfolio.
What are the trading options at DEGIRO?
One of the most important elements in a broker's assessment are of course the trading options. At DEGIRO you have many investment options. You can choose from 60 stock exchanges which makes it possible to invest in more exotic countries like Turkey or New Zealand.
At DEGIRO you can between various investment products: from shares to funds and from leveraged products to bonds. At DEGIRO you can most probably find the security you want to invest in.
How can you place an order at DEGIRO?
I have already made some transactions with DEGIRO's software. In my opinion, the software can be somewhat more user-friendly, but generally does what it has to do.
After you have deposited money you can search for the asset you want to invest in. I have carried out profitable transactions with DEGIRO in Plus500 and ABN AMRO shares. You can see the results of these transactions with DEGIRO below:
When you want to open a position, you first must find the right security. With the search function, you can easily find the security you want to trade in. You can search by entering the name, the ISIN or Securities Identification Number or by using the symbol. After you found the security you can press the buy button to open an investment.
Many shares are traded on multiple exchanges. It is always advisable to select the stock exchange that lists stocks In your currency. When your account is for example listed in euros, it is cheaper to trade shares listed in euros. When you buy shares in another currency, you will have to pay additional transaction fees to exchange your euros for dollars. In addition, you will have to deal with an exchange rate risk.
Before you buy the stock, you need to provide some additional details. Within the order screen you can indicate how many shares you want to buy. You can also select the type of order. With a limit order you only buy the share at a certain price. With a  market order you buy the share regardless of the current price. You can then indicate whether the order should apply continuously or only during the day in question. You can also place an order for a certain amount if you only find it attractive to buy the stock at a lower rate.
If you want to protect funds, you can choose to enter a stop loss.  A stop loss is a value on which you automatically close the position. After you buy a share, you must create a separate order to automatically close it at a predetermined loss.
After you opened your position, you can find it under your open positions:
Do you want to sell your investment? Then all you have to do is press the sell button. With a market order, you will sell the securities at the current price.
How can DEGIRO be so cheap?
DEGIRO is a cheap broker that offers investing against low rates. How is it possible that DEGIRO is so cheap?
This is due to various decisions the company has made. The main reason for their cheap services is the fact that they have an extremely efficient IT structure and that they build all of their software in-house
DEGIRO also regularly lends securities; this is necessary to make it possible for customers to open short positions. Borrowing securities involves a small risk. It is however possible to disable this functionality. When you open a custody account instead of a normal account DEGIRO will not lend your securities to another party. A big disadvantage of this account type, is the fact that you pay extra costs when you receive dividends.
Finally, DEGIRO is working on obtaining economies of scale. At the moment, DEGIRO is active in roughly eighteen countries. By dividing the offices over a larger number of customers, the operational costs per transaction can be significantly reduced and this can help keep the prices low. However, DEGIRO does not have a significant market share in every country yet.
How can you deposit money with DEGIRO?
You can deposit money on your account at ANY time with DEGIRO. You can do this via the button book money in & out. You can then deposit money into your account by transferring money from your bank into your investment account. When you choose iDEAL, the money is deposited into your account directly. You do not have to wait to invest.
You can withdraw money at any time. In fact, you can transfer money to your bank account. It is only possible to withdraw the balance of your account. If you want to withdraw the amount of your portfolio, you must first sell the securities. The money is booked out smoothly and always hits your account within a few days. For that reason, depositing and withdrawing money is a strong point in this review.
Costumer service
DEGIRO can be reached both by telephone and e-mail. During downtime, you can always reach them quickly. When the markets are very volatile, DEGIRO sometimes has problems keeping track. For example, during the corona crisis, they can only be reached in English and indicate that it is better to send an e-mail. For that reason, their response time has increased significantly.
The customer service is of good quality when it works. However, I believe that they must be able to cope with special market conditions. For that reason, they only receive a sufficient score for their customer service in our review.
How safe is DEGIRO?
DEGIRO keeps customers' assets on separate accounts. When DEGIRO unexpectedly goes bankrupt, your money should be safe there. The money you deposit will also be placed in a separate fund. DEGIRO cannot touch this money unnecessarily. An investor compensation system even exists. If DEGIRO were to break these rules, you would receive a refund of up to €20,000.
The fact that DEGIRO has been around for over 10 years and serves more than 500,000 customers is also a good sign. For that reason, it is safe to deposit money with Plus500. I have been a customer with DEGIRO for a long time myself and I have never come across any shady dealings. Investing at DEGIRO is in my opinion therefore 100% safe.
Regulation
DEGIRO is overseen by the Financial Conduct Authority (FCA), as well as the Dutch National Bank (DNB). In addition, you can find DEGIRO in the register of the Chamber of Commerce under number 34342820.
Education and guidance
At DEGIRO you can find some information about investing within the investor academy.  The videos on their website are clear and can help you on your way. However, there is no advanced information available that can help you make in making investment decisions. In the field of education and guidance, DEGIRO does not score remarkably high in this review.
For whom is DEGIRO suitable?
DEGIRO is suitable for the private investor who has some assets. DEGIRO is a broker for the purchase of investment products for the long term. At DEGIRO you can, for example, buy popular stocks or trade in the Dow Jones.
In addition to these standard products it is also able possible to trade in bonds, options and index funds. The range of products is very extensive and the transaction costs are low. This makes it possible to start investing with small amounts of money.
The biggest benefits of DEGIRO
DEGIRO is one of the cheapest brokers available.
It is possible to invest worldwide on different exchanges.
There are no hidden costs: opening an account is 100% free.
It is possible to use a margin to invest with more money than you deposit.
Conclusion of review: investing In DEGIRO?
DEGIRO is a relatively new company with a strong drive to expand. Thanks to the cheap services and the basic yet simple software, it is possible for private individuals to invest advantageously in stocks with a modest budget. If you are looking for a broker with few bells and whistles and where you get value for money, DEGIRO is a solid choice.
Do you want to open an account with DEGIRO? Click on the button below and open a free account directly:
Author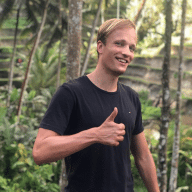 About
When I was 16, I secretly bought my first stock. Since that 'proud moment' I have been managing trading.info for over 10 years. It is my goal to educate people about financial freedom. After my studies business administration and psychology, I decided to put all my time in developing this website. Since I love to travel, I work from all over the world. Click here to read more about trading.info! Don't hesitate to leave a comment under this article.