eToro review & experiences (2023): is this broker reliable?
In this extensive eToro review, I investigate whether this is a reliable broker. After reading my experiences, you know exactly what the pros  & cons of this broker are.
What are the biggest pros of eToro?
Comprehensive offer: eToro allows you to trade in cryptos, currencies, stocks, and ETFs in one fell swoop.
Social trading: at eToro, it is possible to follow other traders, completely automatically!
No commissions: you don't pay commissions on stocks & ETFs with eToro.
Speculation: at eToro you can speculate on falling prices & use leverage.
User-friendly: eToro's software is user-friendly.
Free demo: you can try the possibilities risk-free with a demo.
What are the biggest disadvantages of eToro?
Withdrawals: you can only withdraw your money from $30 and you pay $5 for this.
No 24/7 customer service: you can only reach customer service via tickets or chat.
Dollars only: you can only open a dollar account with eToro.
Crypto Fees: the 1% transaction fees on crypto are high.
Try eToro for free with a demo!
In the rest of the review, I will share my extensive experiences with the trading platform. Are you wondering if eToro is for you? Then open a free demo account with this broker and trade risk-free with $100,000 in fake money:

What is eToro?
eToro is a trading platform that was launched way back in 2007 by three Israeli entrepreneurs. The company's focus was initially only on trading currencies, but its options have grown rapidly. By 2023, eToro is active in over 100 countries and has over 20 million users!
| | |
| --- | --- |
| Free demo: | Yes |
| Offer: | Stocks, Cryptos, CFD Commodities, Forex, ETFs |
| Minimum deposit: | $50 |
| Minimum withdraw: | $30 |
| Deposit money: | Bank transfer, PayPal & credit card |
| Costs: | Commission free on shares |
| Exchange costs: | 150 pips |
| Copy trading: | Yes |
| Costumer service: | Ticket |
| Account: | Dollar |
How can you invest with eToro?
Option 1: investing with eToro
You can use eToro to invest in stocks & ETF's without paying commissions (other fees applicable).
Option 2: Active trading with eToro
You can also choose to actively trade or speculate on eToro. Speculation is riskier and only suitable for short-term trades. When you speculate, you can use the following options:
Leverage: you can use leverage that allows you to take a larger position with a small amount of money.
Falling prices: with a short position, you can speculate on a falling price.
When you trade actively, you use a CFD. Would you like to know more details about how CFDs work? Click here!
How do you open an account with eToro?
Opening a demo account is easy with eToro. You only need to leave your name, E-mail, password, and telephone number.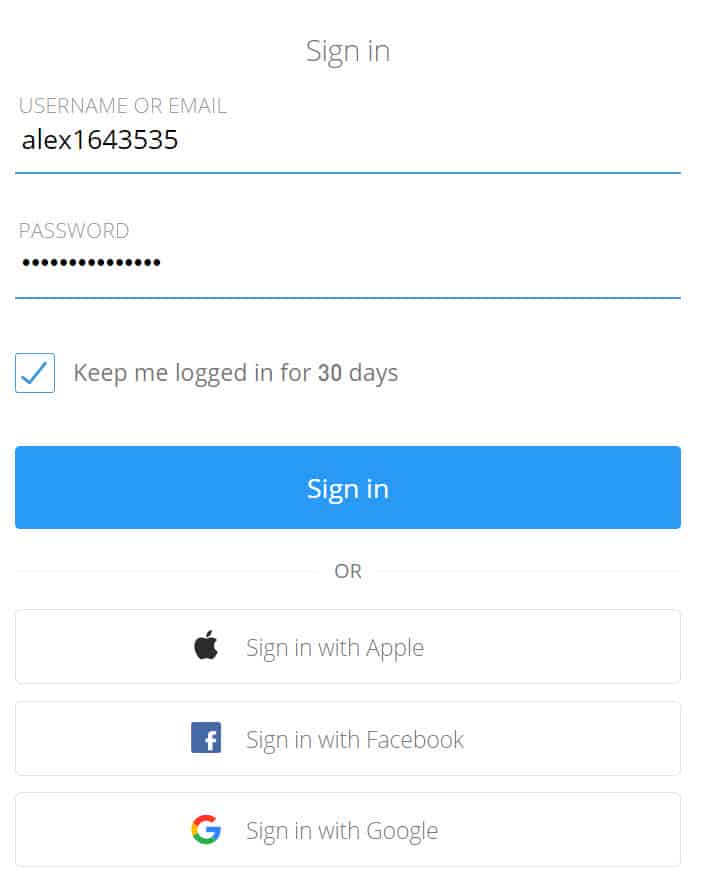 Do you want to trade with real money? Then you need to switch to a live account. The requirements for opening a real money account are a bit stricter. You have to confirm your identity & address. These are European guidelines to prevent customers from using eToro to launder money.
eToro also asks you a few questions: in this way, the broker can determine whether you have sufficient knowledge about trading.
Do you want to know how opening an account works? Then watch the video below:
Is eToro reliable?
eToro is a reliable broker in my opinion. In my experience, eToro is reliable because:
15 years in business: eToro has been around for over 15 years, which is an impressive achievement.
Regulated: eToro is regulated by the CySEC and FCA.
20+ Million Customers: Millions of people worldwide trust the company.
Segregated funds: Client funds are held separately from eToro's funds.
Cold storage: Cryptocurrencies are stored 'cold' as much as possible, which is safer.
Guarantee Fund: Your funds are guaranteed up to $20,000 in the event of problems with eToro.

eToro scores well on Trustpilot
How does eToro make money?
Some people believe eToro must be a scam. After all, how can a broker remain in business when no commissions are charged for stock investments? eToro still makes money in the following ways:
Crypto Commissions: eToro charges 1% commission on every transaction.
Interest: eToro may earn interest on customer funds.
Order flow payment: eToro receives an average of $0.00028 on every transaction
Spread: eToro makes money by calculating a spread on trades.
Leverage: eToro charges financing interest when you speculate with borrowed money.
Other Fees: eToro charges fees for inactive accounts and withdrawals.
eToro does not lend shares, which makes it a more reliable broker.
Unique to eToro is that they enable social trading. eToro is basically a kind of social network where traders come together to discuss the markets. Under each share, you can ask questions and discuss the stock.
Copytrader: follow other traders
With Copytrader you can follow other traders. You can copy the positions that other traders open on eToro into your account.
You can see the performance of each trader in detail. Within the copytrader you can see their monthly and yearly return. The overview also states the trader's risk class. Moreover, you have the opportunity to communicate directly with the trader, which fits perfectly within the social trading concept.
There are also some additional settings to protect your account. For example, with eToro you can automatically close your positions when a trader suddenly performs poorly. The great thing about the Copytrader, is that you can use this option without paying extra costs.

Past performance is no guarantee for the future
You do have to be careful when selecting traders to follow:
Assess the entire trading history: check whether they also show good results in the past.
Risk appetite: choose traders that fit your risk appetite. Some traders take bigger risks than others.
Be careful with following trades: it is wise to only follow new trades. Opening the existing trades is risky, as they may have already risen sharply.
Smart Portfolios: spread  your risks
Diversification is an important concept for most traders. By cleverly spreading your trades, you ensure that the risk of your trades decreases sharply. With eToro, you can also decide to follow portfolios. For example, a portfolio can consist of a basket of stocks in a particular sector. Other portfolios consist of multiple traders pursuing a particular strategy.
The Smart Portfolio is another way to automate your trading activities with eToro.

Past results are no guarantee for the future
How much does trading with eToro cost?
No Commissions: You pay no fixed commissions on stocks & ETFs.
Crypto commission: You pay a 1% commission on all crypto transactions.
Withdrawing Money: You pay $5 to withdraw money from eToro.
Inactivity: You pay $10 per month when your account has not been used for a year.
Spread: You pay a difference between the buy and sell price, read here how this works.
Conversion Fee: You pay 150 pips, which is equivalent to 0.15% for currency conversion.
Financing costs: You pay daily interest for keeping CFD positions open.
In my opinion, the fee structure of eToro is favourable. Especially for traders who want to trade small amounts in several shares, the costs are low compared to competitors. Given the high crypto trading costs, however, it is better to use Bitvavo.
It is a pity that you have to pay $5 for withdrawing money at eToro. On top of this, you also pay 0,15% when you deposit and withdraw money in a different currency than the dollar.
Would you like to read in more details how much trading with eToro costs? Then read this article!
What can you trade in at eToro?
You can trade in more than 2000 shares at eToro. It is possible to trade in shares & to actively speculate on the share prices. eToro also offers fractional shares: this means that you can buy a small proportion of an Amazon share. This makes more expensive stocks at eToro accessible to traders with a small purse.
ETFs
At eToro, it is also possible to trade in funds. This allows you to trade in the price development of the S&P 500 without paying commissions.
Raw materials
At eToro you can actively speculate in commodities such as oil and gold by using CFDs. This allows you to speculate on both rising and falling prices.
Forex
eToro is also a suitable broker for trading different currencies. Fore trading is also done by using CFD's.
Crypto
Recently, it is also possible to trade in crypto at eToro. The transaction costs of 1% are high compared to the competition. I prefer to trade at Bitvavo, where I only pay 0.25%.
How is eToro's software?
An important part of any review is a broker's software. In this part of the review, I share my experiences with the eToro software.
User-friendliness software
eToro's software is very user-friendly. You can quickly find all the assets within the software by using the search function. The icons make everything very visual, which makes it easier to recognize the different stocks.
Opening a trading position is also user-friendly. You search for the relevant share, press buy, and before you know it you have opened the position.

Charts and Technical Analysis
A strong point of eToro are the graphs. You can add different technical indicators within the software that can help you make trading decisions with confidence. You can draw horizontal levels, with which you can determine at what time it is attractive to buy or sell a share.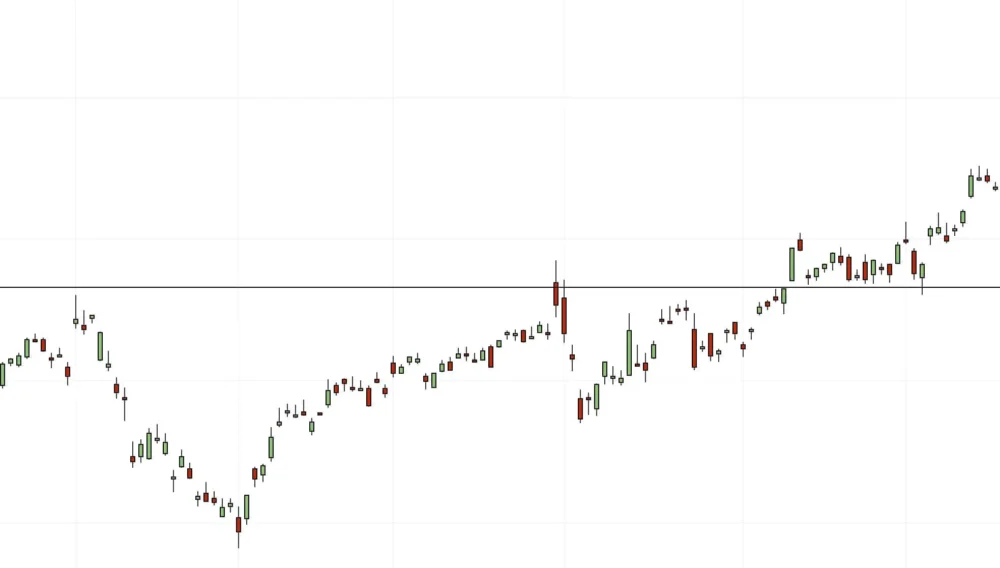 Background information
Another strong point within the review, is the that you can request all kinds of background information. You can find a written analysis for many traded shares. You can also find important figures about the company & you can see whether other traders are buying or selling the share.
Deposit & withdraw money at eToro
As soon as your account is confirmed, you can deposit money: this is possible from as little as $50. You can deposit money via all known methods: bank transfer and credit card are among the possibilities.
Is it safe to deposit money with eToro?
Depositing money with eToro is safe in my experience. Customers' money is kept in separate accounts to protect it in case of bankruptcy. eToro therefore cannot trade with costumers funds.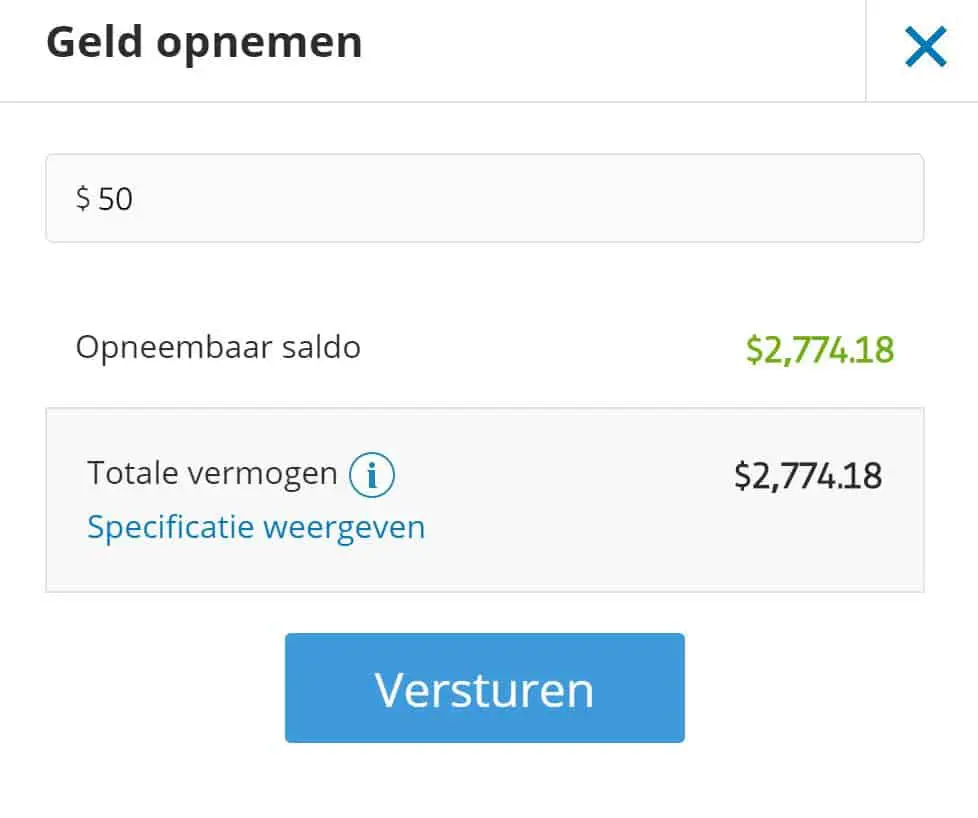 Withdraw money from eToro
Withdrawing money with eToro is a straightforward process! It is a pity that unless you are a Platinum, Platinum+ or Diamond member, you have to pay $5 to withdraw money. This is especially expensive when you trade with only $50: the withdrawal costs are then 10%!
In this part of the review, I'll show you how to buy a stock via eToro. First select the stock you want to buy and press the B to buy.

Then the order screen opens with which you can buy the share.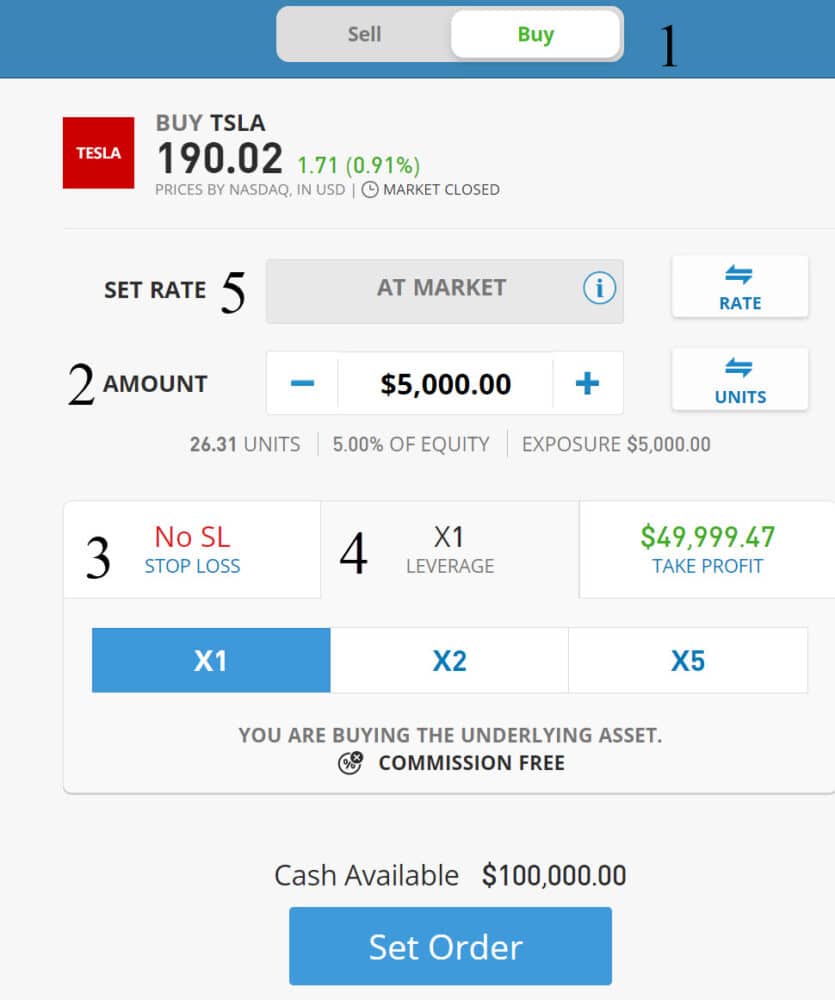 Buy or sell (1)
You can choose to buy or sell a security. When you buy you are speculating on a rising price and when you sell you are speculating on a falling price. Kindly note that you can only sell (= go short) by using CFDs.
Amount (2)
Decide which amount of money you want to invest in the specific stock. At eToro it is also possible to trade in fractional shares: you can therefore also enter an amount that is lower than the price of the share.
Stop loss & take profit (3)
A stop loss is a price level at which you automatically take your loss. You can also use a take profit to automatically take your profit at a certain level.
Leverage (4)
When you want to trade, leave the leverage at X1. You then buy the stock, and you can hold it for the long term.
It is also possible to use a leverage. You then speculate on the share price with a CFD. Note that when you use leverage, both the potential profit and the potential loss increase.
Trade or order (5)
With trading, you immediately open the position at the prevailing market price: this is also called a market order.
You can also place a limit order: you set the price at which you want to buy or sell the share.
Would you like to learn in detail how trading at eToro works? Then read the eToro tutorial!
How does the eToro club work?
With eToro, you automatically become a member of the eToro club when you have a large amount of money in your account. eToro distinguishes the following levels:
Silver: $5,000
Gold: $10,000
Platinum: $25,000
Platinum+: $50,000
Diamond: $250,000
With the silver level you can participate in live webinars, get a daily market overview and receive an 85% stake on your cryptocurrencies.
With the gold level, you also get weekly market analysis.
When you reach the platinum level, you don't pay any more withdrawal costs, and you receive a 50% discount on the conversion costs. You can then use the Trading Central research and analysis platform and receive a free subscription to the Wall Street Journal. Finally, as a platinum member, you will receive a personal account manager.
As a Platinum+ member, you will receive invitations to special events and tickets to sporting events. You will also get access to financial publications.
As a Diamond member, you receive premium access to financial publications, and you receive access to the special Diamond events. Finally, as a Diamond member, you also receive a discount on your crypto costs.
How is eToro's customer service?
Unfortunately, eToro customer service is not available by phone. When you have a question, you have to manually open a ticket. Only when you trade with large amounts, you get a personal account manager.
Conclusion review: how reliable is eToro?
I am very enthusiastic about eToro. The possibilities with this broker are enormous: you can trade in a wide range of trading products, and you can use various technical analysis tools. Unique to eToro is its social trading, which allows you to follow other members. I also think it's great that they offer commission-free trading.
Are you interested in eToro? Then open a (demo) account right away and discover if eToro is right for you:
eToro Frequently Asked Questions
In my opinion, eToro is a solid broker. Major advantages of the trading platform are the extensive options and the commission-free trading. Thanks to the user-friendly software, you will also quickly learn how to use the platform.
eToro is active in more than 100 countries and has well over 20 million users.
You can trade in more than 30 different cryptos at eToro. Examples include Bitcoin, Ethereum, Ripple, Cardanoo, IOTA, Stellar, Binance Coinm NEO and Tezos.
After you submit a withdrawal request, it normally takes up to eight business days before you receive the payment in your bank account. In my experience, you often receive the money quicker: I only waited two days for my payout last time.
eToro has 10 offices worldwide. The company's largest offices are located in the United States, United Kingdom, Israel, Cyprus, and Australia.
Risk Warning eToro
eToro is a multi-asset platform which offers both investing in stocks and cryptoassets, as well as trading CFDs.
Please note that CFDs are complex instruments and come with a high risk of losing money rapidly due to leverage. 74% of retail investor accounts lose money when trading CFDs with this provider. You should consider whether you understand how CFDs work, and whether you can afford to take the high risk of losing your money.
Past performance is not an indication of future results. Trading history presented is less than 5 complete years and may not suffice as basis for investment decision.
Copy Trading does not amount to investment advice. The value of your investments may go up or down. Your capital is at risk.
Cryptoasset investing is highly volatile and unregulated in some EU countries. No consumer protection. Tax on profits may apply.
eToro USA LLC does not offer CFDs and makes no representation and assumes no liability as to the accuracy or completeness of the content of this publication, which has been prepared by our partner utilizing publicly available non-entity specific information about eToro.
Author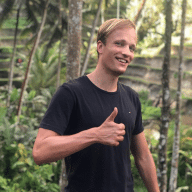 About
When I was 16, I secretly bought my first stock. Since that 'proud moment' I have been managing trading.info for over 10 years. It is my goal to educate people about financial freedom. After my studies business administration and psychology, I decided to put all my time in developing this website. Since I love to travel, I work from all over the world. Click here to read more about trading.info! Don't hesitate to leave a comment under this article.