How to buy easyJet shares (2023)? – invest in easyJet
Investing in an airline like easyJet can be interesting. But how to buy EasyJet shares? And what is the current stock price of easyJet? On this page, you will find all the information you need for your investment in EasyJet stocks!
Do you have confidence in the budget airline easyJet? Do you believe that the model of affordable flights can continue to exist in a world where flight shame is playing an increasingly important role? Then you can definitely consider buying easyJet stocks!
Below, you can see which brokers are best for investing in easyJet shares:
| Brokers | Benefits | Register |
| --- | --- | --- |
| | Buy EasyJet without commissions. Your capital is at risk. Other fees may apply. | |
| | Speculate on price increases and decreases of EasyJet with a free demo! | |
| | Benefit from low fees, an innovative platform & high security! | |
What is the current stock price of easyJet?
It is also wise to keep a close eye on the current stock price of EasyJet. Below you will find the latest price data for the EasyJet share. You can also open a position directly on the stock if you wish.
Company data for easyJet
Below, you can see the key company data for easyJet.
Stock prices of the last 5 days
In the table below, you can see the stock prices of easyJet from the last 5 days:
Why might it be smart to buy easyJet stocks?
Budget airline: EasyJet offers an extensive range of destinations within Europe and other regions.
Strong brand: EasyJet has built up a good reputation.
Efficiency: EasyJet emphasizes efficiency and has implemented various measures to make flights cheaper to operate.
Competition: Airlines face strong competition and relatively low profit margins.
Oil prices: EasyJet is highly dependent on oil prices for its profitability.
Regulation: an increasing number of countries raise taxes on flights. This can put pressure on EasyJet's profitability, especially since the airline is known for its budget flights.
What are the biggest competitors of easyJet?
How to invest in easyJet stocks?
Open an account: you need an account with a stockbroker to buy easyJet stocks.
Activate your account: activate your account by uploading a copy of your passport.
Deposit money: deposit money into your stock account so that you can buy easyJet stocks immediately.
Open an order: enter the amount you want to invest and click buy to buy easyJet stocks immediately.
Evaluate: regularly take the time to evaluate your investments. You can close your position at any time by selling the stocks.
Whether investing in easyJet is wise largely depends on the economic situation. People often cut back on luxury products like vacations when the economy is not performing well.
Nevertheless, the company seems crisis-resistant: during the coronavirus crisis, most of EasyJet's fleet was grounded. Due to the company's strong financial position, easyJet was able to survive.
EasyJet sells seats at cheaper rates than many competitors. Especially in economically uncertain times, consumers are searching for cheaper options: EasyJet is therefore more resilient and will be able to recover from an economic crisis more quickly than other airlines. An investment in EasyJet stocks is therefore somewhat less risky than an investment in other aviation companies.
About easyJet
easyJet is a low-cost airline which operates in Europe. They seek ways to keep costs as low as possible to offer their customers low fares. easyJet achieves this without lowering their level of service to their customers. Do you believe that easyJet can continue to grow? Then it may be attractive to buy easyJet shares.


Technology, Insight, and Customer Loyalty
easyJet uses various techniques to increase revenue and customer loyalty. By optimizing the data they have available, it is possible for them to build a good relationship with their customer in the long term. Do you think that the smart use of data can contribute to EasyJet's results? Then it may be wise to buy easyJet shares.
A Strong Position at European Airports
easyJet is actively working to further develop and improve their strong positions at European airports. This is done, among other things, by increasing the frequency of flights.
Cost Benefits for Customers
easyJet configures their planes to carry a higher number of passengers. They have a younger fleet than their competitors, which results in lower maintenance costs. easyJet is a well-known brand name and has a healthy balance sheet, which allows them to continue to grow in the future.
Dangers in the Aviation Industry
External Risks
There are various dangers within the aviation industry. For example, the coronavirus had a major impact on the industry. There are other factors that can be decisive for a shift in the sector, such as possible accidents with aeroplanes and terrorist attacks. These are serious issues that you should take into account when buying shares in an airline company.
As an active investor, you can take advantage of these types of events. For example, during the attacks on the World Trade Center, the stock prices of many airlines fell sharply. By speculating on a decreasing stock price by opening a short position, you can react to these types of events.
When actively investing in easyJet shares, it is important to keep a close eye on the latest developments. They can have a strong influence on the share price.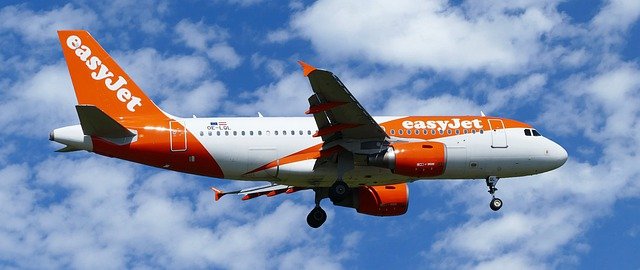 Opportunities and Risks in the Market
Investing in an airline like easyJet can be beneficial. In the future, people are likely to fly more. Global prosperity increases, and so is the market for a company like EasyJet which could be a good reason to buy EasyJet shares.
At the same time, we also see that so-called "flight shame" becomes more prevalent. People are more aware of the impact of flying on the climate. Conscious customers increasingly choose alternative modes of transportation. Governments can also introduce new laws that may be unfavourable for airline companies. All of this can put pressure on the stock price of easyJet and other airline shares.
easyJet is a well-known brand which transports an increasing number of customers around the world. The airline can also gain a larger market share, which improves their financial position. The low-cost business model allows easyJet to run their business at lower costs, which is positive for the company's profitability.
However, easyJet is vulnerable. Rising oil prices and more stringent regulations can put pressure on the company's profitability. It is also recommended to compare easyJet with competing companies. This allows you to determine if easyJet is the most attractive share to buy.
Author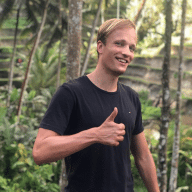 About
When I was 16, I secretly bought my first stock. Since that 'proud moment' I have been managing trading.info for over 10 years. It is my goal to educate people about financial freedom. After my studies business administration and psychology, I decided to put all my time in developing this website. Since I love to travel, I work from all over the world. Click here to read more about trading.info! Don't hesitate to leave a comment under this article.