How to buy Ryanair shares (2023) – invest in Ryanair
An increasing number of people take the plane on holiday. Not only because flying is now the norm, but also because flying is becoming increasingly affordable. If you book your airline tickets with Ryanair , you may only have to pay $10 or less for a ticket.
Because Ryanair sells cheap airline tickets, the company has grown tremendously recently. You can capitalize on this as an investor by investing in Ryanair shares. On this page, you can read directly how to buy Ryanair stocks.
You can decide to buy Ryanair shares. It is important to balance your stock portfolio well. Therefore, make sure that you don't just buy shares in airline companies. This ensures that the risks of your investments remain limited.
Are you looking for a reliable broker where you can buy Ryanair shares with just one click? Take a look at the overview of reliable stockbrokers:
| Brokers | Benefits | Register |
| --- | --- | --- |
| | Buy Ryanair without commissions. Your capital is at risk. Other fees may apply. | |
| | Speculate with CFD's on increasing & decreasing prices of Ryanair! 82% of retail CFD accounts lose money. | |
| | Benefit from low fees, an innovative platform & high security! | |
| | Speculate on price increases and decreases of Ryanair with a free demo! | |
What is the current stock price of Ryanair?
Are you curious about how Ryanair shares perform on the stock market? In the graph below, you can see at what price you can buy & sell Ryanair stocks. Use the buttons to immediately open an investment position:
Company data of Ryanair
Below, you can see the key company data of Ryanair.
Before deciding whether to buy or sell Ryanair shares, it is essential to first analyze the stock well. In the overview below, you can see how Ryanair has developed over the past period.
Stock prices of Ryanair of the last 5 days
In the table below, you can see the stock prices of Ryanair for the last 5 days:
What will Ryanair's stock price do in 2023?
Are you curious about what analysts think Ryanair will do in 2023 and the years after? We have combined the predictions of analysts using data from Alpha Vantage. Remember that this figure is only a prediction of Ryanair's stock price movements and that this prediction does not have to come true.

Low costs: Ryanair is known for its low costs, which allows it to offer flights at lower prices than its competitors.
Market share: Ryanair is the largest airline in Europe.
Strong financial position: Ryanair can still grow its revenue and profits.
Focus on additional revenue streams: Ryanair earns a large portion of its revenue by selling extra baggage, seats, and food.
The risks of investing in Ryanair stocks
European market: Ryanair's profitability is heavily dependent on the European market. When Europe performs poorly, the results can come under pressure.
New legislation: new regulations surrounding greenhouse gas emissions and taxes can put pressure on Ryanair's profitability.
Reputation: Ryanair's reputation is often under pressure. The conditions for its employees are reportedly poor.
Competition: Ryanair faces a lot of competition from other airlines, which limits its pricing power.
Type of aircraft: Ryanair only uses Boeing 737 aircraft. Technical difficulties with this aircraft can therefore lead to major problems for Ryanair.
What are Ryanair's competitors?
Wizz Air
Vueling Airlines
Norwegian Air Shuttle
How to invest in Ryanair stocks?
You can invest in Ryanair through an online broker. A broker is a company that allows you to trade shares on the stock market. You can find an overview of the best brokers here.
Then you can search and select the stock within the trading software of the broker. You can decide between two types of orders: the market order and the limit order. With the market order, you open the investment immediately at the current price, and with a limit order, you buy the investment at a price that you enter yourself. The latter option is particularly suitable for active traders.
Don't forget to perform a thorough analysis to determine if it's wise to buy Ryanair shares right now. You can use the following techniques:
Technical analysis: investigate whether there are specific levels where the price often experiences resistance.
Fundamental analysis: is there any news that could make buying Ryanair shares attractive?
It's also important to stay up to date with the latest developments, even after opening an investment in Ryanair stock.
Ryanair: general information about the company
Ryanair, also known as Ryanair Ltd, is an airline that was founded in 1985 by Christy Ryan, Tony Ryan, and Lian Lonergan. In the first years after its foundation, Ryanair was relatively unknown. However, this changed when the company started positioning itself as a budget airline. By being able to offer extremely cheap tickets, Ryanair has become massive recently.
Ryanair currently operates a fleet of 412 aircraft, which is enough to transport 100 million passengers annually.
Is it wise to invest in Ryanair stocks?
If you're considering investing in Ryanair by buying shares, it's essential to thoroughly research the company's situation. Ryanair's stock can be influenced by external circumstances, as seen during the COVID-19 pandemic in 2020 when almost no one was flying due to lockdowns. This was, of course, terrible for Ryanair and caused the stock price to drop sharply.
If you want to invest in Ryanair for the long term, it's important to research how secure the company's existence is. The focus on budget flights could be a good one: consumers like to go on holiday and prefer to save money on their air travel. The business segment seems to be shrinking, and this segment is less price-sensitive. This could give Ryanair a better market position than an airline like KLM.
When investing in Ryanair stocks, it's always advisable to research the company's financial position. Check if the company isn't burdened by heavy debt and examine the company's future vision. Furthermore, don't forget to compare Ryanair to its competition to determine if it truly is the best investment option.
Author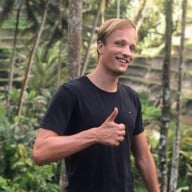 About
When I was 16, I secretly bought my first stock. Since that 'proud moment' I have been managing trading.info for over 10 years. It is my goal to educate people about financial freedom. After my studies business administration and psychology, I decided to put all my time in developing this website. Since I love to travel, I work from all over the world. Click <a href="/about-us/">here</a> to read more about trading.info! Don't hesitate to leave a comment under this article.