How to buy Lufthansa shares ?
Lufthansa is a large airline holding company which includes several other brands. An investment in Lufthansa can therefore be interesting when you want to invest in aviation. In this article we will discuss how to buy Lufthansa shares & you can also find the current stock price directly here.
Of course, there are always set-backs that put pressure on the aviation industry. An example of this is the increasing attention paid to the climate: flying is very polluting and more and more governments are trying to promote alternatives. For long-distance travel, however, air travel is still the only logical choice. Airlines such as Lufthansa are therefore certainly still needed.
If you want to buy Lufthansa stocks, it is best to do so at a broker with low transaction costs. A good example of this is eToro. At eToro, you can buy shares without paying commissions. Use the button to directly open an account with eToro:
Aviation is very competitive: due to the small profit margins, there is little room for error. When the economy is not doing well, business results can come under direct pressure. This happened, for example, during the corona pandemic: because most countries closed their borders, there was hardly any flying. When you buy Lufthansa shares, you would lose a lot of money at such a time.
Fortunately, there is a clever way of taking advantage of exchange rate fluctuations of this kind. You can open trading positions on both falling and rising share prices by using CFDs. A CFD is a derivative with which you only speculate on price movements, without actually buying the stock. You can try this way of active trading for free with Plus500, use the button below to open an account directly:
What is Lufthansa's stock price?
Are you curious about the current share price of Lufthansa? Understandable! On this page you can immediately see how Lufthansa's CFD share has developed over the past period. You can use the buttons to open a position on the stock.
About the company Lufthansa
The company Lufthansa is a group consisting of several airlines. This group includes the airlines Swiss and Austrian Airlines. In total, the Lufthansa group also includes 500 companies active worldwide in the field of air transport. The head office of the German company Lufthansa is in Cologne.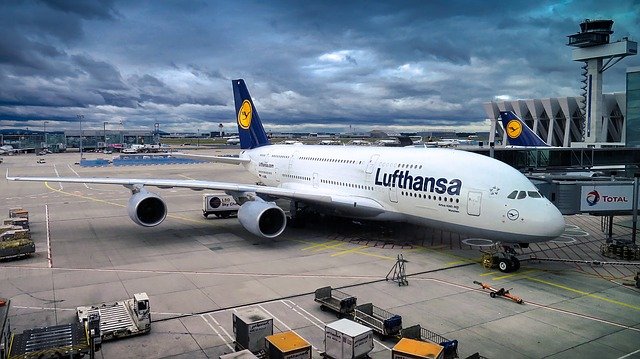 The establishment of Lufhansa
The airline Lufthansa has been established twice. In 1926, the merger of Deutsche Aero Loyd (DAL) and Junckers Luftverkehr led to the creation of the company. The name Lufthansa combines the words Luft (air) and Hansa (of the Hanseatic League, known for its trade). In 1945, the airline collapsed together with Nazi Germany. The company was liquidated in 1951. The company Aktiengesellshaft für Luftverkehrsbedarf, founded in Berlin in 1953, bought the Deutsche Lufthansa brand name in 1954 and continued under that name.
The activities of Lufthansa
Lufthansa is not only engaged in the transport of passengers and freight by air. The company is also responsible for the IT services, catering and logistics at the airport. The company's activities are divided into 5 segments:
The Network Airlines segment consists of the airlines Lufthansa German Airlines, Brussels Airlines, Swiss and Austrian Airlines.
The Eurowings segment consists of the airlines Eurowings, Eurowings Europe, Germanwings and an equity interest in the airline SunExpress.
The Lufthansa Cargo (Logistics) segment deals with cargo in cargo aircraft and cargo in the cargo hold of passenger aircraft.
The Lufthansa Technik (MRO) segment has the task of maintaining its aircraft and those of third parties.
The LSG Group Catering segment provides services and goods related to in-flight services.
A company with an excellent reputation
Lufthansa is known for delivering excellent quality. For example, Lufthansa Technik is the global leader in the maintenance and repair of airline aircraft. The airline also plays an important role in the field of catering. This segment of the company has operations at around 250 airports worldwide and serves more than 300 airlines. In 2019, Lufthansa sold its European catering business to the Swiss company Gategroup.
Mergers with other airlines
Lufthansa has taken over several airlines:
March 2005: merger with Swiss International Airlines
September 2008: In September 2008, the airline owns 45% of the shares of Brussels Airlines. In September 2016, the airline also buys the remaining shares.
October 2017: Lufthansa takes over many business units from the bankrupt Air Berlin. The business unit NIKI is taken over by 20 Airbus A320 aircraft and 830 employees. Also the business unit LGW is taken over. At that time LGW owns 38 aircraft and 870 employees.
Pilots Lufthansa contribute 45% salary
In April 2020, Lufthansa, like other airlines, will be in trouble. While the costs continue, money is no longer coming in because of the corona crisis. To save the company, the airline's pilots are prepared to surrender 45% of their salary for two years. This amounts to EUR 350 million. This sum can be used to help Lufthansa.
Do you think aviation will improve after the pandemic? In that case, you can wait for a suitable moment to buy Lufthansa shares.
Author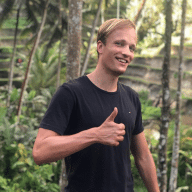 About
When I was 16, I secretly bought my first stock. Since that 'proud moment' I have been managing trading.info for over 10 years. It is my goal to educate people about financial freedom. After my studies business administration and psychology, I decided to put all my time in developing this website. Since I love to travel, I work from all over the world. Click here to read more about trading.info! Don't hesitate to leave a comment under this article.