How to buy German stocks (2023)? - Ultimate Guide
Do you want to invest in German stocks? On this page, you can learn how and where to buy German shares! I also discuss why investing in Germany is so popular.
Where can you buy German stocks <best brokers>?
Do you want to invest in German stocks? In the overview below, you can see which brokers allow you to buy German stocks:
| Brokers | Benefits | Register |
| --- | --- | --- |
| | Buy German stocks without commissions. Your capital is at risk. Other fees may apply. | |
| | Speculate on price increases and decreases of German stocks with a free demo! | |
| | Benefit from low fees, an innovative platform & high security! | |
Investing in the German stock market with the DAX-30 index
You can also choose to invest in the German stock market by buying a fund or ETF. An ETF tracks an economic index of a country.
In Germany, the DAX-30 is the most popular and well-known stock index. The DAX-30 is the stock index of Frankfurt and contains the thirty largest German companies listed on the stock exchange. The index provides a solid overview of the economic performance within Germany.
Some examples of ETFs with which you can invest in the DAX index are:
iShares Core DAX UCITS
Etflab DAX
Xtrackers DAX UCIT
Do you want to invest in the DAX-30 index yourself? Then read this comprehensive guide on investing in ETFs:
How to invest in German stocks online?
Step 1: Open an account with a broker
To invest in German stocks, the first step is to create an account with a reliable online broker. Are you curious which brokers allow you to invest in German stocks? Take a look at our overview of best brokers:

Step 2: Select a stock
Next, you need to decide which German stock you want to buy. It's important to conduct thorough analysis to determine which stocks fits within your risk profile. For example, you can use fundamental analysis to investigate the company's financial standing.
Step 3: Place an order
Once you know which stock you would like to buy, you can place an order. You need to enter the following information:
Quantity: You have to enter how many shares you want to buy.
Market order: With a market order, you buy the stock at the current price.
Limit order: With a limit order, you buy the stock at a fixed price.
After you've sent the order to the German stock exchange, it may take a few minutes for it to be executed. Don't forget to evaluate your investments regularly!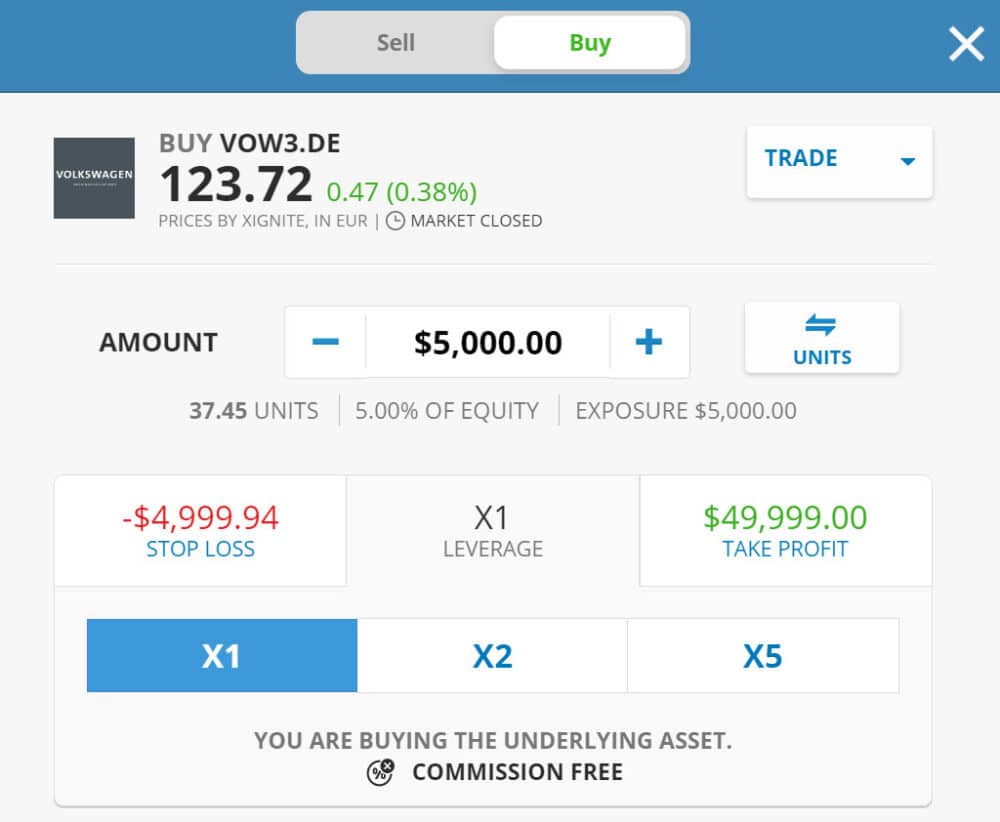 Why is investing in the German stock market potentially attractive?
Large market: With more than eighty million inhabitants, the German market is considerable.
Central location: Due to its central location, companies can easily sell goods and services.
Skilled workforce: Germany has a highly skilled workforce, leading to favourable business results.
Reliability: Germany has a reliable image that attracts investors.
Infrastructure: The infrastructure in Germany is of a high standard.
Open economy: Investors from all countries are welcome in Germany.
What are the risks of investing in German stocks?
Market risk: The value of your stocks can fluctuate due to market conditions.
Exchange rate risk: The euro's exchange rate can affect your investments.
Specific risk: The performance of the German company in which you invest can influence your results.
Industry risk: The industry in which you invest can produce poorer results.
Liquidity risk: When you invest in small German stocks, it can be difficult to find a buyer.
How can you achieve better results with investments in Germany?
Do you want to achieve better results with your investments in German stocks? These tips can help you!
Diversification
It is important to diversify your risks as much as possible. You can diversify your risks by investing in different regions and sectors
In addition to German stocks, you can also buy Chinese and US stocks. You can lower the sector-specific risk by investing in different sectors.
Invest with money you can afford to lose
Especially, many novice investors make the mistake of investing in German stocks with money they can't really afford to lose. This forces them to close their investment positions when the prices drop significantly. As an investor, you need to have a long-term outlook, so make sure you only invest with money you won't need in the near future.
Ensure a favourable risk-reward ratio
Only open investments with a favourable ratio between your potential profit and loss. It is advisable to take a good look at the price chart for this.
To determine if there is room for growth, you can also look at the ratio between price and earnings. When you pay only a limited number of times the earnings for a stock, its price is relatively low. However, this is not always a good sign: Warren Buffett once said that it is better to buy an outstanding stock at a reasonable price than a reasonable stock at an outstanding price.
Follow the news
When you invest in another region, it is important to follow the news there closely. When the confidence of German consumers decreases, German companies often perform less well. The exchange rate of the euro also plays an essential role, especially for companies that are internationally active.
Which German stocks can you invest in?
The best stock is actually always the stock with which you achieve the best results. The fact is that there is no objective best stock, as not every stock is suitable for everyone. For example, some shares are riskier than others and attract a different type of investor.
In the overview, you can see the most popular German stocks that you can invest in:
As you can see, there are many German car producers on the list. Service companies like Allianz and Deutsche Bank are also popular among investors.
Of course, there are many more German shares in which Dutch investors can invest. However, the mentioned stocks are the most popular among international investors.
Investing in German real estate
Investing in German real estate can also be appealing. Taxes on real estate are relatively low (you only pay a fixed, low percentage on net profit). In addition, it is possible to achieve attractive rental returns in Germany.
In comparison to other European cities, rents in Germany are still low: this means that there is still plenty of room for further growth. When you hold a property for more than ten years, you also do not pay taxes on value increases upon sale.
When investing in German real estate, you naturally need to conduct extra research: it is more difficult to understand a foreign market. Fortunately, in Germany, you can find enough experts that can assist you due to the high level of education.
How do you determine which German stocks to buy?
Determine your investment goals: Not every German stock fits every type of investor. For example, consider your risk tolerance.
Research the industry and the company: Research the latest trends, competition, opportunities, and risks before opening an investment. Don't forget to request the company's financial data. It's important to invest only in financially healthy companies.
Look at key financial ratios: Look at key financial data such as the price-to-earnings ratio (P/E), price-to-sales ratio (P/S), price-to-book ratio (P/B), and dividend yield.
Consider the economic situation: Inflation, interest rates, and geopolitical events also affect the stock prices of German companies. Therefore, it can be worthwhile to research the stock market as a whole.
Diversification: By investing in small and large German companies in different industries, you reduce the risk of your investment.