How to buy Hugo Boss shares?
Hugo Boss is known for its expensive but fashionable business attire. This successful clothing brand welcomes investors with open arms. Would you like to take a gamble with an investment in Hugo Boss? In this article you can read exactly how to buy Hugo Boss shares.
Do you want to buy Hugo Boss shares? You can directly trade in Hugo Boss stocks with one of these reliable brokers:

| Brokers | Benefits | Register |
| --- | --- | --- |
How to actively invest in Hugo Boss?
The price of the Hugo Boss stock fluctuates constantly. For example, the company made negative headlines in the past when it was found that the company was exploiting its employees. This can, of course, put pressure on the share price. The smart, active investor can respond to this by opening a short position. With a short position, you obtain a positive result when the share price drops.
A good broker with which you can actively trade CFD shares Hugo Boss is Plus500. At Plus500, by using a lever, you can further increase both your potential profit and your potential loss. Do you want to try the possibilities for free with a demo? Then use the button below to open an account with Plus500:
What does Hugo Boss do?
Hugo Boss AG is a German clothing brand. In 1923, this clothing brand originated in the German town of Metzingen. The company produced fashion clothes, shoes, and accessories. The company has the name of the fashion designer Hugo Boss. The company's headquarters are located in Metzingen.
Hugo Boss's Nazi past
Because of its special relationship with the Nazis, Hugo Boss is one of the German companies with a tainted past. In the days of National Socialism, in the years 1933-1945, Hugo Boss provided the clothes for the Nazis.
The company benefited from this special bond with the Nazis. Record turnovers were achieved. After the war, however, the special connection with the Nazis was denied. In 1997, French historians found evidence. Only then did the company acknowledge that it had been a Nazi tailor.
A message was posted on the company's website with an apology. In addition, compensation was paid to former forced laborers. Hugo Bos was not punished himself. His post-war conviction, paying 1 million Reichsmark, was later waived. In the history books, Hugo Boss, who died in 1948, is called a follower and not a criminal.
The company focuses on menswear and other products
After The Second World War, Hugo Boss started focusing on menswear. In 1950, the company received an order for men's clothing. The first ready-made suits were manufactured in 1960. Later, the company decided to make other products as well. In 1984, the company started its fragrance line. The company has also been producing leather shoes since 1995. Accessories made by Hugo Boss nowadays include belts, glasses, and watches.
Since 1997, Hugo Boss has also manufactured women's clothing. Children's clothing has been manufactured since 2009. Do you think the company can keep up with the latest fashion trends? Then it may be attractive to buy Hugo Boss shares.

Hugo Boss marketing
Since 1996, Hugo Boss AG has sponsored the biennial Hugo Boss prize of the Guggenheim Foundation. In addition, the company supports all kinds of art exhibitions. The company has also been working with the Salzbuger Festival for years. Since 1999, Boss has performed many gigs there. The company has presented fashion students of the Stuttgart State Fashion School with the Hugo Boss fashion award since 1987.
The company also participates in sports sponsorship. For example, the company sponsors motorsport, sailing, golf, and soccer. They started in 1972 with the sponsorship of McLaren Racing and the racing driver Jochen Maas. The company also sponsors several golf tournaments. As far as soccer is concerned, the company is a fashion designer for, among others, the German national soccer team. A Hugo Boss sailing team with its own sailing yacht was launched in 2003.
Criticism on employee payment
Hugo Boss paid his employees in Turkey and Croatia far too little. In both countries, workers received only between 308 and 440 euros per month. In Turkey, with a subsistence minimum of EUR 1002, this is therefore around EUR 600 below the subsistence minimum. The company did not respond to a questionnaire from the Clean Clothes Campaign, which had investigated the issue.
This kind of practice can be detrimental to the company's reputation. When people leave the company behind in response, this can put pressure on sales. This can cause Hugo Boss' share price to fall.
Author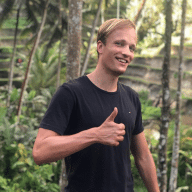 About
When I was 16, I secretly bought my first stock. Since that 'proud moment' I have been managing trading.info for over 10 years. It is my goal to educate people about financial freedom. After my studies business administration and psychology, I decided to put all my time in developing this website. Since I love to travel, I work from all over the world. Click here to read more about trading.info! Don't hesitate to leave a comment under this article.