How to buy Volkswagen shares (2023)? – invest in Volkswagen
Volkswagen AG started under Hitler: the idea was that everyone should possess a car. Fortunately, the well-known man with a moustache is a thing of the past, and the company fits perfectly within our free society. Are you considering buying Volkswagen stocks? In this article, you'll learn how to invest in Volkswagen shares.
How to buy Volkswagen stocks?
An investment in Volkswagen stocks can be interesting: the company has a large market share and its cars are popular worldwide. It's wise to compare the company with the competition. This allows you to determine whether Volkswagen is indeed the best investment. Of course, you can also choose to diversify your risks by buying stocks in other car companies.
Are you looking for a good broker to buy Volkswagen stocks? We've listed the most popular stock brokers for you:
| Brokers | Benefits | Register |
| --- | --- | --- |
| | Buy Volkswagen without commissions. Your capital is at risk. Other fees may apply. | |
| | Speculate with CFD's on increasing & decreasing prices of Volkswagen! 82% of retail CFD accounts lose money. | |
| | Benefit from low fees, an innovative platform & high security! | |
| | Speculate on price increases and decreases of Volkswagen with a free demo! | |
What is the stock price of Volkswagen?
Do you want to know the current stock price of Volkswagen? In the chart below, you'll see all the information you need! Moreover, with the buttons, you can open a trading position directly.
Company information of Volkswagen AG
Below, you'll see the most important company information of Volkswagen AG.
Stock prices of the last 5 days of Volkswagen
In the table below, you can see the stock prices of Volkswagen of the last 5 days:
Why can it be smart to buy Volkswagen stocks?
Diversification: Volkswagen has an extensive range of brands, including Audi, Bentley, Bugatti, Lamborghini, Porsche, and Skoda. This allows Volkswagen to appeal to a wide audience, and poor results with one brand can be offset by good results with another brand.
Innovation: Volkswagen is known for its solid R&D and works on autonomous cars.
Globally active: Volkswagen is globally active in Europe, Asia, Africa, and America.
Strong brand: Volkswagen is a globally recognizable brand with a good reputation. This makes it more likely costumers choose cars produced by Volkswagen.
Dependency on diesel engines: many of Volkswagen's cars run on diesel. However, the brand received high fines for cheating on emissions tests, which is bad for the company's reputation.
Dependency on the European market: Volkswagen is heavily dependent on the European market for its sales, which makes the company vulnerable.
Cyclical industry: people often postpone buying a new car when the economy performs poorly. This can put pressure on Volkswagen's results.
Regulations: regulations for emissions of cars become stricter. In the future, for example, only electric cars may be sold within Europe.
Who are Volkswagen's Competitors?
Investing in Volkswagen stocks: The Steps
Before you can make your first investment in Volkswagen, you need to go through some steps. For example, it is important to select a reliable and relatively inexpensive broker. You can do this by comparing different providers. It only takes a little time to open a brokerage account. However, you must confirm your identity to prevent money laundering.
Within your broker's software, you can then find the Volkswagen stock. Perform a thorough analysis to determine if investing in the share is a smart move. You can, for example, apply technical or fundamental analysis. Then determine the amount you want to spend on the shares.
You can place the order by using a market or limit order. With a market order, you buy the Volkswagen shares at the current market price, and with a limit order, you can buy the shares at a fixed price. For active traders, it may also be smart to set a stop loss: the stock position is then automatically closed at a certain loss.
About the company Volkswagen
The German multinational automobile manufacturer Volkswagen, known worldwide as the Volkswagen Group, is headquartered in Wolfsburg. The company designs and produces passenger cars and commercial vehicles, motorcycles, and engines. It also offers related services such as leasing, financing, and fleet management.
As of 2016, the company is the largest carmaker in the world in terms of sales. In Europe, the company has had the largest market share for over two decades. Volkswagen Group is one of the largest companies in the world. The Global Fortune 500 list is a list of the world's largest companies, and Volkswagen Group ranks 7th on this list.
History of Volkswagen
Establishment of Volkswagen
In 1937, the German government opened an automobile company under the leadership of Hitler, who wanted to design an affordable family car. This fit into his plans to expand the German road network.
At an exhibition in Berlin in 1939, the first KdF (Kraft durch Freude) car was shown. The passenger car, developed by Ferdinand Porsche's consulting firm, was named the Volkswagen Beetle. After the outbreak of World War II, the company stopped producing passenger cars and switched to military vehicles.
The success of the Beetle
The Volkswagen factory in Wolfsburg was heavily bombed at the end of World War II. In 1946, despite the partly damaged factory, a thousand cars were produced per month under the name Wolfsburg Motor Works. Later, the name was changed to Volkswagen.
The factory was offered to American, British, and French auto producers, but they saw nothing in the strange, round car. Nevertheless, the Volkswagen Beetle was a success: in 1955, the millionth copy was produced. In 1972, the Volkswagen Beetle surpassed the Model T as the most produced car in the world: a total of 21,529,464 Beetles were built.
New models
In 1974, Volkswagen introduced the Volkswagen Golf, which is still a success today. Unlike the Beetle, this car had a water-cooled engine in the front. By 2002, more Golfs had been produced than Beetles. In addition to the Golf, the smaller Polo, Scirocco, and Passat appeared on the market. In 1998, Volkswagen released the New Beetle. However, this contemporary variant of the Volkswagen Beetle did not have the success expected by the company.
Volkswagen and the emissions scandal
In the fall of 2015, Volkswagen was embroiled in a scandal for manipulating the emissions of diesel engines. By equipping the diesel engines with prohibited software, they appeared much cleaner in laboratory tests than in use on the public road.
Due to the emissions' scandal, Volkswagen had to pay billions in fines. For example, in 2018, a fine of one billion was paid to the German authorities. In 2017, a US judge had already fined the company the equivalent of 2.7 billion euros.
This scandal had a major impact on the stock price. As an active investor, you can react to negative news by taking a short position. For long-term investors, however, a scandal might be an attractive time to buy Volkswagen shares.
Is it smart to invest in Volkswagen stocks?
An investment in Volkswagen shares can certainly pay off. The stock price has fallen significantly due to the emissions' scandal. However, the company still high popularity. Moreover, Volkswagen has the ambitious goal of producing 3.5 million electric cars by 2025. This can help the company restore its reputation and establish a greener image.
However, you should keep in mind that the emissions' scandal can still lead to unexpected costs. There are still lawsuits pending, and the company can still receive fines. Furthermore, compare the company with its competitors to determine if it can still compete with other car manufacturers.
Author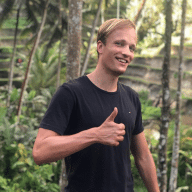 About
When I was 16, I secretly bought my first stock. Since that 'proud moment' I have been managing trading.info for over 10 years. It is my goal to educate people about financial freedom. After my studies business administration and psychology, I decided to put all my time in developing this website. Since I love to travel, I work from all over the world. Click here to read more about trading.info! Don't hesitate to leave a comment under this article.