How can you Ford Motor shares?
The carmaker Ford is, among other things, known as the first company to use a moving assembly line in 1913 to produce cars on a large scale. This innovation meant that instead of 12 hours it took 1.5 hours to put a car together. More than a hundred years later, Ford is still a big car manufacturer that you, as an investor, could become a co-owner of. But how can you buy Ford stocks and what is Ford's current stock price? In this article you will find all the answers!
Do you want to buy Ford shares? You can directly trade in Ford stocks with one of these reliable brokers:

| Brokers | Benefits | Register |
| --- | --- | --- |
How to invest actively in Ford?
The Ford company no longer has the shine of yesteryear: its shares are noted five times lower than a few decades ago. A long-term investment in Ford can therefore be risky. You can consequently choose to actively speculate on Ford shares. By actively trading in the price movements, you can respond to changes in the market.
A good example of a change in the market is the corona crisis. Under the influence of the corona crisis, global demand for cars is declining. People work from home more often and have less money to spend. As a result, the automotive industry as a whole is performing less well, and Ford's shares are falling in value. By actively speculating, you can achieve a good result even with a declining stock price.
You can actively trade Ford CFD shares with Plus500. Use the button to try this way of active trading for free & without risk by using a demo:
What is Ford's stock price?
Are you curious how the CFD ford share develops? In the graph you can see how the stock price has developed over the past period. With the buttons, you can open a trading position on the stock.
What does the Company Ford Motors do?
The American car company Ford Motor Company builds cars under the name Ford. In addition, Ford also builds cars for the luxury brand Lincoln. In the past, Ford also built Mercury-branded cars: however, this branch of the company closed in 2011. Ford was founded in 1903. The headquarters of this fourth largest carmaker in the world is located in Dearborn, Michigan.
Ford's initial years
Ford's founder is Henry Ford. In 1899, he founded a car factory together with some investors. As early as 1900, this company went bankrupt: hardly any cars had been produced at that time. The first restart failed, but in 1903 Ford managed to get back to work.
Henry Ford and 11 investors founded the Ford Motor Company in that year. The car production started in Detroit. During the first year, ten employees made only a few cars. Three years later, however, Ford had become the largest car producer in the US.  The introduction of the famous T Ford made the car affordable for many people. This model was produced until 1927 and more than 15.5 million specimens of this model have been sold.
Other competitors
Around 1920, Ford faced increasing competition from the American car brand General Motors and from foreign car brands. Ford only had the Ford T on offer, while General Motors and other car brands also offered cars in the more expensive classes. Ford took over Lincoln Company in 1922. By doing so the company tried to gain a place on the market for the more expensive, luxury models.
The car company in World War II.
Initially, Henry Ford did not want to participate in the conversion of his car factory into a weapons factory. After the Japanese attack on Pearl Harbor, he changed his mind. After a complete switch to war production, the company produced jeeps, the B-24 Liberator bombers and Pratt & Whitney airplane engines.
Tough years for Ford
In the '70s, Ford did not do so well. Imported European and especially Japanese small cars became increasingly popular. In 1971, Ford introduced the small Ford Pinto. This turned out to be a car with a serious problem: the car's petrol tank could explode in a collision. This was a good reason to stop the production in 1980. In the 1980s, Ford's sales fell even further. As a result, reorganizations and factory closures were inevitable.
Owner of various brands
Over the years, the Jaguar, Land Rover, Aston Martin, Volvo and Mazda brands have been part of the Ford Motor Company. Today, the company consists only of the two brands: Ford and Lincoln.
Some well-known Ford models
The Thunderbird was a sporty convertible. This convertible was meant for cruising. The model became a success, also because real competition was lacking.
The Ford Mustang was released in 1964. This well-known and popular model is still being produced. The model became popular due to its sporty appearance and its relatively low price.
The mid-sized Ford Fiesta is popular due to its modest price tag and good driving performance. The first Ford Fiesta from 1976 had a square appearance. The sixth generation Fiesta has a modern look. Moreover, the car is more spacious than its predecessors.
Author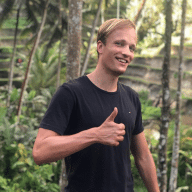 About
When I was 16, I secretly bought my first stock. Since that 'proud moment' I have been managing trading.info for over 10 years. It is my goal to educate people about financial freedom. After my studies business administration and psychology, I decided to put all my time in developing this website. Since I love to travel, I work from all over the world. Click here to read more about trading.info! Don't hesitate to leave a comment under this article.