How to buy Adidas shares?
The history of Adidas is interesting: the shoe brand was founded by a supporter of Hitler's party. There was also a family feud that eventually led to the foundation of Puma. Today, Adidas is still a well-known sports brand that has conquered a great market position. Are you curious how to buy Adidas shares? In this article you can read everything you need to know before you invest in Adidas shares.
Do you want to buy Adidas shares? You can directly trade in Adidas stocks with one of these reliable brokers:

| Brokers | Benefits | Register |
| --- | --- | --- |
Do you want to take advantage of every price movement? Then it may be smart to actively trade in Adidas' price trend. You can achieve a good result even a declining market. This allows you to achieve a positive result with your investment in Adidas even during a global crisis.
An attractive way to speculate actively in Adidas shares is to use CFDs. With CFDs, you can open a stock position with a small investment. In addition, by opening a short position, you can speculate on a falling price. Plus500 is a reliable party where you can buy & sell Adidas CFDs. Use the button below to explore the possibilities immediately with a free demo:
What is the current stock price of Adidas?
Are you curious about the current share price of Adidas? In the graph below you can see the price development of the CFD Adidas. Do you want to open a trading position immediately? Then use the buttons to open a trade:
Why can Adidas be a good investment?
As early as 2015, Adidas had set up a plan to boost growth. They do this by greatly increasing their presence in North America. They are also increasingly using the Internet. As a result, sales through e-commerce channels have increased considerably.
Adidas has also succeeded in delivering products to the customer faster. As a result, the time from production to delivery decreases considerably. This is a big advantage. This allows Adidas to respond more quickly to current trends and therefore ouster the competitor.
Adidas also seems to be entering into great marketing collaborations. For example, the company set up a partnership with Beyoncé. When celebrities are brought together with the brand, this can tap into a new market segment. These can all be attractive reasons to consider buying Adidas shares.
Monitor the competition
It is wise to keep a close eye on the competition. In the past, Adidas has experienced a lot of pressure from Nike, the market leader in sportswear.
Therefore, analyse other sportswear products before you buy Adidas shares. Another brand could just be a better investment. Remember that the efficiency with which a business is run is an important, defining factor in determining the results.
History of the creation of Adidas
Adolf Dassler started making sports shoes in 1920. His shoes caught the attention of sports fans. In 1949, Dassler founded the company Adidas AG. The name of the company was derived from his nickname Adi.
In 1954 Adidas supplied sports shoes to the German national team. This was a revolutionary product. The sneakers had interchangeable studs. The company Adidas also owns the brands Reebok and TaylorMade. Since its inception, the company has continued to grow. The headquarters of this German company are located in Herzogenaurach, Bavaria.
Conflict between Adidas and Puma
Adolf Dassler and his brother Rudolf Dassler got into an argument. Rudolf left the company and founded Puma. There was a conflict between the two brothers. Puma and Adidas are competitors.
In the 1970s there was a conflict between the two brands. Adidas was then a sponsor of the Dutch soccer team. At that time, Cruyff had a contract with Puma. Cruyff was not allowed to play in Adidas gear. If he did, the contract would be broken. Adidas did not allow Cruyff to play on Puma shoes. If he did, Adidas would stop sponsoring the Dutch team. How was this resolved? Cruyff was the only Dutch player to play in a shirt with two stripes.

Acquisition of other companies
In 1997, Adidas acquired Salomon Group. This company had a winter sports division. Winter sports equipment was made (skiing and snowboards). In addition, this company made articles for golf with the brand Taylormade. After the merger, the company's name was changed to Salomon-Adidas. The purchased winter sports division proved to be loss-making. That is why it was sold to Finnish company Amer Sports in 2005. The TaylorMade brand remained part of Adidas.
Reebok was acquired in 2006. This acquisition has strengthened the company's position in the global sportswear market. The company was renamed Adidas AG that year. Sales of Reebok items account for 10% of the company's sales.
Adidas clothing lines
The Adidas brand has three clothing lines:
Adidas originals has the leaf-shaped logo. This logo, which was introduced in 1972, is also called Trefoil. It is a clothing line with classic items. The clothing is meant to be worn daily.
The Adidas performance line has the familiar three sloping stripes. This logo was introduced in 1996. This line encompasses all modern sports equipment.
The third clothing line is Adidas Neo. This is a clothing line with youth-related clothing with a sporty look.
Do you want to know how the share of Adidas is going to perform in the future? Then it is wise to keep an eye on how people react to the new clothing the company brings to market. When people are excited about new clothing items, sales can rise. This can increase Adidas' profitability, making it more interesting to buy Adidas shares.
Adidas shoes and the 3D printer
Adidas will bring shoes made with a 3D printer to market. 3D printing makes it possible to align the soles of the shoes with, for example, the weight and running style of the athlete. This innovation from Adidas is called FutureCraft 3D. The shoe will first be marketed in small numbers.
Do you think this innovation will strengthen Adidas' position in the sportswear market? Then you can definitely consider an investment in the company Adidas by buying shares!
Author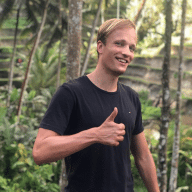 About
When I was 16, I secretly bought my first stock. Since that 'proud moment' I have been managing trading.info for over 10 years. It is my goal to educate people about financial freedom. After my studies business administration and psychology, I decided to put all my time in developing this website. Since I love to travel, I work from all over the world. Click here to read more about trading.info! Don't hesitate to leave a comment under this article.