How to buy AMS AG shares?
AMS AG is one of the most important producers of sensitive sensors on this planet. The company, whose stocks are traded under the ticker 'AMS', has specialized in the development of advanced sensor solutions. The sensors produced by the company are therefore not only characterized by a limited power, they also have a very high sensitivity and it is possible to integrate them with other (types of) sensors.
The unique technologies used by AMS AG ensure that the company has grown into a global player. Would you also like to invest in this large party? In this article you can read how to buy AMS AG stocks.
Where can you buy ASM AG stocks?
Do you want to buy ASM AG shares? You can directly trade in ASM AG stocks with one of these reliable brokers:

| Brokers | Benefits | Register |
| --- | --- | --- |
| | Buy ASM AG without commissions. Your capital is at risk. Other fees may apply. | |
| | Speculate with CFD's on increasing & decreasing prices of ASM AG! 82% of retail CFD accounts lose money. | |
| | Benefit from low fees, an innovative platform & high security! | |
| | Speculate on price increases and decreases of ASM AG with a free demo! | |
How can you actively invest in ASM AG?
Sensors are the future! More and more products are using sensors. Nevertheless, the demand for these types of products can vary greatly. Negative news can also cause the stock price to drop. Would you like to actively trade in ASM AG stocks? You can do this well by means of CFDs. With CFDs, you can speculate on both falling and rising prices. A good party to do this is Plus500. Use the button below to open a free demo account:
Focus on sensors for mobile devices
A particularly large number of electronic products that can be found on this planet have one or more sensors from the company AMS AG. This applies in particular to mobile devices. The company's main focus is on chip solutions for power and lighting management. This ensures that the chips produced by AMS AG can be found not only in MP3 players, but also in smartphones, LCD televisions and even in LED camera flashes.
Medical and industrial equipment
Over the years, AMS AG's sensors have also proved successful in the medical and industrial sectors. The products marketed by AMS AG are therefore characterized in practice by, among other things, extreme sensitivity. The sensors measure the slightest influences under extreme conditions. Examples of this are vibrations and humidity, but also of temperature fluctuations.
The history of AMS AG
AMS AG was founded in 1981 as a joint venture. AMI owned 51 per cent of the company while AG held 49 per cent. Ten years later, in 1991, AMS became one of the 25 fastest growing companies in Europe. Two years later, it would be the first so-called semiconductor company to go public. The Vienna Stock Exchange was chosen for this purpose. Three years later the company would also open its first commercial office in Asia. The attack on the world market was thus definitively launched.
An important milestone was reached in 2001. It was then that the test phase of the 200 mm production line was started. At the same time the news came out that an agreement had been reached between AMS AG and TSMC, at that time the world's largest IC Foundry. The test phase of the new 200 mm line proved to be extremely successful after which mass production could be started in the year 2002. In the same year commercial offices were established in Singapore.
Since 2011, AMS AG's strategy has been to obtain as much market share as possible (within different, specific sectors). It has done this mainly by carrying out strategic acquisitions. This was among others the case for the advanced CMOS sensor branch of NXP. In addition, it became the owner of CCMOSS in June 2016 and took over MAZeT a month later. AMS AG's market share continued to grow steadily, making it one of the absolute world players in its sector.
Partnership with the world's largest technology companies
AMS AG has succeeded in doing what many companies can only dream of doing, namely entering into an agreement with the world's largest technology companies. Initially, for example, AMS AG's 3D sensor technology was made available exclusively to its largest customer, Apple. Today this is no longer the case.
The technology can therefore be perfectly used by Android developers. A further cooperation between AMS AG and tech giant Google could therefore just be a possibility. On the other hand, this could put pressure on the partnership with Apple. Potential investors should therefore be vigilant in this respect.
Author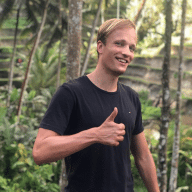 About
When I was 16, I secretly bought my first stock. Since that 'proud moment' I have been managing trading.info for over 10 years. It is my goal to educate people about financial freedom. After my studies business administration and psychology, I decided to put all my time in developing this website. Since I love to travel, I work from all over the world. Click here to read more about trading.info! Don't hesitate to leave a comment under this article.