What are accumulating and distributing ETFs?
Would you like to know what an accumulating or distributing ETF is? In this article, we briefly discuss what an accumulating and distributing ETF entails.
What is an accumulating ETF?
An accumulating ETF is an ETF that reinvests the dividends received. This can be advantageous: without any effort, your returns can exponentially grow due to the effect of compound interest.
What is a distributing ETF?
A distributing ETF is the opposite: a distributing ETF pays out the dividend in cash to your account. This often happens quarterly.
Is an accumulating or distributing ETF better?
On paper, the difference between an accumulating and distributing ETF seems limited. However, your choice between the two can have significant consequences!
Return
The return on an accumulating ETF is much higher in the long run. This is due to the effect of compound interest. When the dividend is reinvested, you can earn a return on it again. As a result, over a longer period, the return on an accumulating ETF can increase much faster. You can use this tool to see how this works in practice.
Costs
Pay attention to the costs: with some brokers, you pay costs when dividends are paid out. This is a shame: you lose part of the profit that could have been avoided. Do you want to know which brokers allow you to receive dividends without paying costs? Then take a look at our brokers overview:
When you reinvest the paid-out dividend yourself, you will pay transaction costs again. By doing this automatically through the fund, you save on your transaction fees.
Dividend tax
You pay dividend tax when you receive dividends. The amount of this tax depends on the country where the ETF is based. By not paying out dividends, you avoid this tax, which allows you to achieve a higher return in the long run.
How do you recognize the type of ETF?
You can always recognize the type of ETF by the name:
Distr: this fund pays out the dividend
Acc: this fund reinvests the dividend
Is an accumulating or distributing ETF better?
Personally, I think an accumulating ETF is better. This way, you automatically reinvest your dividend, allowing you to benefit optimally from compounding. Moreover, you can avoid dividend tax in this way, allowing your wealth to grow even faster.
It is important to choose a broker where you do not pay any costs for dividend payouts. A good option for this, in my opinion, is eToro. Use the button below to open an account with eToro:
Author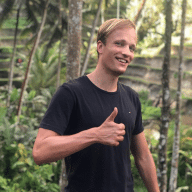 About
When I was 16, I secretly bought my first stock. Since that 'proud moment' I have been managing trading.info for over 10 years. It is my goal to educate people about financial freedom. After my studies business administration and psychology, I decided to put all my time in developing this website. Since I love to travel, I work from all over the world. Click here to read more about trading.info! Don't hesitate to leave a comment under this article.