How to buy AkzoNobel shares (2023) – invest in AkzoNobel
AkzoNobel is a Dutch multinational engaged in the production of paint products. Do you want to buy AkzoNobel shares? In this article, you will find everything you need to know about investing in AkzoNobel shares, and you can also examine the latest stock price.
If you have confidence in AkzoNobel's future, it can be attractive to invest by buying their shares. However, it is crucial to thoroughly research the company's future prospects. For example, analyse whether AkzoNobel has a good vision for the future and whether it can still compete with its rivals.
If you still have confidence in the company's future, it may be wise to buy AkzoNobel shares through a reputable broker:
| Brokers | Benefits | Register |
| --- | --- | --- |
| | Buy AkzoNobel without commissions. Your capital is at risk. Other fees may apply. | |
| | Speculate with CFD's on increasing & decreasing prices of AkzoNobel! 82% of retail CFD accounts lose money. | |
| | Benefit from low fees, an innovative platform & high security! | |
| | Speculate on price increases and decreases of AkzoNobel with a free demo! | |
What is the current stock price of AkzoNobel?
Are you curious about how AkzoNobel's stock price has evolved? The graph below shows the price at which you can buy and sell AkzoNobel shares:
Company details of AkzoNobel
Below you will find the key company details of AkzoNobel.
Stock prices of AkzoNobel over the last 5 days
In the table below, you can see the stock prices of AkzoNobel for the last 5 days:
What makes an investment in AkzoNobel stocks interesting?
Strong global position: AkzoNobel has established a strong position in the paint and coating market and operates globally. AkzoNobel can further increase its profitability by expanding its presence in emerging economies such as India and China.
Innovation: AkzoNobel heavily invests in R&D and has, for example, developed environmentally friendly paint and coating products.
Strong financial performance: AkzoNobel has achieved stable revenue growth in the past.
Focus on sustainability: AkzoNobel develops more and more sustainable products, which can attract investors who care about the environment.
Commodity prices: AkzoNobel is highly dependent on pigments and various chemicals for paint production. When commodity prices rise, the company's profit margin may be under pressure.
Market risk: When the economy is in a downturn, individuals, and companies often delay renovations and construction projects.
Competition: AkzoNobel operates in a highly competitive industry, requiring the company to continuously improve its performance.
Before you can deposit money, you need to activate your investment account
Upload a copy of your passport and address to start investing immediately
Next, select the AkzoNobel stock within the trading platform
Enter the amount you want to invest and choose between a market order or limit order
Click "buy" to send the investment directly to the stock exchange
Who are AkzoNobel's competitors?
PPG Industries
Sherwin-Williams
BASF SE
Nippon Paint Holdings
RPM International
Company divisions
The coatings group, in which AkzoNobel is a global market leader, consists of the following units:
Decorative Paints (Deco): decorative coatings and paints
Industrial Finishes (IF): coatings and paints for industrial applications
Car Refinishes (CR): coatings for the automotive industry
Powder Coatings (POW): powder coatings
Marine and Protective Coatings (MPC): protective coatings for ships, among others
Well-known brands in this group include Flexa®, Sikkens®, International®, Crown®, and Interpon®. These special products have been used, for example, on the Øresund Bridge between Denmark and Sweden, the London Eye Ferris wheel, and the La Scala opera house in Milan.
History
AkzoNobel has been in existence for over 200 years and has had various parent companies over time, with Det Holmbladske Selskab from Denmark being the first. In the Netherlands, Sikkens is the oldest predecessor, which has been around since 1792.
In later years, several well-known names have been added through various mergers, including:
Zwanenberg in 1887
Nederlandse Kunstzijdefabriek Enka in 1911
Koninklijke Nederlandse Zoutindustrie in 1918
Duyvis in 1961 and subsequently divested in 1987
Origin of the name
After the merger in 1969 between the Algemene Kunstzijde Unie (AKU) and Koninklijke Zout Organon, the company was named AKZO. This was a mammoth corporation by Dutch standards, with over 100,000 employees worldwide. Following the acquisition of Nobel Industries by AKZO, AKZO Nobel was formed in 1994, which was later renamed AkzoNobel in 2008.
Should you invest in AkzoNobel now?
Investing is a skill, which means it can be difficult to determine whether you should buy or sell AkzoNobel shares. Before making this decision, it is important to consider whether you want to invest in the stock for the short or long term.
If you are investing in the short term, it is critical for the stock to exhibit sufficient volatility. As a short-term speculator, you can speculate on short-term price movements. With a short position, for example, you can even speculate on a declining stock price.
Most Dutch investors choose to invest in stocks for the long term. This can be advantageous as it requires less time in decision-making. Moreover, stock prices tend to move more steadily upward in the long term, while they fluctuate more in the short term.
Whether you should invest in AkzoNobel shares largely depends on the global economic situation. Since AkzoNobel is a multinational company, it is highly dependent on the global economic situation. Therefore, it is advisable to analyse this situation thoroughly first.
AkzoNobel is globally known as a high-quality supplier of various types of paint. The company continues to introduce more environmentally friendly variants to the market, positioning itself well for the future. However, it is important to analyse raw material prices and the economic situation before buying AkzoNobel shares.
Furthermore, consider whether AkzoNobel fits well within your investment portfolio. This ensures that the stock aligns with your risk profile and won't keep you awake at night.
Author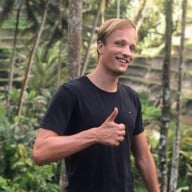 About
When I was 16, I secretly bought my first stock. Since that 'proud moment' I have been managing trading.info for over 10 years. It is my goal to educate people about financial freedom. After my studies business administration and psychology, I decided to put all my time in developing this website. Since I love to travel, I work from all over the world. Click <a href="/about-us/">here</a> to read more about trading.info! Don't hesitate to leave a comment under this article.