How to buy ASML shares?
ASML is an advanced technology company that develops machines needed to produce chips. Chips are used, for example, in the latest smartphones. This is therefore an interesting market at a time when technology is becoming increasingly important. Would you like to invest in ASML stocks? In this article you can read where you can buy ASML shares. You can also check out the current stock price of ASML.
Where can you buy the ASML stock?
Do you want to buy ASML shares? You can directly trade in ASML stocks with one of these reliable brokers:

| Brokers | Benefits | Register |
| --- | --- | --- |
| | Buy ASML without commissions. Your capital is at risk. Other fees may apply. | |
| | Speculate with CFD's on increasing & decreasing prices of ASML! 82% of retail CFD accounts lose money. | |
| | Benefit from low fees, an innovative platform & high security! | |
| | Speculate on price increases and decreases of ASML with a free demo! | |
How can you actively invest in ASML?
There are two methods you can apply to invest. You can invest in ASML stocks by buying them for the long term. This is beneficial when you have a lot of confidence in the future of the company. However, you can also choose to actively trade to benefit from price movements on the short term.
But what is one of the best places to actively trade ASM shares? A good company to actively trade CFD stocks is Plus500. At Plus500 you can place orders on both falling and rising prices. Moreover, by using leverage, you can also take a large position with a small amount of money. Would you like to try the possibilities for free with a demo? Then use the button below to create a free demo account:
What is ASML's current stock price?
Are you curious about the current price of ASML stocks? Below you will find a chart with the latest price of the ASML CFD stock. You can also place an order directly.
Is it wise to invest in ASML?
An investment in ASML shares can certainly turn out well. Large companies like Samsung and Intel depend on the equipment produced by the company. Both companies have bought ASML stocks: this is a good thing, because it means ASML can count on loyal customers in the future.
ASML's shares may do well in the future as well: the demand for chips and technological solutions continues to increase. If ASML manages to keep innovating, the company's profitability could increase further. ASM expects 160 trillion gigabytes of data to be created annually in 2025: to be able to deal with all this data, many new chips are needed.
Here, you see a division between logic- and memory-based chips for artificial intelligence and big data. Other processes require simpler, cheaper chips: think, for example, of solutions for the Internet of Things. This development could, of course, be superb for ASML's profitability and could therefore be a good reason to buy the stocks.
Another good reason to buy ASML shares is its sustainability policy. Sustainability is becoming increasingly important and investors like to buy stocks of companies that take all stakeholders into account. If ASML continues this trend, it could give the share price a further boost.
The company is also always looking for interesting mergers and acquisitions. This too can support the further development of the company. A final argument for buying ASML stocks is the dividend payments: the dividend payments can help you to build up a nice income with your shares.
Hackers
A possible threat to ASML are hackers. After all, the company's secrets are worth their weight in gold. In the past, this was done by the company XTAL, for example. However, XTAL was convicted and went bankrupt. They had to pay 865 million to ASML. Protecting their servers against cyber-attacks must be a priority for the company.
The future
ASML is constantly investing in new technologies. Manufacturers of smartphones, for example, are making increasingly high demands for their chips. The new system is due to come onto the market in 2024 and can lithograph up to 3 nanometres.
Do you think ASML will continue to succeed in developing the best chip machines? In that case, buying ASML stocks could certainly be a good decision.

How big is the company?
ASML operates in 14 countries with 60 service points, supporting the placement and delivery of machines and spare parts.
ASML was created in 1984 from a joint venture between Koninklijke Philips Electronics and ASM International. The primary objective at the time of its establishment was to market the Philips stepper SIRA III. In the beginning, the company was located in a wooden emergency building on the former Philips Natlab site in Eindhoven. Philips then bought the Philips Automatic Stepper PAS2000 from ASML.
What does ASML do?
ASML is a Dutch high-tech company with its headquarters and business complex in Veldhoven. The company is one of the main suppliers of complex machines for the semiconductor industry, especially steppers and scanners used in the manufacture of chips. Most of ASML's customers are therefore chip producers.
Rapid growth of ASML
The company grew quickly and already had 100 employees in 1985. Due to this growth, a new head office was opened in Veldhoven, the Netherlands. In addition, an office was opened in Tempe, Arizona.
The PAS2500 was launched by ASML in 1986. This was a g-line system, using ultraviolet light with a wavelength of 436 nm. The company then also entered into a partnership with Carl Zeiss.
Listed on the stock exchange
Since 1995, the company has been listed on the AEX and NASDAQ under the symbol ASM. Its main competitors are Nikon and Canon.
ASML's largest acquisition took place in 2012 when it took over US light source supplier Cymer. This should lead to greater efficiency in the supply chain and in research and development.
Author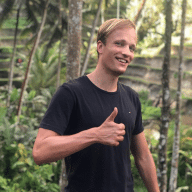 About
When I was 16, I secretly bought my first stock. Since that 'proud moment' I have been managing trading.info for over 10 years. It is my goal to educate people about financial freedom. After my studies business administration and psychology, I decided to put all my time in developing this website. Since I love to travel, I work from all over the world. Click here to read more about trading.info! Don't hesitate to leave a comment under this article.