How to buy AT&T shares?
Are you thinking about investing in the mobile phone provider AT&T? On this page we will discuss the best way to buy AT&T shares. You can also consult the current AT&T stock price on this page.
Where can you buy AT&T stock?
Do you want to buy AT&Tshares? You can directly trade in AT&T stocks with one of these reliable brokers:

| Brokers | Benefits | Register |
| --- | --- | --- |
The price of a stock like AT&T can fluctuate sharply. You can respond cleverly to this by using CFDs: a CFD is a type of derivative with which you can place an order at both a rising and a falling price. This gives you, as a trader, complete flexibility so that you can always react to the latest developments. Do you want to actively speculate on the price development of AT&T without risk? Use the button below to open a free demo at AT&T:
What is AT&T's stock price?
Are you curious about the latest AT&T share price? In the graph below you can see immediately at what price you can buy and sell CFD shares AT&T.
Is it wise to invest in AT&T?
There are many arguments in favour of buying AT&T shares. A reason to buy the AT&T share is the growing business branch of the company and the new 5G phones that are coming out. With 5G, AT&T may be able to attract new customers or entice existing customers to take out a more expensive subscription.
AT&T is above all an interesting investment for the somewhat conservative investor looking for a share that pays a stable, high dividend. The company has been increasing its dividend for 25 years and the share is therefore a good choice when you want to build up an income with your share.
However, there are also risks associated with an investment in AT&T. For example, the company faces competition from Verizon and its own streaming platforms are losing customers to the more popular Netflix.
The debts that have arisen as a result of various acquisitions can make it difficult to continue to pay out a stable dividend. If the company reduces the dividend, this can put pressure on the share price. Therefore, be careful with investments in AT&T shares.

About the company AT&T
AT&T Inc. is active in the market for local, long-distance and mobile telephone services in the United States. In that market, it is the largest provider and provider of telephony and data transmission services to other, often smaller, telecommunications operators. The company is headquartered in Dallas, Texas since June 2008.
Company history
The company's history begins in 1879 when Alexander Graham Bell founded the Bell Telephone Company. Together with his father-in-law Gardner Green Hubbard, he then obtained the patent for the telephone. In 1885, together with his father-in-law, he founded the American Telephone and Telegraph Company. This company acquired the Bell Telephone Company. In this way this company became the most important telephone company in the United States.
The company was later reappointed as AT&T Corporation. This was one of the largest and most powerful companies in the United States. That is why the company was nicknamed "Ma Bell". In 2005, the company was reappointed to AT&T Inc.
AT&T Corporation was forced to split into a number of smaller regional parts in 1984. This division broke the company's monopoly. The new regional companies were Regional Bell Operating Companies, also known as "Baby Bells".
Companies taken over by the company
AT&T signed a contract with electronics giant Apple in 2007. This made AT&T the sole provider of the iPhone, which is popular in the US.
AT&T announced its intention to acquire Deutsche Telecom T-Mobile USA in March 2011. The company wanted to pay $39 billion in cash and shares. This acquisition would give AT&T the only GSM network in the United States. This takeover was blocked by the US Department of Justice.
The acquisition of DIRECTV was completed in July 2015. This acquisition, which cost AT&T $49 billion, made the company the largest pay TV provider. This acquisition reduced AT&T's dependence on mobile revenues.
In October 2016, AT&T made an offer of approximately 385 billion in money and shares for the media company Time Warner. Time Warner, now Warmer Media, became a division of AT&T in 2018. After this transaction AT&T also started to supply programmes itself.
Do you think these acquisitions will be positive for AT&T's future operating results? In that case, it may be wise to invest in AT&T by buying the shares.
Growing number of subscribers
In October 2020, US telecoms and internet company AT&T announces that the number of mobile and HBO subscribers has grown strongly: the company gained 5 million new mobile subscribers. The number of HBO subscribers to Warm Media rose from 36 to 38 billion subscribers in the US, while the number of subscribers worldwide rose to 75 billion.  However, sales declined due to the corona crisis and the fact that fewer calls are made abroad.
Author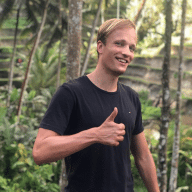 About
When I was 16, I secretly bought my first stock. Since that 'proud moment' I have been managing trading.info for over 10 years. It is my goal to educate people about financial freedom. After my studies business administration and psychology, I decided to put all my time in developing this website. Since I love to travel, I work from all over the world. Click here to read more about trading.info! Don't hesitate to leave a comment under this article.