Buying Basic Attention Token: how to invest?
Investing in crypto currencies is  becoming increasingly popular at the moment. Many people are under the impression that the digital currency is going to become of great importance in the financial world. Basic Attention Token is one of the projects that may sound familiar. Now that it is important to know more about it before you decide to start investing, we have listed the most important information in this article. By reading this article, you too will get a better view on investing in Basic Attention Token!
How to buy Basic Attention Token?
Online advertising works! The Basic Attention Token responds to this by rewarding users for viewing advertisements. This takes away a lot of irritation, since the user now also benefits from advertisements. Investing in Basic Attention Tokens can therefore turn out well.
Do you want to buy the Basic Attention Token? You can do this at a reliable crypto exchange:
| Brokers | Information | Register |
| --- | --- | --- |
| | Trade in popular cryptos with a free demo & start today. Cryptoasset are highly volatile and unregulated in the UK. No consumer protection. Tax on profits may apply. | |
| | Speculate on increasing & decreasing crypto prices with the CFD provider Plus500 using a demo account. 82% of retail CFD accounts lose money. | |
What is BAT – goal of the project
First, we should take a look at what Basic Attention Token is and what you can actually do with it. Basic Attention Token (BAT) is a special cryptocurrency that aims to make digital advertising fairer for both creators and consumers. BAT runs on Ethereum's network and is integrated into a custom web browser called Brave, which we'll show you more about in a moment. BAT can be exchanged between advertisers, publishers and internet users based on their activity on the internet. This is intended to make trading between all three groups just a little easier.
So how does Basic Attention Token work, you ask? Users are rewarded with BAT for watching certain videos. This enables publishers to create higher impact ads. Advertisers can be sure that their message will be viewed by an audience that actually wants to watch that particular ad. The end result is a new kind of digital advertising platform that runs entirely on BAT. Users can keep the BAT but also exchange it for regular money if they wish. With BAT, they can then reward their favourite advertisers or content creators.
Online advertising is becoming increasingly popular and BAT is capitalizing on this. This can therefore be a good reason to invest in BAT by buying the cryptocurrency.

The creation of BAT
Anyone who wants to invest in BAT should know what kind of genesis the project has had. BAT was created by Brendan Eich and then further developed by Brave Software. It is important to note that both projects are truly separate.
The whole concept of the token is that it aims to eliminate all fraud and intermediaries. The creator of the Basic Attention Token had a clear vision to help customers, advertisers and users. He emphasized the goal of eliminating any inconvenience while using the Internet. Ultimately, he decided to create an ecosystem with the aim of achieving this. The fact that the team truly puts the interests of users first is why, at the moment, many investors want to invest in Basic Attention Token.
Main components of BAT
As we have already briefly shown, BAT uses a special kind of browser to ensure that the entire platform runs properly. Now this is not the only part of the BAT project. To give you a better idea of how it works, we have listed the most important parts of the project for you:
Brave Browser – BAT works on a web browser called Brave. This is the browser that was also developed by the team that created the token. Exactly, the team that made investing in BAT possible. Brave is a free browser that can load 3-6 times faster than other browsers. This is made possible by the fact that they only show ads when users choose to see them. Users of the Brave browser can sign up for the Brave Rewards programme. This puts them in BAT for viewing ads. Ads are only enabled if the user chooses to do so.
Brave Micropayments Ledger – To follow the movement of BAT, Brave uses the Brave Micropayments Ledger. The idea is that by using the special Brave Micropayments Ledger it is possible for advertisers, publishers and readers to enter into smart contracts. These smart contracts then make it possible to complete transactions much faster on the platform. Brave is investigating the use of zero-knowledge proofs for its blockchain. With this, they are aiming for just a little more anonymity than before. In fact, this technique means that it is no longer possible to find out personal data when making a transaction with the browser.
Conclusion – should you invest in Basic Attention Token?
If you see a future in Basic Attention Token, it would not be a bad idea to buy the coin yourself and to aim for a nice return. Because of the special technique and the years of experience, there is a big chance that the project will appeal to the public. Of course, the question is whether there will not be another project with a similar vision. In the end, it remains a personal choice to make, but with this information, we have already put you on the right track. This will make it a lot easier to make a choice about your investments.
Author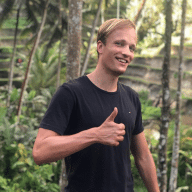 About
When I was 16, I secretly bought my first stock. Since that 'proud moment' I have been managing trading.info for over 10 years. It is my goal to educate people about financial freedom. After my studies business administration and psychology, I decided to put all my time in developing this website. Since I love to travel, I work from all over the world. Click here to read more about trading.info! Don't hesitate to leave a comment under this article.