Bitvavo fees: how much does it cost to trade at Bitvavo?
Before you start trading cryptos with Bitvavo, you probably want to know how much it costs. In this article, we will discuss how much you will pay when investing in bitcoin and other cryptocurrencies at Bitvavo.
Tip: click here to open an account with Bitvavo & pay no transaction fee on your first € 1000!
How much does trading with Bitvavo cost?
How much you pay in fees at Bitvavo depends on how you trade. There is a distinction between people who take the market and people who make the market.
Taker fee
If you buy or sell a crypto directly, you will be charged higher fees. Because the crypto market is decentralized, Bitvavo has to create its own market. When everyone wants to buy a crypto directly, this can be more challenging.
Maker fee
If you want to trade against lower fees, you can also place an order. With an order you create a market, since Bitvavo can see how many people want to buy and sell a crypto at a certain price. The costs for people who create a market are therefore much lower.
Discount for high trading volume
Bitvavo also looks at your trading volume when determining the amount of fees you pay. If you trade a large amount of crypto in a 30-day period, you will get a substantial discount. If you trade a lot, Bitvavo is even willing to give you money!
What are the costs at Bitvavo?
In the table below, you can immediately see what the fees are at Bitvavo:
| Volume 30 days | Taker fee | Maker fee |
| --- | --- | --- |
| €0+ | 0,25% | 0,15% |
| €100.000+ | 0,2% | 0,1% |
| €250.000+ | 0,16% | 0,08% |
| €500.000+ | 0,12% | 0,06% |
| €1.000.000+ | 0,10% | 0,05% |
| €2.500.000+ | 0,08% | 0,04% |
| €5.000.000+ | 0,06% | 0,04% |
| €10.000.000 | 0,05% | 0,03% |
| €25.000.000 | 0,04% | 0,03% |
If you buy €10,000 worth of Bitcoin in a month, you will pay a 0.25% transaction fee. Remember that you pay transaction fees both when buying and selling cryptocurrencies. This means that when you sell your crypto again, you pay another 0.25% transaction fee.
Is Bitvavo cheap?
Bitvavos fees are low compared to other crypto providers. At many other providers, you sometimes pay more than 1%, which is of course a huge difference. This makes trading with Bitvavo attractive: you will never pay more than 0.25% over the traded amount.
How much does it cost to deposit money with Bitvavo?
Depositing money is free at Bitvavo when using iDEAL, SEPA credit transfer and Bancontact. You can also use EPS Überweisung (1.75% fee) and Giropay (1.75% fee).
Are the costs important?
Many novice investors misjudge the importance of transaction costs. In the long run, a difference of 0.25% or 0.5% can make a huge difference. This is due to the principle of compound interest.
When you trade cryptos regularly, you always lose a small percentage in transaction fees. If your return on a crypto transaction is 100%, and you pay 1% in transaction fees, you also lose 1% in return on each transaction. It is therefore worthwhile to carefully compare the costs of different crypto platforms. By doing so, you avoid wasting a lot of money, and you can optimize your returns.
Watch out for the spread
Finally, it is important to keep a close eye on the spread. The spread is the difference between the buying and selling price of a crypto. When supply and demand are not well-balanced, the spread can (temporarily) rise sharply. Your transaction will then suddenly become considerably more expensive.
This often happens when there is high volatility, for example, when many more people want to sell than buy. It is advisable to wait awhile before executing the transaction if the spread is high. By doing so, you avoid losing a substantial amount of money due to bad timing.
FAQ about Bitvavo's costs
How much commission you pay depends entirely on your trading volume, but in any case the cost will never be higher than 0.25%.
You can use Bitvavo's software completely free of charge. However, you will, of course, pay a transaction fee when you execute crypto transactions with Bitvavo. When you open an account with this link, however, you can trade your first €1000, of crypto completely without transaction fees.
With Bitvavo, you can also withdraw your cryptos and store them in your wallet. Please note that in order to do so, you will have to pay a fee to a miner for verifying the transaction. These fees can vary greatly and are not determined by Bitvavo. On the website of Bitvavo, you can always find an up-to-date overview of these costs.
Author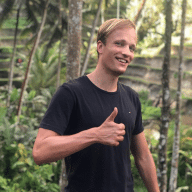 About
When I was 16, I secretly bought my first stock. Since that 'proud moment' I have been managing trading.info for over 10 years. It is my goal to educate people about financial freedom. After my studies business administration and psychology, I decided to put all my time in developing this website. Since I love to travel, I work from all over the world. Click here to read more about trading.info! Don't hesitate to leave a comment under this article.