Can Bitvavo be trusted? Bitvavo safety
On the news, you constantly read reports of people losing their crypto assets due to scams or theft. Therefore you might be wondering whether Bitvavo can be trusted. In this article we will discuss the security & safety of the crypto exchange Bitvavo. We will also explain how you can protect your account at Bitvavo.
Tip: try Bitvavo for free
Do you want to test Bitvavo for yourself? Then it might be smart to open a free account with this crypto exchange. Our research showed that Bitvavo is a reliable crypto exchange. Moreover, you do not pay any transaction fees over the first € 1000 when you open an account through this link:
Our research: is Bitvavo reliable
I have been using Bitvavo for trading cryptos for a long time. In those years, I have not had any unpleasant experiences with Bitvavo. However, this is not enough to state with certainty that Bitvavo can be trusted.
Therefore, I visited Bitvavo's head office in Amsterdam and talked to its employees. I also researched whether the company is completely legitimate.
In the end, I came to the conclusion that Bitvavo can be trusted. In the rest of the article, I will discuss how I came to this conclusion.
Can Bitvavo be hacked?
A big fear of many people using an exchange is of course hacks. This is for a good reason: in the past, entire exchanges have gone bankrupt because all their Bitcoin were stolen. Even the well-known exchange Binance had to deal with a major hack where a large number of Bitcoin was stolen.
So yes, like any exchange, Bitvavo can be hacked. Fortunately, they do everything they can to minimize losses in such an event.
Cold wallets
You can store crypto coins such as Bitcoins and Ethereum in both cold wallets and hot wallets. Cold wallets are not connected to the internet, so they cannot be hacked easily. Most of the cryptocurrencies managed by Bitvavo are therefore stored offline and in secure locations, which is a lot safer.
Only the part needed for active trading is stored on a hot wallet. These wallets are connected to the internet, which guarantees that the funds are quickly accessible. Bitvavo uses complicated models on a daily basis to calculate how many cryptos will likely be traded. In the unlikely event that more crypto are needed, they move cryptos from the cold wallets to the hot wallets. When this happens, someone has to physically move and connect the cryptos in a well-secured vault.
Because Bitvavo has such strict security protocols, you can rest assured that your funds are managed reliably.
Custody providers
Bitvavo uses multiple custody providers to manage the cryptocurrencies: these are parties that store most of the digital currency in cold wallets.
A big advantage of this is that the assets are insured up to an amount of €250 million. In the unlikely event that something does go wrong, at least not all the money is gone.
Multiple signatures are also required for transactions, so a lone wolf cannot suddenly empty Bitvavo's entire vault.
Headquarters located in the Netherlands
It is also good to know that Bitvavo's head office is located in the Netherlands. If you want to, you can visit the Bitvavo office at Herengracht 450 in Amsterdam. They rent several mansions there, which they need to accommodate their rapid growth.
Since they operate from Amsterdam, they must also comply with the AVG (General Data Protection Regulation) which is active in the EU. Therefore, your private data cannot be sold or shared with another party.
Bitvavo also adheres to the fifth anti-money laundering guideline (AMLD5) is a positive sign for the trustworthiness of Bitvavo. Bitvavo also possesses all the necessary licences: for example, they are supervised by the Dutch bank.
What happens if Bitvavo goes bankrupt?
Bitvavo is doing very well: cryptos are more popular than ever, and the chances of the company going bankrupt are not very high. However, it is good to know that in case of bankruptcy, you won't suddenly lose all your cryptos.
This seems to be settled; if Bitvavo goes bankrupt, nothing will happen to your money. Bitvavo has set up the Bitvavo Payments Foundation to safeguard user funds in case of bankruptcy.


As you can see, Bitvavo is doing well: they serve many customers all over Europe!
Improve your account security
Even though Bitvavo is completely reliable, there is still the risk of individual hacks. Therefore, it is recommended to apply the following steps to secure & protect your account:
Enable two-factor authentication (2FA)
By applying two-factor authentication (2FA), you make it a lot harder for hackers to steal your cryptos. Within Bitvavo, you can easily set up 2FA. After you set up 2FA, you receive an access code via your phone.


Device and IP management
I travel a lot, so I often notice they use IP and location-based account protection. Bitvavo increases security by keeping track of where you often log in from. When you log in with a new device or from a new IP address, you have to confirm this by email. This prevents a smart hacker abroad from quickly withdrawing your funds.
Antiphishing protection
Phishing is a type of scam where a criminal tries to fool you into believing that the email is from Bitvavo when it is not. If you click on the link and provide your details, they know how to log in.
Within the settings of Bitvavo, you can set a unique code with which the official mails from Bitvavo will be signed. This allows you to confirm that the emails are sent by Bitvavo and not a third party.


Protection against withdrawal of funds
In the unlikely event that a third-party gains access to your account, they cannot simply steal your funds. The bank account number where you send the money must be in your name. If you want to change this, you need to contact Bitvavo directly.
If despite all measures, something goes wrong, Bitvavo has a dedicated team to assist you in case of fraud.
Does Bitvavo experience downtime?
Of course, a website can never be 100% protected against downtime. However, Bitvavo does everything they can to minimize downtime.
They want to guarantee reliable and uninterrupted access by hosting their systems in zones. If one zone fails due to an outage, traffic is diverted to a backup server.
Conclusion: is Bitvavo reliable?
Yes, Bitvavo is absolutely reliable! Of all the crypto exchanges I have tested, I have the best feeling about Bitvavo. This is because the exchange is based in The Netherlands, and they clearly do everything to protect their assets as much as possible.
However, when you invest large amounts of money, it can be wise to store your crypto's in a cold wallet yourself. This way, you will keep full control over your cryptocurrencies.
Do you want to read more about Bitvavo?
Author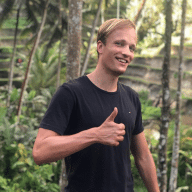 About
When I was 16, I secretly bought my first stock. Since that 'proud moment' I have been managing trading.info for over 10 years. It is my goal to educate people about financial freedom. After my studies business administration and psychology, I decided to put all my time in developing this website. Since I love to travel, I work from all over the world. Click here to read more about trading.info! Don't hesitate to leave a comment under this article.