How to Buy Bitcoin with Bank of America (2023)
Investing in cryptocurrency can sometimes be an uphill task for many, and this more likely the case for newbies in the crypto space. One of the most frequently asked questions in the crypto world is on how to buy crypto with your bank account. In this article, you will find a step-by-step guide for buying Bitcoin with Bank of America.
How to buy Bitcoin with Bank of America?
Step 1: create an account with a crypto exchange
Bank of America customers cannot directly purchase cryptocurrencies through its online platform. Instead, Bank of America customers have to bridge this gap by connecting their bank accounts to a licensed cryptocurrency exchange platform where they can purchase digital assets such as Bitcoin (BTC). When buying Bitcoin or any other cryptocurrencies, it is important for you to ensure you are using a secure and trusted exchange platform. In the overview below, you see which exchanges can be a good choice:
| Brokers | Information | Register |
| --- | --- | --- |
| | Trade in popular cryptos with a free demo & start today. Cryptoasset are highly volatile and unregulated in the UK. No consumer protection. Tax on profits may apply. | |
| | Speculate on increasing & decreasing crypto prices with the CFD provider Plus500 using a demo account. 82% of retail CFD accounts lose money. | |
| | Invest in hundreds of cryptos against low fees. Receive 20% permanent discount over all transactions! | |
Step 2: Complete all your verifications
You have to carry out all the necessary verifications required by the crypto exchange platform. This unlocks transaction limits, and allows you to access a large extent of the services provided by the crypto exchange. This process will require you to provide the following information:
Passport: you have to upload a copy of your passport on the platform
Address: upload a proof of your address, e.g. utility bills
Experience: Answer questions about your investment experience with crypto
Finance: finally, you need to state your current financial situation.
Crypto exchanges are obligated to verify customers' identities on their platforms. This helps to mitigate cases of fraud and curtails criminal activities on the platform.
Step 3: Deposit funds from your bank account.
After your account has been verified by the crypto exchange, you can deposit money into your crypto account. Navigate to the deposit funds button on the crypto exchange platform and deposit your selected fiat currency. It is also essential to ensure that the name on your crypto exchange platform and the one on your Bank of America account matches to avoid any issues.
Step 4: select Crypto on the trading platform.
Bitcoin is one of the most popular cryptocurrencies and has the highest market capitalization. Besides Bitcoin, you can also invest in different cryptocurrencies. It is always wise to study the market value, volatility and white paper before you invest in an unknown crypto.
Step 5: Fill in your selected investment amount and select open position.
Once you have selected the type of crypto you want to buy, you will be required to fill in some of the following information:
Amount: determine how much Bitcoin you would like to buy
Stop loss: Just as you decide the entry price, you can also decide your exit price. This depends on your risk assessment. This allows you to limit losses on your investment in cases where the market trend goes against your expectations.
Take profit: Based on your assessment of the market, you can choose the price you would like to take profits by closing your investment.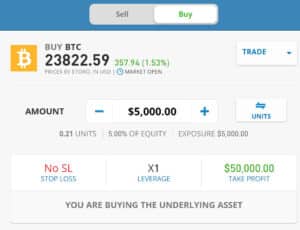 How to buy crypto securely from your bank?
Educate yourself: you can invest in over 19,000 other cryptocurrencies, most of which are untested and will not survive. It is therefore important to study the crypto you consider an investment in.
Expect Volatility: The high volatility of cryptocurrency is an aspect that makes it both exciting and troublesome at the same time. It could springboard you to unbelievable profits in a matter of hours, but at the same time it could also bring you down if you fail to prepare.
Manage risk: Risk assessment is vital to keeping you afloat in stormy situations and would help to protect your investment portfolio.
Security: Take charge of securing your funds by ensuring you use 2FA and strong passwords. An additional method that helps you secure your funds is through the use of external wallets.
What is the Crypto policy of Bank of America?
Bank of America does not restrict its customers from getting Cryptocurrency from legitimate and licensed crypto exchanges. If you want to  nvest in cryptocurrencies like Bitcoin, you simply need to create an account with a verified crypto exchange.
About Bank of America
The Bank of America, or simply BofA is a multinational financial organization. It is one of the biggest banks in the US. BofA was founded in 1904, and since then, it has provided a variety of financial services and goods to private citizens, companies, small and middle-market firms, and large corporations. Bank of America is estimated to serve Almost 56 million Americans.
The bank is present internationally in more than 35 countries and has facilities all around the nation. Bank of America reported $102 billion in revenues and $2.3 trillion in assets for the year 2019. Through its investments and philanthropic endeavours, Bank of America has recently tried to solve social and environmental challenges.

Conclusion: can you buy Bitcoin with Bank of America?
Yes, you can buy Bitcoin or any other cryptocurrency with Bank of America. You need to register with a regulated or licensed crypto exchange, after which you can link your bank account to your crypto account in other to make deposits. You should always evaluate your risk before investing in any cryptocurrency.
Author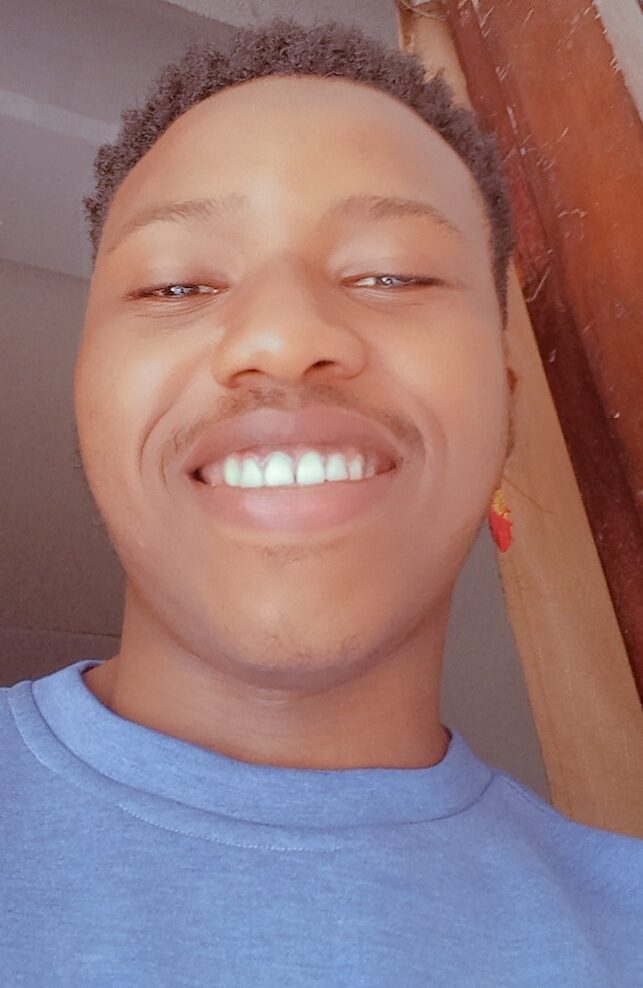 About
I'm Gaius, a Blockchain research analyst with more than 5 years of experience. Before diving into the world of cryptocurrency and Blockchain technology, my biggest passion was football. But ever since I discovered the potential of this revolutionary technology, I've been completely captivated by it.
My fascination with Blockchain has led me to transition into Blockchain engineering, as I'm eager to be part of the development and implementation of this transformative technology. With my experience and knowledge, I'm excited to share insights and educate others about the potential of crypto and the blockchain.