Can you buy half a Bitcoin?
Certainly! You can easily buy half a Bitcoin via the internet. Since Bitcoins are divisible, you can buy 0.5, 0.1, 0.01, or 0.001 Bitcoin, for example. In this article, we discuss how to buy a part of a Bitcoin yourself.
Step-by-step guide: buying half a Bitcoin
Step 1: open an account with a reliable crypto broker:
| Brokers | Information | Register |
| --- | --- | --- |
| | Trade in popular cryptos with a free demo & start today. Cryptoasset are highly volatile and unregulated in the UK. No consumer protection. Tax on profits may apply. | |
| | Speculate on increasing & decreasing crypto prices with the CFD provider Plus500 using a demo account. 82% of retail CFD accounts lose money. | |
Step 2: deposit enough money into your account to buy half a Bitcoin
Step 3: enter the part of a Bitcoin you want to buy, for example, 0.5
Step 4: click on buy and the Bitcoin will be added to your account immediately
Can you buy a part of a Bitcoin?
It is possible to buy parts of a Bitcoin. You can divide a Bitcoin into small pieces, which are also called Satoshis. The smallest number of Bitcoin you can buy is 0.00000001 BTC. The numbers after the decimal point are actually comparable to fiat cents.
The only difference is that the numbers after the decimal point can also be worth a lot. Nowadays, 0.5 Bitcoin is worth more than ten thousand dollars! In the future, even one millionth Satoshi might be worth a lot of money.
Is it worth buying 0.5, 0.01, or 0.01 Bitcoin?
Even if you have little money to spend, it can still be interesting to invest in Bitcoins with a small amount. For example, you can make an investment periodically for $10, $20 or $50.
This can be appealing when you consider that the value of Bitcoin can rise further: the cryptocurrency is scarce, and no more than 21 million Bitcoins will ever be produced. However, the question is whether there is not another cryptocurrency that will dethrone Bitcoin in the future… time will tell…
Be mindful of transaction fees
Please pay attention to the transaction fees when you want to send a part of a Bitcoin. Miners need to be paid, and this fee is often a fixed amount. If you send too small an amount of Bitcoins, you can lose your entire amount of Bitcoins.
A half Bitcoin is, however, worth a lot of money nowadays. With 0.5 Bitcoin, you have already invested a considerable amount in Bitcoins.
Author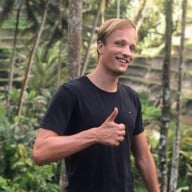 About
When I was 16, I secretly bought my first stock. Since that 'proud moment' I have been managing trading.info for over 10 years. It is my goal to educate people about financial freedom. After my studies business administration and psychology, I decided to put all my time in developing this website. Since I love to travel, I work from all over the world. Click <a href="/about-us/">here</a> to read more about trading.info! Don't hesitate to leave a comment under this article.