Buying Verge: How to invest in Verge?
Although most people think of Bitcoin when they hear the term cryptocurrency, there are of course many other crypto coins. One of the well-known cryptocurrencies that has a promising future is Verge. Due to the excellent returns, investing in Verge is certainly not a bad idea. Are you curious why buying Verge can be such a good idea? And do you know what kind of project Verge is? Read on, we will show you all about it in this article!
How can you actively invest in Verge?
Do you want to actively invest in Verge cryptocurrencies? This is possible with an online broker! At an online broker, you can use CFDs to trade on both falling and rising Verge prices. At Plus500 you can try trading CFD cryptocurrency with a demo, completely free and risk-free. Use the button below to open an account with Plus500 immediately;
How to buy Verge?
Do you want to buy the Verge cryptocurrency? You can do this at a reliable crypto exchange:
| Brokers | Information | Register |
| --- | --- | --- |
| | Speculate on increasing & decreasing crypto prices with the CFD provider Plus500 using a demo account. 82% of retail CFD accounts lose money. | |
What is Verge – what kind of currency is it?
Verge has become known as a crypto-currency that is fully committed to maximizing online anonymity. The project runs on an open-source blockchain, which can be compared to the Bitcoin blockchain. The Blockchain is a kind of ledger where all transactions are listed. This ledger makes fraud virtually impossible and makes banks superfluous.
Apart from the fact that Verge runs on a similar Blockchain, there are several similarities with Bitcoin itself. Like Bitcoin, Verge is a digital currency that can be used to buy things online. What makes Verge special is that the IP addresses change every time a transaction is made over the network. The result? No one can see who is behind the transaction, you are completely anonymous.
The purpose of Verge
The goal behind Verge is to create a Blockchain that runs according to the Bitcoin concept, but adds a little more privacy for its users. However, it can do more than this. In fact, Verge will also be using a smart contract platform called Rootstock. This platform makes it possible to realize over 400 transactions per second. Although this platform is not yet active, it will be implemented in the future.
Before Verge was known by this name, it was known as DogecoinDark. This name, of course, refers to the well-known Dogecoin, a cryptocurrency that is particularly known for the satirical approach of the team. In 2016, the creators decided to rename the coin to Verge. Today, you can buy the coin under the special code XVG. Verge can be traded on most well-known exchanges.
The special Wraith Protocol
One of the components that makes investing in Verge so interesting is that Verge uses the Wraith Protocol. This special protocol ensures that users can choose whether they want a transparent transaction or not. In other words, if the user does not want to be known, they do not have to be. If the user wants to remain anonymous, a private ledger ensures that all personal data is protected.
The Blockchain then only shows how much has been transferred, not to whom. In the case of a public transaction, however, the personal details are known. What is special is that as a user, you can quickly and easily indicate on whether you want to use the Wraith Protocol or not. This additional function can make investing in the Verge cryptocurrency even more interesting.
Investing in Verge – smart or not?
Verge has experienced a steady growth over the past few months. This growth has ensured that many people would also like to invest in Verge. The special thing about Verge is that it has an enormous potential to break through into the top 10 cryptocurrencies. At this moment, Verge is seen as one of the best privacy coins of the moment.
This has therefore caused the price to really rise considerably. When the coin was first launched, it was trading at 0.00003 cents. A few years later, this was already 0.20 cents, a huge return compared to some other crypto projects. Although the price is relatively stable at the moment, there is a good chance that it will continue to rise.
Risks of investing in Verge
It is important to note that there are risks associated with investing in Verge. This is mainly due to the fact that a privacy-coin like Verge is susceptible to regulation by the government. The government is not really keen on everyone being able to conduct transactions anonymously via the internet.
The reason given, of course, is that this could encourage criminal transactions. Although governments are currently quite open towards crypto-currencies, this need not always remain the case. If a large government such as the US government decides to ban privacy coins, this could have a major impact on the price.
Store Verge in a special wallet
If you have decided to invest in Verge, it is essential to protect your coins. The best way to keep full control over your coins is to create a wallet. At this moment it is possible to use four different kinds of wallets. You can choose for a regular paper wallet, but these are rather vulnerable.
It is therefore better to choose a software or a hardware wallet. We advise you not to leave your coins in an exchange wallet. This is wise because exchanges are unfortunately sometimes hacked. If this happens, in many cases you can forget about your money. If you still have your coins on an exchange, you can fortunately easily transfer them to a software wallet. At a site like Bitvavo, you can also store your Verge crypto coins extra safe by using the extra security options.
Conclusion – should you invest in Verge?
Whether you should invest in Verge depends entirely on how much risk you are willing to take and what your future vision of the market is. If you think that privacy coins will play an important role in international payment transactions, then investing in Verge is not a bad idea. However, if you think that the government is planning to restrict the coins at some point, then it would be better to invest in a slightly less risky currency such as Bitcoin.
It is wise to spread your investments over several altcoins anyway: that way, you avoid losing a large part of your investment if Verge performs less well.
Author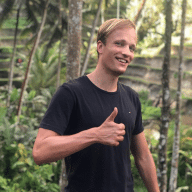 About
When I was 16, I secretly bought my first stock. Since that 'proud moment' I have been managing trading.info for over 10 years. It is my goal to educate people about financial freedom. After my studies business administration and psychology, I decided to put all my time in developing this website. Since I love to travel, I work from all over the world. Click here to read more about trading.info! Don't hesitate to leave a comment under this article.