How to buy Carnival shares?
Carnival is a well-known cruise company with famous brands such as Princess cruises and AIDA cruises. Are you thinking about buying Carnival shares? In this article we will discuss how to invest in Carnival. You can also find the latest Carnival stock price on this page.
Where can you buy Carnival stocks?
Do you want to buy Carnival shares? You can directly trade in Carnival stocks with one of these reliable brokers:

| Brokers | Benefits | Register |
| --- | --- | --- |
How can you actively invest in Carnival?
The share price of a cruise ship company like Carnival can fluctuate sharply. Carnival shares are very cyclical: when the economy slows down, the stock price often drops sharply. This was the case during the corona pandemic, for example, when the share price fell by more than 80%. Fortunately, as an active investor, you can even respond to these kinds of extreme fluctuations.
By using CFDs you can actively respond to both price rises and falls. With a short order, you can achieve a positive result when the price falls. In addition, you can use leverage to increase both your potential profit and potential loss. Would you like to try the possibilities for free with a demo? You can do this at Plus500! Use the button below to directly open a demo on Plus500:
What is Carnival's current stock price?
Are you curious how the Carnival stock price is developing? The chart below shows you the price at which you can buy & sell CFD shares:
About the company Carnival
The international cruise company Carnival Corporation & plc operates cruise ships. With a market share of 45%, it is the largest shipping company in the world. The company had 13 million passengers in 2019, more than half of which came from the United States and Canada.
Not all ships are owned by the cruise line. Vessels are also managed for a longer period of time through a lease agreement. The headquarters of this company, which had 104 vessels in operation in 2019, are in Miami (US) and London (UK).
The cruise company, which focuses on entertainment, is also active in the transport sector. In the first half of the 20th century, many cruise companies were engaged in passenger transport across the Atlantic. The need for this passenger transport disappeared in the second half of the 20th century, after which many companies decided to focus on cruise shipping.

Company history
Ted Arison founded the company in 1972 under the name Carnival Cruise Lines. Soon this cruise company became one of the most popular cruise companies in the world. Due to an increase in capital, it became possible to take over other cruise companies.
In 1989, the Holland America Line was bought. In 1992, a share was bought in Seabourn Cruise Lines of 25% which was increased to 50% in 1996 and to 100% in 1999. In 1993, the name of the cruise company was changed to Carnival Corporation. Then Carnival Cruise Line, which continued to exist, became a subsidiary. Carnival Corporation is the holding company that manages these brand names.
The Italian cruise company was acquired for 50% in 1997 and 100% in 2000. The holding company acquired 68% of the stocks of the Cunard Line in 1998. One year later, the remaining shares were bought as well. Carnival Corporation & plc now manages among others the brand names Princess Cruises, AIDA Cruises and P&O Cruises.
Before buying Carnival stocks, it is wise to check which brands the company is buying. Investigate how the different brands are doing: this way you can determine whether it is wise to buy Carnival shares.
The company goes public
In 1987 Carnival went public by issuing 20% of the shares. The acquired capital made it possible to finance acquisitions.
The stocks of the company, which has headquarters in London and Miami, are listed on the London Stock Exchange and on the New York Stock Exchange. On both the London Stock Exchange and the New York Stock Exchange, the ordinary shares are traded under the symbol CLL. Carnival special shares are traded on the New York Stock Exchange under the symbol CUK.
2020: Sale of ships
Carnival Corporation & plc announced in October 2020 that it would sell a total of 18 vessels. These are mainly inefficient vessels that contribute little to the company's turnover. With these sales of 18% of total capacity, Carnival is ahead of the expectation that the number of cruises will decrease. According to the company, the number of bookings for next year is encouraging.
In the long term, cruise ships may come under further pressure: after all, cruise ships are polluting the environment, which is why governments are not happy with this way of holidaying. It is important to be aware of this when considering investing in Carnival stocks.
Author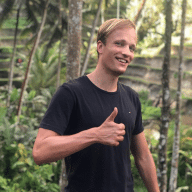 About
When I was 16, I secretly bought my first stock. Since that 'proud moment' I have been managing trading.info for over 10 years. It is my goal to educate people about financial freedom. After my studies business administration and psychology, I decided to put all my time in developing this website. Since I love to travel, I work from all over the world. Click here to read more about trading.info! Don't hesitate to leave a comment under this article.