How to buy Caterpillar shares?
The American company Caterpillar builds heavy machinery for mining and civil engineering. The company's performance is sometimes used to predict how the economy is developing. This is because the share is very cyclical. This can make it attractive to actively trade in Caterpillar shares. In this article you will find tips that you can use to invest in the Caterpillar company in a smart way.
Do you want to buy Caterpillar shares? You can directly trade in Caterpillar stocks with one of these reliable brokers:

| Brokers | Benefits | Register |
| --- | --- | --- |
How can you actively invest in Caterpillar?
You can divide investors into two types: active traders and long-term investors. Active trading has the advantage that you can respond to the latest developments. This allows you to take advantage of both the small rises and small decreases in stock prices.
The Caterpillar company is a very cyclical stock. Companies stop investing in new, large machines when there is a lot of uncertainty in the economy. During a crisis, the share price can drop rapidly. A good broker where you can actively trade with CFD's in the price development of Caterpillar is Plus500. Use the button below to open a free demo account with this broker:
What is the current stock price of Caterpillar?
Would you like to know the current Caterpillar company share price? Then you're in the right place on this page. Below you can find the chart with the Caterpillar CFD stock price. With the buttons you can open a trading position directly.
Step-by-step plan: an investment in Caterpillar
Before you buy Caterpillar shares, you need to go through a few steps. First you have to draw up a good strategy. Consider at what price you want to buy the stock and when you want to sell it again. You also need to see how the stock fits into your entire portfolio. Caterpillar is a cyclical stock that is highly dependent on economic developments. If you want to build a stable portfolio, you should also buy shares that are less cyclical.
Before you place the order, you need to open an account with a broker. A good broker is both reliable and inexpensive. You don't want your broker to steal your money or influence the stock prices. It is therefore important to investigate where you can invest. In our overview of brokers, you can immediately see which brokers are a good choice
Once you have an account and decided to trade in Caterpillar, all you have to do is open a position. You can do this by opening a market order or limit order. With a market order, you open the trade at the current market price. With a limit order, you set a price at which you buy the stock. By using a limit order, you can choose an attractive value where you open your investment.
It is often recommended using a stop loss. With a stop loss, you automatically close the investment when a certain loss is reached.

What does Caterpillar do?
Caterpillar is one of the largest manufacturers of large machines used in a wide range of industries. The company also manufactures diesel and gas-powered engines. These engines can provide a lot of power. Caterpillar also manufactures industrial gas turbines. The company also offers its customers financial products and insurance. The headquarters of this largest construction equipment manufacturer in the world is located in Deerfield, Illinois.
The birth of Caterpillar
In 1925, a merger of the Holt Manufacturing Company and the C.L. Tractor Company created the California-based Caterpillar Tractor Company. After a reorganization in 1986, the company became a Delaware company. Machines made by Caterpillar are easy to recognize. They have the distinctive "Caterpillar Yellow color" and the "CAT" logo.
Monopoly in the market
Decades ago, Caterpillar almost had a monopoly in the world of building materials and equipment. After the Second World War, many countries had to be rebuilt. Caterpillar was closely involved in this process. This made it possible for the company to gain a strong position in the market. Despite the power of other players in the market, the company never really gave up that position. Caterpillar is still a stable company.
Expansion of the company in emerging market countries
After the Second World War, Caterpillar built factories in Russia, China, Brazil, India and other countries.
In the Russian city of Tosno, Caterpillar built its first Russian factory in sixteen months. In 2000, the factory started manufacturing machine components.
In the People's Republic of China, the Caterpillar Suzhou factory was built for 125 million dollars. Medium-sized wheel loaders and motor graders are produced here. They are mainly intended for the Asian market.
Caterpillar has been producing in Brazil since 1960. In 2010, the company announced the construction of a new plant in Brazil. The new factory produces backhoe loaders and small wheel loaders.
Caterpillar has three branches in India. In India their machines, engines and generator sets are produced.
If you want to invest in Caterpillar, it's wise to keep an eye on these types of expansions. When the emerging markets in which Caterpillar operates are doing well, the company's profitability can increase further. It can then be attractive to buy more Caterpillar shares.
Caterpillar machines
Some machines made by Caterpillar are hydraulic excavators, wheel loaders and agricultural tractors. These machines are used in mining, forestry and road construction.
Road trucks
In 2011, Caterpillar started producing road trucks: an example is the CAT CT 660. In 2016, Caterpillar decided to stop the production of these trucks. Why did Caterpillar decide to stop production? Because it required too much extra investments to be a viable competitor in this market.
Engines and gas turbines
Caterpillar's diesel and natural gas engines and gas turbines are not only used in Caterpillar's own vehicles. They are also the main engines in locomotives, ships and ocean-going vessels. They are also an energy source for power plants.
Caterpillar Defence Products
The subsidiary Caterpillar Defence Products supplies combat engineering, tank transporters, light armoured vehicles, military trucks and infantry combat vehicles. War can therefore be good for Caterpillar's business. In wartime, it can be wise to check whether the company brings in many new orders.
Author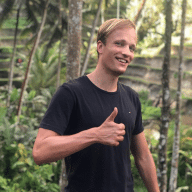 About
When I was 16, I secretly bought my first stock. Since that 'proud moment' I have been managing trading.info for over 10 years. It is my goal to educate people about financial freedom. After my studies business administration and psychology, I decided to put all my time in developing this website. Since I love to travel, I work from all over the world. Click here to read more about trading.info! Don't hesitate to leave a comment under this article.