Buying Chainlink: how to invest in Chainlink?
The crypto market is currently experiencing a great deal of growth. This is mainly due to the influx of new investors who all want to make a nice return on their investments. Leaving your money in the bank will not earn you anything. One of the projects that has experienced a lot of growth is Chainlink. If you are thinking about adding Chainlink to your portfolio, but you do not have a good idea about this currency yet, this is no problem. In this article we will show you everything you need to know about investing in Chainlink yourself.
How can you actively trade in Chainlink?
Do you want to actively invest in the Chainlink Token? You can do so with an online broker! At an online broker, you can use CFDs to bet on both descending and descending prices of the Chainlink. At eToro you can try trading CFD cryptocurrency with a demo, completely free and risk-free. Use the button below to open an account with eToro right away:
How to buy the Chainlink Token?
Chainlink is a cryptocurrency that wants to make smart contracts more accessible & usable. They try to achieve this by making them work in a decentralized way. In this way, you can be sure that the information on which the contracts work is generated properly. This reduces the chance of an out within a smart contract, making them more usable in practice. Investing in Chainlink can therefore be interesting.
Do you want to buy the Chainlink cryptocurrency? You can do it quickly online! At Binance you can buy the Chainlink Token at very low rates: you never pay more than 0.25% in transaction fees when buying cryptocurrencies at Binance. Use the button below to open an account with Binance right away:
What is Chainlink? – goal of the project
First, we should look at Chainlink's project. Chainlink is known for having solved the Oracle Problem. The Oracle Problem stems from a problem with smart contracts. These 'smart contracts' are immutable and can operate completely independently. This makes them ideal for automating transactions that should actually always go well.
These smart contracts derive their data from "Oracles". This only creates problems. The smart contracts are only as "smart" as the information fed to them by the oracles. If you stuff a smart contract with bad code, it can cause a wrong transaction. This is also known as the Oracle Problem.
This only changed when Chainlink discovered how the information from the Oracles could be collected without causing problems. They managed to do this by creating a special decentralized blockchain that manages to build a bridge between Oracles and smart contracts. The system is built on a collection of individual Nodes that act on their own as smart contracts to collect the information. Instead of having to blindly rely on a source, smart contracts can now access sources that do provide the right information. This ensures that it is impossible for anything to go wrong with the smart contracts.
How does Chainlink work?
Now that you know a bit more about the unique set-up of Chainlink, it is time to look at how it actually works. The technique starts when a smart contract needs data. That smart contract makes a request for information. The Chainlink protocol registers this request as an event and in turn creates a corresponding smart contract. This is also done on the blockchain to obtain all information. The Chainlink SLA Contract generates three sub-contracts: a Chainlink Reputation Contract, a Chainlink Order-Matching Contract, and a Chainlink Aggregating Contract. We have listed these contracts below:
Chainlink Reputation Contract – The Chainlink Reputation Contract checks the track record of an Oracle provider to verify its authenticity and performance history. It then evaluates and removes untrusted Nodes. So basically, this ensures that it is no longer possible for incorrect code to appear in smart contracts.
Chainlink Order-Matching Contract – The Chainlink Order-Matching Contract delivers the requesting contract's request to Chainlink Nodes and takes their bids on the request. It then selects the appropriate number and type of Nodes to execute the request. This is actually meant to make the contract possible. You must have the right Nodes to carry out the transactions on the platform.
Chainlink Aggregating Contract – The Chainlink Aggregating Contract takes all the data from the chosen oracles and validates it for an accurate result. This can be seen as a final check. The cooperation between these different contracts ensures that all transactions can always be processed correctly. This makes buying Chainlink so appealing.
The special token of Chainlink
Chainlink really is a special project. But the aforementioned goals are not the only ones Chainlink has focused on. It is also true that Chainlink has its own digital currency. This currency is also called the $LINK token. This currency is set up on the Ethereum network. So, this is a bit like the ERC-20 tokens, the tokens you can find at a platform like NEO.
The $LINK token is used as a share in meetings about any changes that need to be made. If you would like to invest in Chainlink, you can buy this coin, just like you buy Ether with Ethereum.
Investing in Chainlink through an exchange
OK, suppose you do decide to invest in Chainlink yourself. Where can you go then? When it comes to investing, you will actually always end up at the exchange. The exchange is the stock exchange where you buy the coins. It is important to always choose a stock exchange with a reliable name. After all, you want to be sure that you can invest in a safe and responsible way.
If you choose for an exchange like Bitvavo, it is also possible for you to buy your coins safely. After purchase, you can transfer them to a wallet, or you can just leave them on the exchange itself.
Conclusion – should you invest in Chainlink?
If the community is to be believed, they are really convinced that Chainlink is going to be one of the biggest projects in the future. This might mean that it is a good idea to invest in Chainlink as well. Now there are also people who think Chainlink will not succeed. Should you invest in Chainlink or not? This is really a personal choice to make. It depends entirely on what you think about the team and the project. We are only here to help you on your way.
Author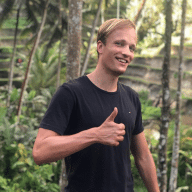 About
When I was 16, I secretly bought my first stock. Since that 'proud moment' I have been managing trading.info for over 10 years. It is my goal to educate people about financial freedom. After my studies business administration and psychology, I decided to put all my time in developing this website. Since I love to travel, I work from all over the world. Click here to read more about trading.info! Don't hesitate to leave a comment under this article.