How to buy Chevron shares (2023) – invest in Chevron
Chevron is one of the largest oil companies in the world. It can be interesting to invest in Chevron due to its stable dividend policy. In this article, you will learn how to buy Chevron shares and also find the current stock price.
Chevron listens closely to its shareholders. Most Chevron shareholders appreciate its stable dividend policy. Even during the pandemic in 2020, they remained committed to the promised dividend, which makes it an attractive stock for generating income. You can directly buy Chevron shares through one of these stockbrokers:
| Brokers | Benefits | Register |
| --- | --- | --- |
| | Buy Chevron without commissions. Your capital is at risk. Other fees may apply. | |
| | Speculate with CFD's on increasing & decreasing prices of Chevron! 82% of retail CFD accounts lose money. | |
| | Benefit from low fees, an innovative platform & high security! | |
| | Speculate on price increases and decreases of Chevron with a free demo! | |
What is the current stock price of Chevron?
The stock price of Chevron is closely related to the fluctuation of oil prices. In this graph, you can see how the Chevron stock has performed over the recent period. You can also use buttons to initiate an investment in the stock.
Company data of Chevron
Below is the key company data of Chevron.
Before deciding whether to buy or sell Chevron shares, it is important to analyse the stock thoroughly. In the overview below, you can see how Chevron has performed over the past period.
Stock prices of Chevron over the last 5 days
In the table below, you can see the stock prices of Chevron for the last 5 days:
What does the Chevron stock price do in 2023?
Are you curious about what analysts predict Chevron will do in 2023 and the following years? We have combined the predictions of analysts using data from Alpha Vantage. Keep in mind that these figures are only predictions of Chevron's stock performance and may not necessarily come true.
Well-known brand: Chevron is one of the most renowned oil and gas companies in the world, known for its quality and reliability.
Global presence: Chevron operates in over 180 countries, including many emerging economies. The demand for gas and oil is expected to rise, particularly in these emerging economies, and Chevron can benefit from this.
New technologies: Chevron actively invests in developing new technologies. An example of this is a new method the company uses to extract oil and gas from shale formations.
Dividend: Chevron offers an attractive annual dividend, which makes it an appealing option for investors looking to build a stable income.
What are the risks of Chevron stocks?
Cyclical: The demand for oil and gas fluctuates regularly, which leads to volatility in profitability. As a result, the stock price of Chevron is also quite volatile.
Competition: Chevron has to compete with other major oil and gas companies worldwide.
Sustainability: Governments increasingly focus on sustainable alternatives. If Chevron fails to transition to alternative energy sources in the future, their profitability could significantly decline.
What are the biggest competitors of Chevron?
ConocoPhillips
TotalEnergies
Click here to compare different stockbrokers first. It only takes a few minutes to open an account with a stockbroker.
You can then deposit money from your bank account to your investment account. Make sure your investment account is fully activated beforehand.
Navigate within the trading platform to the Chevron stock and click on "buy" to open the order screen.
Enter the amount you want to invest in Chevron shares and click on "buy" to immediately send the order to the stock exchange.
Investing in oil stocks is becoming increasingly controversial. Fossil fuels are harmful to the environment, and more and more people turn  away from such companies. Therefore, it is uncertain whether Chevron will still have a place in the future.
However, in the shorter term, fossil fuels like oil are still essential for our economy. Supplies are diminishing while demand is increasing. In the coming years, there is still plenty of room for Chevron to grow. Therefore, buying Chevron shares can be attractive for investors looking for a stock that offers a solid dividend yield.
It is advisable, however, to compare Chevron with competing oil companies. Another company may have a more efficient operation and deliver better results. You can also choose to invest directly in the price of oil. You can read about how this works in this article.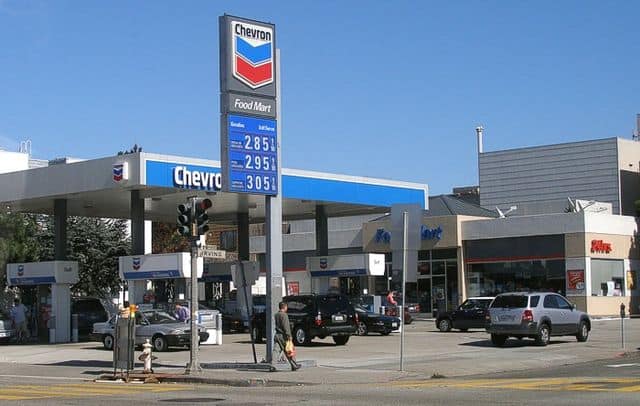 The activities of Chevron
Activities of Chevron include refining, marketing and distribution, manufacturing chemicals, and energy generation. In its refineries, nearly 2 million barrels of crude oil can be processed into petroleum products per day. The company has its own global network of gas stations for the sale of motor fuels.
The history of Chevron: the brand name
The history of this company begins in 1876 when Star Oil discovered oil, marking the start of the oil industry in California. In 1979, Star Oil was acquired by The Pacific Oil Company, which was later purchased by Standard Oil, the largest oil company in California in 1900.
In 1907, the company's name was changed to Standard Oil Company. Due to a Federal antitrust law, Standard Oil was split into 34 companies in 1911. Standard Oil Company (California) decided to continue as its own separate entity. In 1926, the company changed its name to SOCAL, which could only be used in California, Nevada, and Arizona, while the Chevron brand was used outside those states.
The history of Chevron: the foundation of the company
In 1933, SOCAL obtained a concession to search for gas and oil in Saudi Arabia. In 1936, SOCAL sold half of the concession to the Texas Oil Company, a company strong in distribution. Together, the companies formed Caltex.
In 1944, the name changed to Arabian-American Oil Company (ARAMCO). After World War II, SOCAL sought American partners with capital and markets. In 1947, Standard Oil of New Jersey and Socony Vacuum became partners in the existing joint venture.
In 1950, Saudi Arabia acquired half of ARAMCO, and in 1980, ARAMCO was nationalized. During 1984, Chevron Corporation decided to acquire Gulf Oil for $14 billion. The new combined entity was named Chevron Corporation. At its inception, the company became the third-largest oil company in the United States after Exxon and Mobil.
Companies acquired by Chevron
In 2001, Chevron acquired Texaco for $44 billion. After the acquisition, the company's name was changed to the ChevronTexaco Corporation.
In 2005, Chevron acquired Unocal for $18 billion. Unocal had significant oil and gas reserves in Asia.
In 2011, the company acquired Atlas Energy for $2.1 billion.
In 2019, Chevron acquired Anadarko Petroleum for $50 billion. Anadarko Petroleum had significant interests in shale oil fields in Texas and New Mexico, among others.
When investing in Chevron stocks, it is advisable to study the impact of these acquisitions on the company's financial results. This will help you decide whether it is a good time to buy Chevron shares.
Climate lawsuit against major oil and gas companies dismissed
In 2017, the cities of Oakland and San Francisco sued companies like Chevron, Shell, and BP, claiming that these companies were complicit in climate change due to their significant investments in fossil fuels.
Due to climate change and rising sea levels, it became necessary to protect the cities against flooding, and the oil and gas companies were expected to contribute to the costs of flood defences. However, the case was dismissed by a federal court in California in 2018.
Nevertheless, these companies will increasingly face pressure from climate activists in the future. This is something to consider when contemplating buying or selling Chevron stocks.
Should you buy Chevron stocks?
An increasing number of investors avoid the oil and gas companies due to concerns about the energy transition. However, I believe that this transition will take a long time, especially considering the significant importance of oil and gas in emerging economies. Due to declining reserves, the price of these commodities is likely to increase in the long term.
If you have no ethical objections, investing in Chevron stocks can be interesting. However, it is always advisable to compare Chevron with other companies in the same industry. A competitor may turn out to be a more attractive investment option.
Author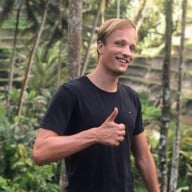 About
When I was 16, I secretly bought my first stock. Since that 'proud moment' I have been managing trading.info for over 10 years. It is my goal to educate people about financial freedom. After my studies business administration and psychology, I decided to put all my time in developing this website. Since I love to travel, I work from all over the world. Click <a href="/about-us/">here</a> to read more about trading.info! Don't hesitate to leave a comment under this article.