Buying Chiliz: how to invest in Chiliz (CHZ)?
If you would like to achieve a high return on your investment, then there is one market that is naturally an interesting option. We are, of course, talking about the crypto market. This market is known for the enormous growth it has experienced. As a result, many new investors have joined in recent months. One of the lesser known projects that is nevertheless useful to consider is Chiliz. If you would like to know what kind of digital currency Chiliz is and if it would be useful to invest in it, you should read on. In this article it will all be explained in a very accessible way.
How can you actively trade in Chiliz?
Cryptocurrencies such as Chiliz (availability subject to regulation) are constantly fluctuating in value. You can capitalize on this by opening CFD positions on both falling and rising prices. At eToro, you can actively trade crypto coins using CFDs. The great thing is that you can try eToro with a demo, completely free & risk-free. Use the button below to open an instant account at eToro:
Where can you buy Chiliz (CHZ)?
Chiliz is the cryptocurrency for the sports world. With this crypto-currency, sports associations can strengthen the bond with their fans: it is possible to let fans vote on important decisions. Moreover, fans can be rewarded with merchandise such as football shirts. Would you like to invest in this interesting cryptocurrency? You can through the internet!
Do you want to buy Chiliz for the long term and do you like to keep full control over the cryptocurrency? Then open an account with a reliable crypto exchange:
| Brokers | Information | Register |
| --- | --- | --- |
| | Trade in popular cryptos with a free demo & start today. Cryptoasset are highly volatile and unregulated in the UK. No consumer protection. Tax on profits may apply. | |
| | Speculate on increasing & decreasing crypto prices with the CFD provider Plus500 using a demo account. 82% of retail CFD accounts lose money. | |
What is Chiliz – goal of the project?
First, let's look at the most important question of all: what is Chiliz really about? Chiliz is a digital currency that is used in the sports world, especially in the entertainment sector. The currency can also be found under the abbreviation CHZ. Because there is not much contact between clubs and their fan base at the moment, the creators of Chiliz decided to change this. Chiliz was founded in Malta in 2012. The goal of Chiliz is to give millions of fans of numerous sports a coin with which they can buy voting rights in their favourite football clubs. In this way, it is possible for fans to have just a bit more say in their favourite club.
Chiliz is therefore really committed to maximizing fan engagement with all kinds of teams. By spending the coin, you can support your favourite team and influence certain decisions. For example, you can think of proposals to buy new players or to renovate the stadium. The CHZ fan tokens from each club are a finite digital asset that gives you the right to vote. The topics of the surveys are determined by the clubs themselves, although the possibilities are basically endless. By seeking the input of fans, the bridge between the fan base and the clubs becomes much smaller than it used to be.

Right to vote with Chiliz
Chiliz's blockchain is used to give users the right to vote. It is not much more than this, although it is of course a nice project. The more votes a fan casts, the higher his ranking within the platform will be. This makes it possible to obtain certain benefits. These include unique rewards such as exclusive team jerseys. This ensures that users are encouraged to really participate in voting.
If the Chiliz platform is used on a large scale, it could cause a major change within the sports world. That is why there are many investors who choose to invest in Chiliz.
The advent of Socios.com
Chiliz has developed a website that is very popular at the moment. The website Socios.com is the world's first reward platform that allows athletes to make use of the special blockchain technology. Socios.com runs entirely on the Chiliz token ($CHZ). This is the currency used on the Ethereum blockchain. Fan Tokens are specific to a team or a club. They are in fact tokens that are used as digital assets. With these digital assets, it is possible for users to obtain membership rights. The special platform uses Fan Tokens, which operate on a separate side chain. This is a kind of branching off from the normal blockchain.
The Fan Tokens are limited in number. This means that their ownership can be traded and their price is determined by the market. Exactly, because it is a scarce product, the price can rise significantly if there are many people who decide to buy the coin. The website is inspired by the fan-led management structures or 'socios' of some major football clubs. The platform, named 'Socios 2.0' is nothing more than the latest digitalization of this management model. Nevertheless, it is extraordinary to see that Chiliz is the first to really respond to the sports world.
Investing in Chiliz through an exchange
Anyone who chooses to invest in Chiliz should look for an exchange to buy the currency from. An exchange is also known as a crypto exchange. This is of course the place where you can go to buy all kinds of digital currencies. By choosing a reliable and well-known exchange like Bitvavo, it is always possible to safely invest in any crypto project, including investing in Chiliz. If you want, it is possible to transfer the coins to your wallet. It is also possible to leave your tokens on the exchange itself. This ensures that you do not have to transfer everything yourself.
Conclusion – to invest in Chiliz or not?
At the moment, Chiliz is definitely one of the projects you should keep an eye on. Because the project is gaining a lot of popularity, the price is likely to rise even further in the near future. If this project is going to be used by many companies and organizations, the price could go through the roof.
Now, of course, it remains to be seen whether it is possible for them to reach their goals or whether the team will succeed after all. We cannot answer whether you should invest in Chiliz, you can only decide that for yourself. However, we do provide you with useful information that makes it just a bit easier to make a decision about investing in Chiliz.
Author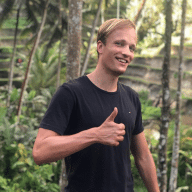 About
When I was 16, I secretly bought my first stock. Since that 'proud moment' I have been managing trading.info for over 10 years. It is my goal to educate people about financial freedom. After my studies business administration and psychology, I decided to put all my time in developing this website. Since I love to travel, I work from all over the world. Click here to read more about trading.info! Don't hesitate to leave a comment under this article.