How to buy Coca-Cola shares (2023)? – invest in Coca-Cola
Coca-Cola is perhaps one of the most well-known brand names in the world. Except for people living in North Korea and Cuba, everyone has had a glass of Coca-Cola at some point. Do you want to invest in this globally successful company? In this article you discover how to buy Coca-Cola stocks!
Do you want to purchase shares in the Coca-Cola Company? In the table below, you can see at which brokers you can buy Coca-Cola shares:
| Brokers | Benefits | Register |
| --- | --- | --- |
| | Buy Coca-Cola without commissions. Your capital is at risk. Other fees may apply. | |
| | Speculate with CFD's on increasing & decreasing prices of Coca-Cola! 82% of retail CFD accounts lose money. | |
| | Benefit from low fees, an innovative platform & high security! | |
| | Speculate on price increases and decreases of Coca-Cola with a free demo! | |
What is the current stock price of Coca-Cola?
Are you curious about the latest stock price development of Coca-Cola? In the graph below, you can consult the stock price of the Coca-Cola share. You can also open a position directly by using the buttons.
Company data of Coca-Cola
Below, you can see the most important company data of Coca-Cola.
Analysis of Coca-Cola
Before you decide whether you want to buy or sell Coca-Cola, it's important to analyse the stock thoroughly. In the overview below, you can see how Coca-Cola has developed over the past period.
Stock prices of the last 5 days
In the table below, you can see the stock prices of Coca-Cola for the last 5 days:
What will the stock price of Coca-Cola do in 2023?
Are you curious about what analysts think Coca-Cola will do in 2023 and the following years? We have combined the forecasts of analysts using data from Alpha Vantage. Keep in mind that this figure is only a prediction about the stock price development of Coca-Cola, and this prediction doesn't have to come true.
Strong brand name
Some people jokingly say that Pepsi is the brand you choose 'when there is no Coca-Cola'. Thanks to the company's clever marketing campaigns, many people have warm feelings towards the brand.
Coca-Cola collaborates with Walt Disney, which means that Coca-Cola is sold in amusement parks. In addition, the company sponsors various large sports companies, which also contributes to its brand awareness.
A relatively safe investment
The diversity within the company is also a good reason to invest in Coca-Cola shares. Coca-Cola's range consists of various brands, such as Fanta and Minute Maid. In total, Coca-Cola owns no less than 500 different brands, which appeal to different customers. The company is also active in 200 different countries, which prevents regional problems from putting pressure on the company's results.
Precisely because of this diversification, the chance of Coca-Cola ever going bankrupt is minimal. This is also reflected in the company's results: in the last 20 years, Coca-Cola has always achieved good profit figures. This makes an investment in Coca-Cola stocks very stable, which is interesting for investors who want to minimize risks as much as possible.
Strong production chain & reputation
Another good reason to buy Coca-Cola shares is the strong production and distribution chain that the company has set up. With more than 150,000 employees, the company can even deliver its drinks to the most remote parts of the world. This brilliant network is supported by clever advertising, such as the use of Santa Claus as a mascot every year.
Coca-Cola also works to improve its reputation by supporting various charities. Socially responsible companies can attract more customers, which is of course positive for the company's profits. Coca-Cola responds to the latest trends and works on recycling and reusing packaging materials as much as possible.
Stable dividend
A final strong argument for buying Coca-Cola stocks is the stable dividend. Coca-Cola has been paying out an increasingly higher dividend for 58 years. This makes the shares very suitable for investors who want to build a stable income with their investments.

What are the risks of investing in Coca-Cola stocks?
Health & reputation
Investing and risks are naturally intertwined: Coca-Cola is no exception. The reputation of a large company like Coca-Cola can quickly deteriorate. It is becoming increasingly clear worldwide that soft drinks like Coca-Cola contribute to the obesity epidemic. As people become more aware of this, soft drink brands like Coca-Cola will perform less well. The question then is whether Coca-Cola can conquer the market with healthier alternatives.
Competition
Another risk of investing in Coca-Cola shares is intense competition. When investing in Coca-Cola stocks, it is especially important to keep an eye on the PepsiCo corporation. If Coca-Cola loses its leading position, this can have a negative impact on its financial results.
Limited growth
Investing in Coca-Cola shares is less attractive if you are looking for growth stocks that can yield high returns. Coca-Cola is already a large company which makes it hard to experience significant growth: the company already operates in practically all countries of the world. Therefore, an investment in Coca-Cola shares is mainly interesting if you are looking for a more stable investment.
What are Coca-Cola's biggest competitors?
Although Coca-Cola is the market leader in the non-alcoholic beverage sector, the company still faces significant competition worldwide. One major competitor is Pepsi. While Pepsi may not beat Coca-Cola's Cola, it is, for example, the market leader in non-carbonated beverages.
Other smaller brands also compete with Coca-Cola. People drink only a few liters each day, so every sip from a competitor is detrimental to the company. Examples of competing drinks are Lipton, Red Bull, and Oasis. However, these smaller companies are not market leaders, so the threat is limited.
It is still important to keep an eye on the competition when considering an investment in Coca-Cola stocks. It is possible that other companies may take market share from Coca-Cola in the future, which would not be good for the stock price.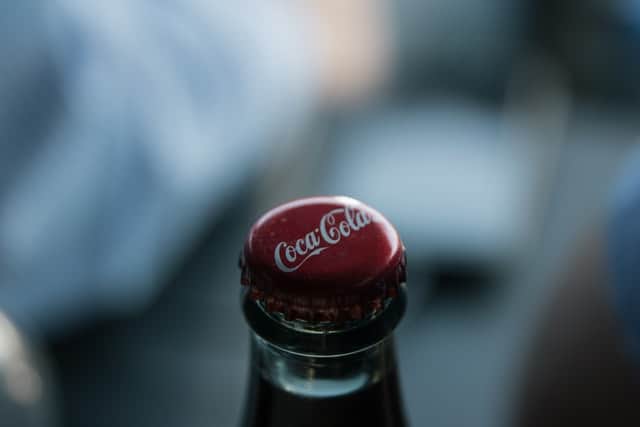 We are happy to help you get started when you want to buy Coca-Cola stocks. With this short guide, you will learn how to invest in the successful Coca-Cola company yourself.
Step 1: Open an account with a broker
Before you can buy Coca-Cola shares, you first need an account with an online broker. A broker is a company that enables consumers to buy and sell shares via the internet.
It is always advisable to select a cost-effective broker to avoid losing a lot of money through waste. Are you curious about which brokers are the best for buying Coca-Cola shares? In our overview of best brokers, you can see where you can do this:
Within the trading platform, you can easily find the share through the search function. Simply type Coca-Cola to bring up the company's stock information. You can then press buy to place an order on the stock exchange.
Step 3: Select the type of order
With brokers, you always have the choice between a market order and a limit order. If you buy shares for the long term, you can select a market order. With a market order, you buy the shares directly at the current price. Are you an active trader and do you only want to buy stocks at a certain price? Then you can choose to use a limit order.
Step 4: Evaluate your investment in Coca-Cola
It is important to regularly review your shares. Determine if Coca-Cola shares still fit within your investment strategy. If this is not the case, you can easily sell them.
About The Coca-Cola Company
Almost everyone knows what Coca-Cola is: this sugary and carbonated soft drink is world-famous and available in almost every country. The two countries where you cannot buy Coca-Cola are Cuba and North Korea.
In 1886, pharmacist John Pemberton made the first Coca-Cola in Atlanta. In 1893, Coca-Cola was registered as a trademark. Coca-Cola is seen as the embodiment of the United States. The drink refers to the American dream and to "Yankee imperialism."
The inventor of the name and the beautiful logo
Frank M. Robertson, John Pemberton's accountant, came up with the name Coca-Cola. By writing the name in elegant letters in his ledger, he also designed the elegantly shaped letters.
The origin of the world-famous Coca-Cola bottle
Coca-Cola organized a competition in 1915 in which participants were tasked with designing a distinctive bottle. The bottle had to be recognizable, even when it broke into pieces on the floor. The Root Glass Company won the competition in 1916, which resulted in the famous Coca-Cola bottle.
Secret recipe and formula
The secret recipe for Coca-Cola consists of a combination of seven different flavours, referred to as 7X. The Coca-Cola museum, "The World of Coca-Cola," located in Atlanta, USA, houses the secret formula.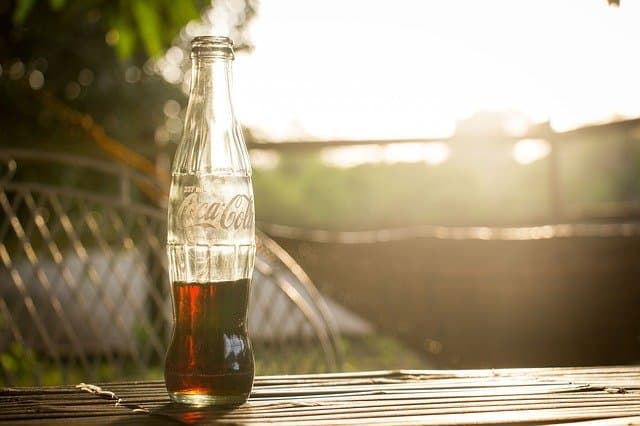 What are the activities of Coca-Cola?
The full name of Coca-Cola is The Coca-Cola Company. The company produces more than just the famous Coca-Cola soda. It also sells various other drinks, including water, juices, and sports drinks. Coca-Cola even produces different types of tea.
Coca-Cola sells the most drinks in Mexico, China, and Brazil. If you consider investing in Coca-Cola stocks, it is wise to pay attention to the economic situation in these regions.
In 2018, Coca-Cola announced that it would acquire Costa Coffee for £3.9 billion. Do you think this investment will have a positive impact on the company's results? If so, it may be wise to buy Coca-Cola shares.
Warren Buffett's Investment
Almost everyone knows Warren Buffett, one of the world's most successful and wealthiest investors. Since 1987, Warren Buffett has been invested in Coca-Cola stocks and still seems to have a lot of confidence in the company. When the stock price dips due to a market downturn, he often buys more shares. He currently owns ten percent of the company's shares.
Concerns About the Health Impact of Coca-Cola
Coca-Cola's soft drinks do not have a reputation for being healthy. If the global trend towards healthy living continues, it could negatively impact the Coca-Cola Company's sales. Personally, I have decided to stop drinking soft drinks because of all the harmful ingredients they contain.
However, even if Coca-Cola becomes less popular, the company has plenty of healthier alternatives that it can still earn money from. Do you think Coca-Cola will continue to sell many drinks in the future? If so, you should definitely consider investing in the company!
Should You Buy Coca-Cola Stocks?
Coca-Cola can be an interesting investment because, in addition to Coca-Cola, the company also owns other interesting brands such as Sprite and Fanta. This gives Coca-Cola a strong global position and a lot of control over pricing. The company is also known for its stable growth and pays out a stable dividend.
However, it is important to remember that Coca-Cola is heavily dependent on one industry. The company faces intense competition from companies like PepsiCo and Nestle and must constantly fight for the largest market share. Additionally, the company must constantly monitor its supply chain and ensure that products arrive on time worldwide.
Buying Coca-Cola shares can certainly be appealing, but it is essential to conduct a thorough analysis first. This allows you to determine whether it might be worthwhile to buy Coca-Cola stocks.
Author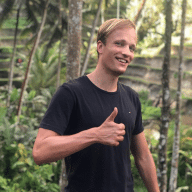 About
When I was 16, I secretly bought my first stock. Since that 'proud moment' I have been managing trading.info for over 10 years. It is my goal to educate people about financial freedom. After my studies business administration and psychology, I decided to put all my time in developing this website. Since I love to travel, I work from all over the world. Click here to read more about trading.info! Don't hesitate to leave a comment under this article.