How to buy Colgate-Palmolive shares (2023)?
Colgate-Palmolive is the perfect example of a somewhat boring stock that performs well. The company has increased its dividend for 50 consecutive years. In this article, you discover how to invest in Colgate-Palmolive shares by buying their stocks.
How to buy Colgate-Palmolive stocks?
If you are looking for a stable stock with a stable dividend payout, Colgate-Palmolive can be a good choice. Both brand names are well-established in the market, which makes people often choose their products automatically. Furthermore, the company produces products that are always in demand, which can make an investment in Colgate-Palmolive shares a good decision in all economic circumstances.
You can buy Colgate-Palmolive stocks with a reliable broker:
| Brokers | Benefits | Register |
| --- | --- | --- |
| | Buy Colgate-Palmolive without commissions. Your capital is at risk. Other fees may apply. | |
| | Speculate with CFD's on increasing & decreasing prices of Colgate-Palmolive! 82% of retail CFD accounts lose money. | |
| | Benefit from low fees, an innovative platform & high security! | |
| | Speculate on price increases and decreases of Colgate-Palmolive with a free demo! | |
What is the stock price of Colgate-Palmolive?
Are you curious about how the stock price of Colgate-Palmolive develops? In the graph below, you can see the price at which you can buy stocks of Colgate-Palmolive:
Company information of Colgate-Palmolive
Below you can find the most important company information of Colgate-Palmolive.
Analysis of Colgate-Palmolive stocks
Before you decide whether to buy or sell Colgate-Palmolive shares, it is essential to analyze the stock thoroughly. In the overview below, you can see how Colgate-Palmolive developed over the past period.
Stock prices of Colgate-Palmolive over the last 5 days
In the table below, you can see the stock prices of Colgate-Palmolive for the last 5 days:
How will the stock price of Colgate-Palmolive's stock develop in 2023?
Are you curious about what analysts think Colgate-Palmolive will do in 2023 and the years to come? We have combined the forecasts of analysts using data from Alpha Vantage. Keep in mind that this figure is only a prediction of the price movement of Colgate-Palmolive and that this prediction may not come true.
Diverse products: with an extensive portfolio, Colgate is not overly dependent on one specific product. Colgate offers products in personal care, pet care, and household products.
Financial position: Colgate has a strong financial position, which could make it an appealing option for long-term investments.
Global presence: Colgate operates in more than 200 countries, which reduces the risks of investing in the company.
What are the risks of investing in Colgate stocks?
Dependence on key markets: most of the revenue comes from the United States and Europe. Problems in these regions can put pressure on revenue.
Competition: the company competes with strong players such as Procter & Gamble, Unilever, and Johnson & Johnson.
Commodity costs: the costs of commodities such as oil & palm oil affect the profitability of the company.
Open an account with a stockbroker: you first need an account with a reliable stockbroker. Brokers make it possible for individuals to trade stocks at low transaction fees.
Activate your account: you activate your investment account by uploading a copy of your passport and address. You can then immediately deposit money into your stock account.
Select the share: navigate to the Colgate-Palmolive shares within the platform and enter the amount you want to invest.
Send the order to the stock exchange: press buy to send the order directly to the stock exchange.
Evaluate: you can track your results in real-time within the broker's trading platform. Does the investment no longer fit within your strategy? You can sell the Colgate-Palmolive shares at any time.
About the company Colgate-Palmolive
Colgate-Palmolive markets branded products in the areas of personal care, pet care, oral care, and household care.
The globally active company generates half of its revenue in North and Latin America, with Europe accounting for a sixth of its revenue. The share of pet food sold represents 15 percent of the total revenue.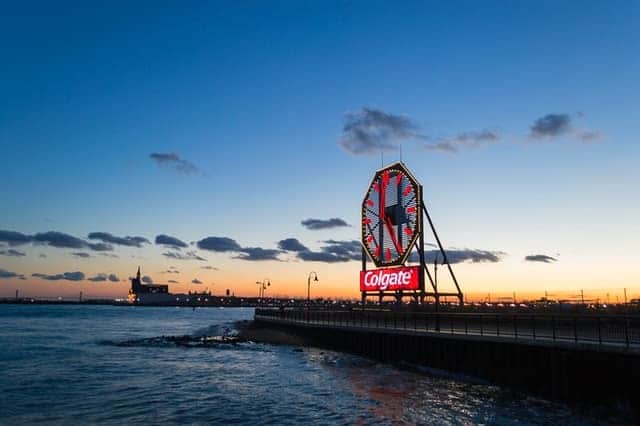 History of the company
In the United States, William Colgate founded William Colgate & Company in 1806. The company, which was located on Dutch Street in New York and produced starch, candles, and soap.
After his father's death, Samuel Colgate took the company over, and changed the name to Colgate & Company. In 1873, the company produced its first scented hand cream, and in 1896, it introduced the first tubes of toothpaste on the market.
The first Palmolive soap, made entirely from palm and olive oil, was produced in 1896 by the B.J. Johnson Soap Company, which was located in Milwaukee, Wisconsin. Because the soap was very popular, the name of the company was changed to The Palmolive Company.
After a merger in 1926 with soap producer Peet Brothers, the name of the company was changed to Palmolive-Peet Company. In 1928, Colgate & Company was purchased, and the name was changed to Colgate-Palmolive-Peet Company. In 1953, Peet was dropped from the name, and the company became known as Colgate-Palmolive Company.
Should you buy Palmolive-Colgate stocks?
There are many reasons why it may be interesting to invest in Palmolive-Colgate stocks. For example, the company has a long history and is seen as a dominant player in the consumer goods industry. Furthermore, the company operates globally, which lowers the risks of an investment.
However, it is important to consider the risks. Compare Palmolive-Colgate, for example, with its competitors; that allows you to determine whether Palmolive-Colgate is a relatively attractive investment. Above all, never forget that investing is risky; you can lose money with your investment in Palmolive-Colgate stocks.
Author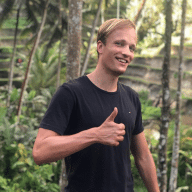 About
When I was 16, I secretly bought my first stock. Since that 'proud moment' I have been managing trading.info for over 10 years. It is my goal to educate people about financial freedom. After my studies business administration and psychology, I decided to put all my time in developing this website. Since I love to travel, I work from all over the world. Click here to read more about trading.info! Don't hesitate to leave a comment under this article.