How to invest in crypto with an ETF (2023)?
Cryptocurrencies are more popular than ever! Do you want to take advantage of this crypto market without buying cryptocurrencies yourself? Then a crypto ETF can be an interesting option. In this article, we discuss how and where to invest in crypto ETFs.
What is a crypto ETF?
An ETF is a fund traded on the stock exchange that attempts to replicate an index. ETFs can cover different investment products. A crypto ETF therefore has one or more cryptocurrencies as its underlying value. If you want to read more details about what ETFs are and how they work, read our comprehensive explanatory article:
How to buy a crypto ETF?
You can invest in a crypto ETF with a broker. Open an account with a broker directly to invest in a crypto ETF:
| Brokers | Benefits | Register |
| --- | --- | --- |
| | Buy Crypto ETF without commissions. Your capital is at risk. Other fees may apply. | |
| | Speculate with CFD's on increasing & decreasing prices of Crypto ETF! 82% of retail CFD accounts lose money. | |
| | Benefit from low fees, an innovative platform & high security! | |
| | Speculate on price increases and decreases of Crypto ETF with a free demo! | |
What are the best crypto ETFs to invest in?
The best crypto ETF for tracking the Bitcoin price is WisdomTree Bitcoin and for the Ethereum price, it is VanEck Vectors Ethereum ETN.
WisdomTree Bitcoin
With Wisdom Tree Bitcoin, you can invest in the price movement of Bitcoin reliably. The tracker attempts to track the price of Bitcoin, so a price increase of 1% in Bitcoin should also give the fund a boost of 1%. The costs are low for an ETF which follows the price movement of Bitcoin: 1% annually. There are no extra costs for entering and exiting the fund.
You can find WisdomTree Bitcoin under ISIN GB00BJYDH287, and it falls under the jurisdiction of Jersey (the Channel Islands). I name WisdomTree Bitcoin as the best Bitcoin ETF because of the low transaction fees and the reliable brand behind it.
VanEck Vectors Bitcoin ETN
If you want to follow the price development of Bitcoin, the tracker issued by VanEck is also a good choice. You can find this fund under ISIN DE000A3GPSP7 since it is issued in Germany. The fund is listed in dollars and the new price is determined every day at 16:00 CET. You pay 1% in ongoing costs annually and to enter or exit, you pay 0.2%.
You can also invest in Bitcoin by investing in this tracker. You can find the 21Shares Bitcoin ETP under the ISIN code CH0454664001 and you invest in a share of Bitcoin. The ongoing costs of this tracker are a lot higher: 1.49% annually. Entering and exiting is somewhat cheaper, as this can be done at 0.11%. Therefore, this ETF is only interesting for more active investors who want to exit quickly.
21Shares Short Bitcoin ETP is an oddball, as you can use this tracker to take a short position on Bitcoin. With a short position, you make a profit when the price falls. Due to the high ongoing costs (which amount to 8.5%), this ETF is only suitable for short-term speculation. You can find this tracker under the ISIN code CH0514065058.
VanEck Vectors Ethereum ETN
You can find this tracker under the ISIN DE000A3GPSP7 and use it to track the price of Ethereum. The fund is tracked in dollars and the value is determined daily at 4:00 PM CET. The expense ratio on this fund is 1% annually and there are also entry and exit fees. Every time you enter or exit, you pay an extra 0.2%. This ETF is currently the best way to invest in the price movement of Ethereum on DEGIRO.
How does investing in a crypto ETF work?
You can invest in crypto ETFs through a broker. Crypto ETFs are traded on the stock exchange just like stocks, which means the price is constantly updated, allowing you to buy or sell at any time.
For trading crypto ETFs, I would recommend DEGIRO. This reliable, Dutch-broker makes investing accessible to everyone:
You can then easily find the crypto ETF in which you want to invest through the search bar. Then click on the green K button to place an order on the relevant ETF.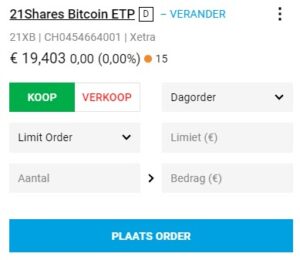 Within the order screen, you can indicate the amount you would like to buy of the relevant ETF. You can use a market order or a limit order. With a market order, you open the position immediately at the best available price, while with a limit order, you can set the price at which you want to buy the ETF.
After the order is executed, you can find the position under your open positions. Here you can also reduce your position at any time by selling it.
Which cryptos can you invest in with a crypto ETF?
The number of approved crypto ETFs or trackers is currently limited. The requirements for a fund are quite high before they are allowed on the market. Currently, you can only invest in the price movement of Bitcoin or Ethereum with an ETF. This will likely change in the future.
It wouldn't surprise me if, in a few years, you could invest in an ETF that buys dozens of cryptos. In this way, an ETF can become a useful tool to diversify your risks in this volatile market.
At the time of writing, investing in crypto with ETFs has little advantage: the costs are higher than physically buying crypto and the supply is more limited. Therefore, crypto ETFs are only suitable for investors with little knowledge who are looking for a quick way to invest in Bitcoins.
Do you want to buy crypto yourself? You can do this at eToro! Use the button below to open an account and receive a free demo:

Author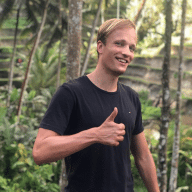 About
When I was 16, I secretly bought my first stock. Since that 'proud moment' I have been managing trading.info for over 10 years. It is my goal to educate people about financial freedom. After my studies business administration and psychology, I decided to put all my time in developing this website. Since I love to travel, I work from all over the world. Click here to read more about trading.info! Don't hesitate to leave a comment under this article.