Buying Dai: how to invest in Dai?
Of course, you can invest in gold, stocks or bonds. However, there is an alternative that more and more people are choosing. We are, of course, talking about crypto-currencies, digital currencies which are extremely popular at the moment. This popularity is due to the high returns that can be achieved. One of the projects that is on the list of many people is Dai. Are you curious what you can expect from Dai and do you want to know if it is wise to invest in Dai? Then be sure to read this article, because we will show you everything you need to know about this special project!
How can you actively trade in Dai?
Do you want to actively invest in the Dai? This is possible with an online broker! At an online broker, you can use CFDs to speculate on both the falling and rising Dai. At Plus500 you can try trading CFD cryptocurrencies with a demo, completely free and without risk. Use the button below to open an account with Plus500 right away:
How to buy Dai?
Dai is a so-called 'stable currency'. A big disadvantage of many cryptocurrencies is their high volatility: if you hold bitcoins, the value can drop ten percent in one day. If you want to pay and invest with cryptocurrencies, you can choose to buy the stable currency Dai. This currency moves along with the dollar exchange rate, so you will not be faced with unpleasant surprises.
Do you want to buy the Dai cryptocurrency? You can do this at a reliable crypto exchange:
| Brokers | Information | Register |
| --- | --- | --- |
| | Speculate on increasing & decreasing crypto prices with the CFD provider Plus500 using a demo account. 82% of retail CFD accounts lose money. | |
What is Dai – goal of the project
First of all, of course, we need to consider what Dai actually is. Dai is a special currency supported by Ethereum's platform. This cryptocurrency is stabilized compared to the value of the US dollar. This means that the price of the currency is always equal to one dollar. Dai reacts to fluctuating market conditions and makes it possible to purchase other types of crypto-currencies with Dai.
This coin is mainly used by people who use margin trading. Dai differs from other popular crypto-currencies linked to the Dollar because Dai is backed by publicly available crypto-currencies on the Ethereum blockchain.
How does Dai work?
You may wonder how Dai ensures that its price always stays the same. The way in which Dai maintains its stable value without the influence of a central party is special, but not exactly simple. The coin moves according to market changes, which allows it to maintain a stable price compared to other cryptocurrencies. A centralised authority to oversee a cryptocurrency like Tether (USDT) is therefore no longer needed. Dai is entirely based on the Ethereum blockchain and its smart contracts. This ensures that it is a cryptocurrency that cannot be shut down or censored just like that.
The importance of the stable coin
Dai is a stable coin. It is useful to briefly consider the importance of such coins. Stablecoins are cryptocurrencies whose value is linked to assets such as fiat currencies or precious metals that are less volatile. Some stablecoin projects attempt to use algorithms to establish a stable value. The goal of these coins is to devise a cryptocurrency that is not susceptible to extreme volatility. Along with Dai (DAI), other popular stablecoins include Tether (USDT), Paxos Standard Token (PAX), USD Coin (USDC), Gemini Dollar (GUSD) and TrueUSD (TUSD).
Stablecoins are important for the functioning of the cryptocurrency ecosystem. They allow you to do several things. You can maintain a stable portfolio of investments in times when the market is volatile. Also, with these coins, it is possible to easily conduct global currency transactions. Finally, it is possible to send uncensored transactions to anyone with a wallet and internet connection. This makes a project like Dai essential for the crypto market in general.
Do you trust Dai as a stable coin? In that case, it may be smart to invest in Dai by buying the cryptocurrency.
The function of Maker for Dai
Maker (MKR) is a decentralized autonomous organization (DAO) built entirely on the Ethereum blockchain. It is also a cryptocurrency and a governance token. This means that it can be used among voting members who would like to influence a certain type of project. This special organization is responsible for two tokens, these are Makercoin (MKR) and Dai (DAI). Both are issued on Ethereum according to the ERC-20 standard.
Maker aims to create stable decentralized digital coins that are linked to gold or the dollar. The organization is one of the first Ethereum-oriented companies and was already working on the technology before Ethereum was created. This shows that they have a lot of knowledge and expertise.
Maker holders are in charge of the risk management of the Maker system. Each MKR holder can vote on important decisions concerning the platform. If someone wants to take out a loan in Dai, the Maker token is used to pay the "stability fee". MKR tokens cannot be produced and are burned in the settlement process. This makes it really different from a coin like Bitcoin. These are produced by dedicated miners. Overall, Dai is not a primary currency to invest in.
Invest in Dai through an exchange
Investing in Dai is useful if you want to keep money in reserve to use during a price drop. If you want to invest in a project like Dai, you will have to look for an exchange. The exchange is the stock exchange where you can buy your coins. If you choose a good exchange like Bitvavo or Plus500, it is possible to invest in CFD products for Dai. This ensures that you no longer need to independently store the coins in a wallet, but that you can just leave them on the exchange itself. This makes it a lot easier to invest in Dai.
Conclusion – should you invest in Dai?
If we look only at the community, Dai has the potential to become a big player in the cryptomarket. Many specialists therefore see a great future in this special project. Now, of course, the question is whether these goals will actually be achieved. Although the team has a lot of experience and expertise, it remains to be seen whether everything will actually work out. If you think this project will be big, you can keep your cash in Dai. This makes it possible to quickly purchase other cryptocurrencies with it.
Author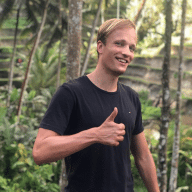 About
When I was 16, I secretly bought my first stock. Since that 'proud moment' I have been managing trading.info for over 10 years. It is my goal to educate people about financial freedom. After my studies business administration and psychology, I decided to put all my time in developing this website. Since I love to travel, I work from all over the world. Click here to read more about trading.info! Don't hesitate to leave a comment under this article.