Buying DigiByte: how to invest in DigiByte?
If you would like to invest in cryptocurrencies yourself, you are certainly not alone in this. The prices of numerous coins regularly go through the roof. One of the coins that has grown in popularity within the crypto community is DigiByte. If you would like to know what DigiByte is and if it is useful to invest in DigiByte, you would be wise to read on. In this article we will show you everything you need to know about DigiByte.
How can you actively trade in DigiByte?
Do you want to actively invest in the DigiByte? You can do so at an online broker! At an online broker, you can use CFDs to speculate on both falling and rising prices of the DigiByte. At Plus500 you can try trading CFD cryptocurrencies completely free and without risk with a demo. Use the button below to open an account with Plus500 right away:
How to buy DigiByte?
DigiByte (availability subject to regulation) is a cryptocurrency that is suitable for the fast execution of microtransactions. It only takes 15 seconds to complete a transaction, which means you can send money to other users in no time. Another advantage of the DigiByte is that its security is much stronger. These upgrades over Bitcoin can make investing in the DigiByte attractive.
Do you want to buy the DigiByte cryptocurrency? You can do this at a reliable crypto exchange:
| Brokers | Information | Register |
| --- | --- | --- |
| | Speculate on increasing & decreasing crypto prices with the CFD provider Plus500 using a demo account. 82% of retail CFD accounts lose money. | |
The creation of the currency
Before we look at the project itself, let's take a look at how it came about. DigiByte was conceived by well-known entrepreneur Jared Tate. This entrepreneur was dissatisfied with the security and speed of Bitcoin. Therefore, he came up with the idea of creating something different. He founded DigiByte in 2013 and launched the block in January 2014. After the launch, Tate went on to devote himself full time to the development of DigiByte. Since then, all funding for the project has come from donations to the DigiByte Foundation. The main goal is to create a fast and secure cryptocurrency.
What is DigiByte – goal of the project
The goal of DigiByte is to create a kind of improved version of Bitcoin. DGB is a special cryptocurrency where new transactions do not come from the Wallet Balance. Instead, each crypto-currency has an identifier. The moment a user sends a coin to someone else, only that coin is considered the issued coin. This ensures that a coin can no longer be 'double issued'.
Each DigiByte block is mined in 15-18 seconds. Each of the five mining algorithms creates a block in about 1.5 minutes. Within each block, transaction sizes are limited. DigiByte was the first to choose to implement Segregated Witness innovation. This is a special technique that helps keep the blockchain small and scalable. With the fastest block time of any coin, DigiByte is one of the best blockchains in existence to date.

The advantages of DigiByte
If you are now thinking about investing in DigiByte, it is useful to know what the biggest advantages of this project are. DigiByte's greatest advantage is that the blockchain is completely safe to use. The most special thing about the project is the fact that the blockchain network uses five mining algorithms. Most projects use only one. These five different mining algorithms are intended to prevent mining centralization and make the network more secure. Besides having five mining algorithms, DigiByte also features much more stability compared to other projects. Because of the stability, the blockchain is protected from hacker attacks.
In addition to continuously developing technical upgrades and improvements to the blockchain itself, DigiByte launched DigiStats in autumn 2019. This is used to provide interactive and historical blockchain statistics. This means that it is easier for users to view information on the blockchain. Also, this new technology makes it possible to significantly increase mobile and payment processing options compared to the past
The arrival of the DigiByte Foundation
In the year 2020, the company launched the DigiByte Foundation. This is a foundation designed to help with fundraising within the community. The foundation is currently working on securing partnerships for the project, as well as promoting awareness and adoption of DigiByte. In July 2020, the DigiByte donation platform was launched. This allows donors to contribute to the maintenance of DigiByte's ecosystem. It also gives them voting rights in DigiByte Foundation decisions where the community needs to be involved.
The future of DigiAssets – investing in DigiByte
DigiByte's biggest goal is the arrival of DigiAssets. If all goes according to plan, a whole ecosystem of dapps and ICOs will become an integral part of the network. We must emphasize that it remains to be seen whether this will actually happen. It is a goal that many projects are already working on. If the introduction of DigiAssets is successful, DigiByte will, in fact, be a system that combines the best of several crypto projects. If this is indeed the case, then the price of DigiByte might increase a lot. This could be a good reason to invest in DigiByte.
Investing in DigiByte through an exchange
Investing in DigiByte is certainly not a bad option if you think the team will be successful. If you want to invest in DigiByte, you will actually always do this through an exchange. As a kind of crypto exchange, the exchange is the place to place your transactions. By choosing an exchange like Bitvavo or Binance, it's possible to easily invest in DigiByte yourself. If you choose to invest in CFD products, it is not necessary to transfer your coins to your wallet. If you choose for the regular coins, transferring your coins can be handy.
Conclusion – should you invest in DigiByte?
If you want a one-sided answer to whether you are wise to invest in DigiByte, we have to disappoint you. The answer to this question depends entirely on whether you think the project will be successful or not. If you think that the technology of DigiByte will become the standard, it's of course not a bad idea to invest in DigiByte. But keep in mind that it is questionable whether this will actually happen.
Author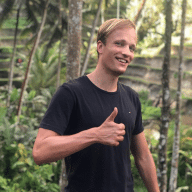 About
When I was 16, I secretly bought my first stock. Since that 'proud moment' I have been managing trading.info for over 10 years. It is my goal to educate people about financial freedom. After my studies business administration and psychology, I decided to put all my time in developing this website. Since I love to travel, I work from all over the world. Click here to read more about trading.info! Don't hesitate to leave a comment under this article.