What are the disadvantages of Bitvavo?
Although the Bitvavo exchange has many advantages, there are also a few disadvantages. In this article, we will discuss the biggest disadvantages of trading in cryptos at Bitvavo.
Disadvantage 1: limited possibilities
A major advantage of Bitvavo is the user-friendliness of the platform. On the other hand, the number of possibilities is more limited in comparison with, for example, Binance. At Bitvavo, you cannot trade in leveraged products or speculate on decreasing prices.
The advanced trader does offer more possibilities for the active trader. However, people who are professionally involved in trading are better off choosing Binance. Click here to open an account with this crypto exchange.
Disadvantage 2: it is hard to get an overview of your results
At Bitvavo, you can monitor the development of your portfolio and your purchases and sales per crypto. However, it is not possible to track your total profit or loss in one clear overview.
Therefore, when using Bitvavo, you need to keep track of your results in a smart way. When you don't do this, it is easy to lose track.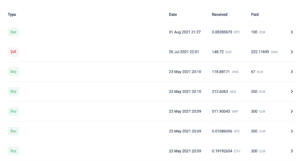 You can see your purchases and sales at Bitvavo, but not your results in a clear overview
Disadvantage 3: limited supply of cryptos
Compared to the competition, the offer of cryptocurrencies at Bitvavo is still limited. Bitvavo is working hard on improving this: they recently added many popular cryptocurrencies such as Dogecoin and Binance Coin to the platform.
For most people, the selection at Bitvavo will be sufficient. However, if you want to trade more exotic altcoins (there are thousands of them), you may need accounts at several providers.
Disadvantage 4: not reachable by phone
The last disadvantage of Bitvavo, is that you cannot speak to someone directly over the phone. This is not necessarily a major drawback, as you can easily reach them by email or through the live chat feature.
Do you want to read more about Bitvavo?
Would you like to read more about the crypto exchange Bitvavo? In the Bitvavo review, I discuss in detail whether it is wise to trade cryptos at Bitvavo. You can also read in detail how the Bitvavo trading platform works here.
Author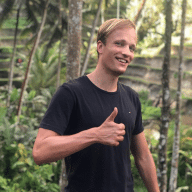 About
When I was 16, I secretly bought my first stock. Since that 'proud moment' I have been managing trading.info for over 10 years. It is my goal to educate people about financial freedom. After my studies business administration and psychology, I decided to put all my time in developing this website. Since I love to travel, I work from all over the world. Click here to read more about trading.info! Don't hesitate to leave a comment under this article.