How to buy Flow Traders shares (2023)? – invest in Flow Traders
Flow Traders is a company that greatly benefits from market fluctuations. When there is a high level of trading activity, the company can profit from these transactions. This makes it particularly interesting to invest in Flow Traders shares during times of crisis and uncertainty. In this article, we will explore how to buy Flow Traders stocks.
Flow Traders has highly motivated employees, as evidenced by their willingness to live in tents at the office during the 2020 COVID-19 crisis to maintain good results. Especially when there is a lot of uncertainty surrounding the (economic) future, it can be wise to buy Flow Traders shares with a reliable broker:
| Brokers | Benefits | Register |
| --- | --- | --- |
| | Buy Flow Traders without commissions. Your capital is at risk. Other fees may apply. | |
| | Speculate with CFD's on increasing & decreasing prices of Flow Traders! 82% of retail CFD accounts lose money. | |
| | Benefit from low fees, an innovative platform & high security! | |
| | Speculate on price increases and decreases of Flow Traders with a free demo! | |
What is the current price of Flow Traders?
Are you curious about the current price of Flow Traders shares? The graph below provides a direct view of the performance of Flow Traders shares. Moreover, you can start trading Flow Traders shares immediately using the buy and sell buttons.
Company information of Flow Traders
Below are the key company details of Flow Traders.
Stock prices of Flow Traders over the last 5 days
The table below shows the stock prices of Flow Traders for the past 5 days:
Why is investing in Flow Traders stocks interesting?
Strong growth potential: Flow Traders is a leading liquidity provider for exchange-traded products (ETPs). The ETP market experiences significant growth, which Flow Traders can benefit from in the future.
Strong track record: Flow Traders has a long and successful track record as a provider of liquidity in the financial markets. Founded in 2004, Flow Traders has consistently delivered good results.
Competitive advantages: Flow Traders has a strong technological platform, an experienced team, and operates globally.
Volatility: The stock price of Flow Traders is highly volatile. When volatility is high, the company can generate higher profits. The results of Flow Traders are therefore heavily dependent on trading volumes in the stock market.
Regulations: Flow Traders is subject to regulations in the Netherlands and other countries where it operates. Changes in these laws can impact the company's profitability.
Competition: Flow Traders faces competition from other liquidity providers in the Netherlands and other countries. This competition puts pressure on the company's margins and profits.
What are the main competitors of Flow Traders?
Citadel Securities
Virtu Financial
IMC Trading
Jane Street Capital
BGC Partners
Optiver
GMEX
LMAX Exchange
Nasdaq
NYSE Arca
Step 1: First, open an account with a reliable broker where you can buy Flow Traders shares.
Step 2: Activate your account by uploading a copy of your passport and address.
Step 3: Deposit sufficient funds into your investment account to buy Flow Traders shares.
Step 4: Select the Flow Traders stock and enter the amount you want to invest.
Step 5: Choose a market order to immediately buy the shares or choose a limit order and set a maximum price.
Step 6: Wait a few seconds to minutes, and you will see the order appear in your investment account.
What does Flow Traders do?
Flow Traders acts as a market maker and benefits from market volatility. Its presence ensures that trading can take place on the financial markets almost continuously. This unique company, founded in 2004 by Jan van Kuik and Roger Hodenius, is headquartered in Amsterdam.
Flow Traders is a successful company
Flow Traders cleverly capitalizes on the growing popularity of ETPs (Exchange-Traded Products) in Europe. ETPs are exchange-traded products that track a basket of securities, such as stocks or commodities.
A few years after its establishment, Flow Traders became the market maker for European ETPs on major exchanges. Subsequently, they opened an office in Singapore to establish a position in the Asian market, and in 2009, they opened a branch in New York.
The approach of Flow Traders
Flow Traders is a high-frequency trading (HFT) company. With the help of HFT computers, the company conducts numerous transactions in a matter of milliseconds. These transactions are executed based on algorithms continuously calculated by the HFT computers. Although each individual transaction earns only a fraction, the sheer volume of transactions compensates for this. The company specializes in tracking the price movements of commodities like gold or oil.
How does Flow Traders make money?
Flow Traders generates revenue through various means. It profits from the small differences between bid and ask prices when investors trade Exchange-Traded Products (ETPs); this difference is known as the spread.
Additionally, Flow Traders earns money from the underlying or related financial instruments for which the company provides exposure hedging.
Volatility is key for this company
Volatility is crucial for Flow Traders. During periods of high volatility, the company's profits increase. Investors in Flow Traders shares can also earn more during times of volatility. Therefore, Flow Traders shares are considered a good investment during periods of uncertainty.
Flow Traders shines in the stock market
During turbulent times, severe losses can be incurred. In March 2020, only two companies in the AEX (Amsterdam Exchange Index) experiences a loss of less than 10%. Mid-cap stocks also suffered heavy losses, with Fugro losing over 67%.
The only bright spot among mid-cap stocks was Flow Traders. The company can benefit from the rapidly growing trading of ETFs (Exchange-Traded Funds). As a result, the company's trading revenue increased. In March 2020, compared to the beginning of the year, the stock was up 4%. This positive result continued to grow throughout the year.
Therefore, it can be wise to buy Flow Traders shares to protect your portfolio against volatility or poor market performance. When other stocks underperform, the gains from Flow Traders can potentially compensate for those losses.
Flow Traders shares can be an interesting addition to your investment portfolio. These shares are not very cyclical and can perform well even during economic downturns. For example, during the COVID-19 pandemic, Flow Traders achieved record profits, and its stock price soared.
This is because Flow Traders earns money when the trading volumes on the stock market are high. The company provides liquidity, which makes it potentially appealing to buy Flow Traders shares when you expect an increase in trading volume.
However, it is important to assess whether Flow Traders aligns with your risk profile. If you have a long-term investment horizon, you have more time to wait for an improvement in the company's performance.
Author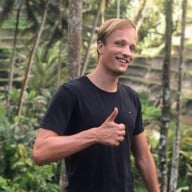 About
When I was 16, I secretly bought my first stock. Since that 'proud moment' I have been managing trading.info for over 10 years. It is my goal to educate people about financial freedom. After my studies business administration and psychology, I decided to put all my time in developing this website. Since I love to travel, I work from all over the world. Click <a href="/about-us/">here</a> to read more about trading.info! Don't hesitate to leave a comment under this article.