How to buy Flow Traders shares?
Flow Traders is a company that strongly benefits from exchange rate fluctuations. When people trade a lot, the company can make a small profit on all these transactions. This makes it even more interesting to invest in Flow Traders shares in times of crisis & uncertainty. In this article we look at how you can best buy Flow Traders shares.
Do you want to buy Flow Traders shares? You can directly trade in Flow Traders stocks with one of these reliable brokers:

| Brokers | Benefits | Register |
| --- | --- | --- |
How can you actively invest in Flow Traders?
You can also choose to actively speculate on the price development of Flow Traders. When the stock market volume increases, there is a good chance that the share price will rise. You can take extra advantage of this by using CFDs. With a CFD, you can apply leverage. Leverage increases both your potential profit and your potential loss. So, you have to be cautious when you start actively trading this share.
A good broker where you can invest in CFD shares is Plus500. Would you like to try the possibilities for free with a demo? Open an account right away:
What does Flow Traders do?
Flow Traders is a unique company. This company acts as a market maker. In case of volatility, strong price variations on the stock exchanges, the company will perform extra well. Thanks to the existence of Flow Traders it is almost always possible to trade on the financial markets. This unique company on the Damrak was founded in 2004 by Jan van Kuik and Roger Hodenius. The head office of this company is in Amsterdam.
A successful company
The Flow Traders company is responding to the growing popularity of ETPs in Europe. ETPs are stock market products that follow a basket of securities: these can be shares or commodities, for example.
A few years after its creation, the company was the market maker for European ETPs on all major exchanges. An office was then opened in Singapore to establish a position in the Asian market. In 2009, an office was opened in New York.
The working method of Flow Traders
Flow Traders is an HFT (high frequency trading) company. In just a few milliseconds, the company carries out an enormous number of transactions using HFT computers. The transactions are done on the basis of the algorithms calculated continuously by the HFT computers. The fact that only a fraction is earned per transaction is not a problem. Thanks to the large number of transactions, it is still lucrative. The company specializes in monitoring the price movements of raw materials, such as gold or oil.
How does the company earn money?
Flow Traders earns its money in different ways. The small differences between bid and offer prices are earned when investors trade in Exchange Traded Products (ETPs). This difference is also called the spread.
In addition, money is earned on the underlying or related financial instruments on which the company hedges the exposure.
This company is all about volatility
Volatility is important for the Flow Traders company. When there is a lot of volatility, i.e. a fast moving stock market, the operating profit increases. Investors with Flow Traders shares can also earn more in times of volatility. A Flow Traders share is therefore certainly worth buying in times of high volatility.
Flow Traders is a bright spot at the stock exchange
In turbulent times, we are hit hard. In March 2020, only 2 funds in the AEX stood at less than 10% loss. Losses are also heavy among mid-cap players. For example, Fugro lost more than 86%.
The only bright spot among midcutters was Flow Traders. After all, this company can benefit from the strongly growing trade in ETFs. As a result, the company's trading income is increasing. In March 2020, compared to the beginning of the year, the share was 4% in the plus. This result increased significantly later in the year.
It can therefore be smart to buy Flow Trader shares to protect your portfolio against volatility or negative stock market developments. When your other shares are underperforming, there is a good chance that these losses will be offset by your profits on Flow Trader.
Author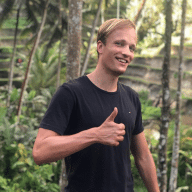 About
When I was 16, I secretly bought my first stock. Since that 'proud moment' I have been managing trading.info for over 10 years. It is my goal to educate people about financial freedom. After my studies business administration and psychology, I decided to put all my time in developing this website. Since I love to travel, I work from all over the world. Click here to read more about trading.info! Don't hesitate to leave a comment under this article.