Invest safely with a foreign broker
Investing is borderless, making it possible for broker parties to offer investment accounts all over the world. Can you invest safely with a foreign account? And what must you pay attention to when you want to invest with a foreign broker?
Research the broker
When investing abroad, it is especially important to research the broker carefully. Do you want to know what the best parties are for online investing? Then take a look at our list of best brokers:
Registration
In Europe, a foreign broker only needs to be registered in one European country to be able to offer its services anywhere. Some financial regulators take their work more seriously than others. It may therefore be a good idea to check carefully whether the company is not running a scam.
The same applies for countries outside of Europe: with a single registration, a broker can offer provide their services in many other countries.
Never invest with parties who promise guaranteed returns. Remember that when you invest with a foreign party, you can lose your entire deposit, like always.
Pros and cons of investing abroad
Foreign brokers can sometimes offer better trading conditions without limiting investment opportunities. Moreover, foreign brokers often offer better access to local markets.
However, it can be more difficult to contact a foreign broker. Therefore, always check whether and how you can reach the broker. In any case, it is important that you can speak to the broker's staff in a language you are comfortable with.
Check the financial supervisor
Many brokers have their headquarters in Cyprus; this location is often chosen because of the tax advantages. However, this does not mean that the broker is not licensed by a regulator. Take for example the broker Plus500; its head office is located in Haifa. However, the broker does have an official registration with the Financial Conduct Authority, the financial watchdog of England.
If a broker is registered with a foreign watchdog, it is important to find out what the rules of this regulator are. For example, up to what amount is your money secure with the broker? In the rare event that a broker goes bankrupt, it is important to know what happens to your money.
Double-check the reliability
With a foreign broker, it is especially important to check the reliability. Therefore, look up more information about the broker online. Furthermore, check what the rules of the relevant regulator are regarding the investment account. In this way, you can avoid unpleasant surprises.
Securing money of customers
Fortunately, most brokers take adequate measures to safeguard customer funds. For example, at Plus500, investors' money is held in separate accounts and the company does not invest with these funds. As a result, in the event of the broker's failure, the money will not be lost.

Author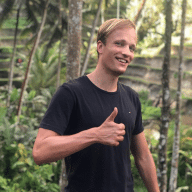 About
When I was 16, I secretly bought my first stock. Since that 'proud moment' I have been managing trading.info for over 10 years. It is my goal to educate people about financial freedom. After my studies business administration and psychology, I decided to put all my time in developing this website. Since I love to travel, I work from all over the world. Click here to read more about trading.info! Don't hesitate to leave a comment under this article.