Buying GAS: how can you invest in GAS?
We are not exaggerating when we say that there are currently thousands of cryptocurrencies. NEO is one of the better-known options at the moment. Within NEO, it is possible to invest in the special GAS token. Since not everybody is familiar with GAS and with the reasons why this could be a good investment, we have listed the most important information. By reading this article, you will get a clear answer to the following question: is investing in GAS wise or not?
How can you actively trade in GAS?
Do you want to actively trade in GAS? This is possible with an online broker! At an online broker, you can use CFDs to bet on both falling and rising GAS prices. At eToro  you can try trading CFD cryptocurrencies with a demo, completely free and without risk. Use the button below to open an account with eToro immediately:
How to buy GAS?
When you own NEO, you receive GAS on it as a kind of dividend. GAS is used within the NEO blockchain to pay for services, smart contracts and applications within the network.
Do you want to buy the GAS cryptocurrency? You can do it quickly online! At Binance you can buy GAS at very low rates: you never pay more than 0.1% in transaction fees when buying cryptocurrencies at Binance. Use the button below to open an account with Binance directly:
The NEO concept
To see what GAS actually does, we must first take a brief look at NEO. NEO was founded in 2014 by Da Hongfei and Erik Zhan in China as AntShares. The project was changed its name to "NEO" in 2017. It is a blockchain-based platform that has its own cryptocurrency and enables the development of digital assets and smart contracts. NEO aims to automate the management of digital assets through the use of smart contracts. Ultimately, they want to create a smart economy system.
NEO is the cryptocurrency of the NEO blockchain. This cryptocurrency represents a stock in the ownership of the NEO blockchain. This crypto is therefore very important to the community. It allows the community to create blocks and manage the network. Interestingly, NEO has indivisible units and cannot be divided like other coins such as Ethereum. This is done to give you as the owner some more power.
What is GAS – goal of the token
GAS is actually the usable token for the NEO network. This token was formerly known as ANC- Anthonds. In the ecosystem, GAS functions in the same way as Ether in the Ethereum network. Developers use GAS for transactions in the network. In addition, users receive rewards in GAS tokens. This makes it very different from the regular NEO that you can buy on the stock exchange as an investor.
GAS generates at a rate of eight GAS per block. The network automatically reduces the number of rewards per block after two million confirmed blocks. Users have several options with GAS. For example, you can always exchange GAS for other cryptocurrencies such as Bitcoin, Litecoin or Ethereum. It is also possible to convert your GAS directly to NEO. In this way, the price of GAS remains decoupled. This means that its value is not necessarily dependent on NEO itself, although there is of course a strong connection between both prices.
Lightning-fast transactions with GAS
On a normal exchange, orders are placed on a centralized marketplace and then linked to a particular party. The process is efficient, but the user loses control over the coins. This is because the exchange itself is responsible for this. By automating the placing and matching of orders within a consensus network, GAS makes it possible to process the orders in a fair and transparent way. In fact, this creates a kind of decentralized exchange.
NEO has made it possible to process stock exchange transactions on the blockchain without the order matching being done on the blockchain itself. Instead, they use a special exchange. NEO calls these transactions 'Superconductive transactions'. This is intended to provide the efficiency of centralized exchanges with the security of a decentralized exchange.
The growth of GAS – smart to invest in GAS?
We can see that the rate of GAS is currently on the low side. The price of the currency has really been considerably high in 2017 and 2018. This was, of course, at a time when many novice investors were entering the market who saw a future in GAS. Whereas GAS was still trading at 52 euros at the beginning of January 2018, today it is possible to buy GAS for just over 1.2 euros. This could mean that now is a good time to get in on the action. For little money you can buy a large amount of GAS unlike a few years ago.
However, it is important to remember that investing in cryptocurrencies always involves high risks. If you buy GAS at the wrong time, you can lose (a large part of) your investment.
Gas as dividend
You can actually see GAS as a kind of dividend. When you own NEO, you receive GAS as a reward. By owning NEO, you are helping to secure the blockchain. GAS is a scarce currency, so when NEO becomes more popular, its value may increase. This may make an investment in GAS interesting.
Storing GAS in a special wallet
Most people who buy GAS will do so through an exchange. After purchase, you will get your tokens immediately on your account. Yet, it is not wise to leave your tokens on the exchange. Here you run the risk of being hacked, something that has happened several times in the past at well-known exchanges. The use of a special wallet is therefore much safer. This way you keep control over all your coins.
The best wallet to use is a hardware wallet like the Ledger. This device looks like a kind of USB stick and makes it easy to take your tokens with you. Please note that a good Ledger can easily cost $100. If you're not willing to pay that much, you can also choose a software wallet for your computer. In general, paper wallets are not recommended, as you can lose them too quickly.
Conclusion – should you invest in GAS?
A large part of the crypto community is really convinced that the price of GAS will only increase. With NEO itself being one of the biggest projects of the moment, it is therefore not a strange thought. If you see a future in NEO's platform, then investing in GAS is an obvious choice. If NEO rises, your GAS will probably rise too. In the end, of course, it is always a personal choice. We can only provide you with useful articles for your investments.
Author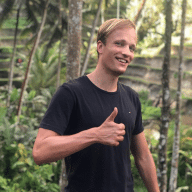 About
When I was 16, I secretly bought my first stock. Since that 'proud moment' I have been managing trading.info for over 10 years. It is my goal to educate people about financial freedom. After my studies business administration and psychology, I decided to put all my time in developing this website. Since I love to travel, I work from all over the world. Click here to read more about trading.info! Don't hesitate to leave a comment under this article.