Buying Gnosis: how to invest in Gnosis (GNO)?
If you would like to work on growing your assets, investing is crucial. Leaving your money in a savings account does not create any profit. Now it is true that there are many things you can invest in. What are the best investments to make? Investing in digital currencies is one of the possibilities you can choose. One of the projects you can invest in is Gnosis.
Do you want to know what Gnosis is and what you can expect from this project? In that case, it would be useful to read this article carefully, because we have summarized the most important information for you. By reading this article, you will not be confronted with any unpleasant surprises!
Where can you buy Gnosis (GNO)?
Do you want to buy Gnosis for the long term and do you like to keep full control over the cryptocurrency? Then open an account with a reliable crypto exchange:
| Brokers | Information | Register |
| --- | --- | --- |
| | Trade in popular cryptos with a free demo & start today. Cryptoasset are highly volatile and unregulated in the UK. No consumer protection. Tax on profits may apply. | |
| | Speculate on increasing & decreasing crypto prices with the CFD provider Plus500 using a demo account. 82% of retail CFD accounts lose money. | |
What is Gnosis? – goal of the project
Later on, we will look at the main components of a gnosis. But before that, we will have to take a look at what this project is. Gnosis is a dedicated prediction market platform built as a decentralized application (dapp) on the Ethereum network. This is quite a mouthful, but it basically means that Gnosis is a project which runs on Ethereum's platform itself.
The platform contains both a wallet and an Exchange. We won't go into this further as it is not the focus of the project itself. Gnosis is equipped with a complete infrastructure layer which you can use to make your app for predicting the market.
What is a prediction market, and why is it useful to set one up? A prediction market uses user predictions to gather information about future events. Users on the market trade tokens that represent the outcome of a particular event. Because some outcomes are more likely to occur than others, these tokens end up having different values on the open market.
As time passes or related events occur, certain outcomes may occur more frequently. This causes their value to increase. Once the event occurs, the tokens representing the final outcome will have full value. The rest of the tokens will become worthless.

The Special Management Interface
The next phase of Gnosis is the Management Interface. The team released a beta version in December 2017. They just haven't announced a date for the main release of the platform yet. The Management Interface is basically your dashboard for Gnosis' prediction markets. This is where you can see your balance and participate in predicting outcomes yourself.
Since the launch of Apollo (version 1.0 of the prediction market protocol) in May 2018, the Gnosis team has shifted its focus to the Gnosis Safe. The Safe is basically nothing more than a cryptocurrency wallet that you can use for your tokens. Overall, the wallet works fine, although it is still in its testing phase.
Invest in Gnosis through an exchange
If the above information makes you interested in investing in Gnosis, you will probably wonder how you can do this best. To be able to invest, you'll actually always end up at the exchange. The exchange can be regarded as a stock exchange where buyers and sellers of digital currency come together.
It is important to choose an exchange with a reliable reputation. This is because this is the only way in which you too can start investing safely in a project like Gnosis. You can, for instance, choose an exchange like Bitvavo. The reliability of Bitvavo contributes to the highest possible safety when investing in cryptocurrencies. If you choose to invest in Gnosis, it is possible to transfer the coins to a wallet, although you can also leave them on the exchange.
Meet Olympia
Olympia is currently the test version of the project. At one time they organized free tournaments in this product. This gave you as a user the chance to try it out without spending any money. Every two days the team would give you a certain number of Olympia (OLY) tokens that you could use to bet on different prediction markets. If you did well in the market, you would get a certain number of Gnosis (GNO) tokens. These tokens could then be sold for real money.
Although not a lot of money was involved, it was the first time the project was actually used. It seems that the Gnosis team has since taken Olympia off the market. It is not yet clear when it will return. Until then, unfortunately, you will not be able to use it.
Conclusion – should you invest in Gnosis?
Although Gnosis is somewhat less well-known than the other projects on the market, it is certainly a project that can experience a great deal of growth. This is mainly due to the fact that Gnosis is one of the few projects that focuses on setting up its own prediction market. It is a company which is therefore unique in its kind.
Now there are also people who think that Gnosis does not really have many advantages and that you should not invest because in it. So, is it or is it not wise to buy Gnosis? This is really a personal choice to make. It depends entirely on what you think about the team and the project. We are only here to provide you with useful information to help you make your choice.
Author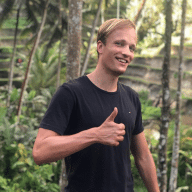 About
When I was 16, I secretly bought my first stock. Since that 'proud moment' I have been managing trading.info for over 10 years. It is my goal to educate people about financial freedom. After my studies business administration and psychology, I decided to put all my time in developing this website. Since I love to travel, I work from all over the world. Click here to read more about trading.info! Don't hesitate to leave a comment under this article.