How to buy Ikea shares?
Ikea is originally a Swedish multinational group. The company designs and sells ready-made furniture, home accessories and kitchens. This Swedish company was founded in 1943 by 17-year-old Ingvar Kamprad. Since 2008 Ikea has been the largest furniture dealer in the world. The founder of the company is one of the richest people in the world. In 2018 he ranked eighth in terms of wealth. There are many Ikea shops: in June 2019 there were 433 shops in 52 countries.
Do you want to buy Ikea shares? You can directly trade in Ikea stocks with one of these reliable brokers:
| Brokers | Benefits | Register |
| --- | --- | --- |
The name of the company
Where does the name of the company come from? The first 2 letters of the name are the initials of the founder Ingvar Kamprad. The third letter comes from Elmtaryd, the family farm of the founder. The fourth letter comes from his birthplace Aggunnaryd.
The history of Ikea
When Ingvar Kamprad founded Ikea in 1943 it was mainly a mail order company. In 1958, the first furniture shop was opened in Almhut. The name of that shop was Mobel-IKEA. Outside Sweden, the first shops were opened in Norway (1963) and Denmark (1969). Buten Scandinavia opened its first shops in Switzerland (1973) and Germany (1974).
Later in the 1970s, shops were opened in Japan, Australia, Canada and Singapore. After the 1970s, the company continued to expand. By April 2016 there were 328 IKEA shops in 28 countries. 267 of these stores were run by Ikea, the other stores were franchises.
Recognizable IKEA shops
Usually, the old IKEA shops are blue buildings with yellow accents. Blue and yellow are also Sweden's national colours. The shops, which are often designed in a one-way layout, encourage customers to see all products in the store.
The catalogue of Ikea
The company became famous through the Ikea catalogue. In 2006, this catalogue had a worldwide circulation of 175 million copies. The catalogue, which was distributed in 34 countries, was available in 29 different languages. Nowadays paper catalogues are no longer produced. Ikea tries to promote an environmental friendlier image by providing the catalogue on the internet.
Author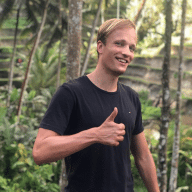 About
When I was 16, I secretly bought my first stock. Since that 'proud moment' I have been managing trading.info for over 10 years. It is my goal to educate people about financial freedom. After my studies business administration and psychology, I decided to put all my time in developing this website. Since I love to travel, I work from all over the world. Click here to read more about trading.info! Don't hesitate to leave a comment under this article.