Buying IOTA: how to invest in IOTA?
IOTA is a revolutionary digital currency designed specifically for the Internet of Things. The currency is still quite new, so there is still plenty of room for further development. In this article, we will look at how you can invest in IOTA and we will also discuss the innovative technology behind this cryptocurrency.
How to buy IOTA?
Would you like to buy IOTA on the Internet? You can! By buying the cryptocurrency, you really own it and you can also achieve good results in the long term. In this case, it is important to time your trade well, because you will only get good results if the price actually rises. You can do this with a reliable crypto exchange:
| Brokers | Information | Register |
| --- | --- | --- |
| | Trade in popular cryptos with a free demo & start today. Cryptoasset are highly volatile and unregulated in the UK. No consumer protection. Tax on profits may apply. | |
| | Speculate on increasing & decreasing crypto prices with the CFD provider Plus500 using a demo account. 82% of retail CFD accounts lose money. | |
What is IOTA?
The IOTA is a new cryptocurrency developed specifically for the Internet of Things (IOT). The IOT stands for connections that exist between all kinds of electronic devices. Think, for example, of the refrigerator that replenishes your supply of milk or the heating that automatically turns up a few degrees when you are inside. The idea of the Internet of Things is that everything is connected to each other.
The IOTA then offers a decentralized technology that can be used to connect all this information. It does not use the blockchain as bitcoin does. No, with IOTA the new Tangle protocol is used.
IOTA is an offshoot of blockchain technology. In blockchain, a linear sequence of transactions is performed, but IOTA uses the so-called 'Tangle system'. A Tangle is a blockchain-related technology that does not use linear transactions, but is based on parallel transactions.
Tangles can be seen as nodes in a web of users of the technology. Each node provides consensus and works in parallel, unlike blockchains which works linearly. There are many advantages of the Tangle technology. For example, the decentralized acyclic graph (abbreviated to DAG) provides almost instant consensus. It also reduces the processing time and the resources required per transaction. There are no miners for the Tangle system and therefore none for IOTA. Therefore, transactions with IOTA are processed faster, which can be a good reason to invest in IOTA.
How did IOTA come about?
IOTA was created in 2015 when four entrepreneurs wanted to create a decentralized network that consumed less power and also solved other blockchain problems. IOTA is therefore not a blockchain technology, but a Tangle system. The tangle makes it possible to process many more and much faster data transactions. With a tangle, the transaction is validated for truth in the form of consensus.
This system does not fall short of the security and clarity of traditional blockchain technology. On the contrary, it is a technological improvement based on existing blockchains. This solves the problem of many blockchains, namely scalability. Moreover, this scalability is also offset by very low transaction costs.

What are the goals of IOTA?
The functions of IOTA are highly innovative. First, it uses the Tangle technology whereby parallel transactions are carried out. With traditional blockchains, an analogous linear transaction must be made one at a time. This takes much longer and cannot take place simultaneously. The Tangle system requires less from the system itself, which makes the whole process lighter and faster. Also, through the 'Proof of Work' (PoW) a verification of the transaction is given. This can be compared to the idea of Smart Contracts (SC) in blockchain technology. Compared to SC, the PoW verification consensus system is much faster and simpler to allow for scalability and lower fees.
What are the advantages of IOTA?
The new system behind IOTA has the necessary benefits. As with the normal blockchain, the technology ensures that information that is exchanged cannot be manipulated. This makes financial transactions more secure. After all, with the Internet of Things, there is a chance that someone could try to hack into your fridge to collect the money that normally goes to milk.
However, there are further advantages to using IOTA thanks to the Tangle protocol:
Costs: no internal transaction costs makes trading advantageous.
Scalability: the system is easy to expand
Security: the system cannot be hacked
Availability: the system is always available, 100% decentralized
What are the disadvantages of IOTA?
There is also a drawback to the new DAG consensus system. The fact that not everyone who participates in the ledger has to provide consensus reduces reliability. This is not to say that the system is not reliable. It is just that the need for a fast transaction is prioritized over receiving consensus from every user. Thus, not every entity on the IOTA network will have insight into the entire log. The system is still very secure and will have to show its true potential in the future. If it does, the value can potentially rise to great heights.
What makes IOTA different from bitcoin?
The major difference with bitcoin in IOTA is the fact that miners are not required. Normally, the capacity of the blockchain is limited by the fact that only a limited number of transactions can be performed per mined block. The Tangle protocol, however, has no mining at all as it uses Directed Acyclic Graph which is a new cryptographic decentralized network that can be scaled indefinitely.
This all sounds complicated and although the technology behind it is interesting, you are naturally curious about what it means exactly. Well, the IOTA requires very little computing power to carry out transactions, so it can take place on all modern devices. This is because all devices that make payments via IOTA are connected to each other, and for each payment made, the device itself has to confirm two other transactions. This means that there is always sufficient capacity available for carrying out transactions.
Do you want to know more about the new cryptocurrency IOTA? Then visit the website of the creators of this currency.
Here you can see why the capacity of IOTA is always sufficient
Investing wisely in IOTA
The technology behind IOTA is certainly promising: especially the unlimited capacity within the new protocol is interesting. However, it is important to take several things into account when investing in IOTA. Firstly, it is essential to do sufficient research before buying IOTA.
The price of IOTA is namely largely determined by market sentiment. Cryptocurrencies are often in the news and a positive or negative news item can strongly influence the price. That's why it's important to take this into account when investing. When for instance a positive news item about the underlying protocol of IOTA is published, it could be a good moment to buy IOTA.
It is important to invest wisely. In any case, do not invest more money than you can afford to lose. It is also wise to use a stop loss when investing in IOTA. In this way, you avoid suffering a major loss in the event of a sudden sharp fall or rise. Also bear in mind that although the technology behind IOTA is promising, it is not yet certain to become the currency that will power the Internet of Things. Therefore, buy only a few IOTA coins and spread your risks!
Buying IOTA
IOTA also has a cryptocurrency called MIOTA. In January 2021, it stood at a value of $0.43 with a total value of over $1.2 billion. Buying MIOTA can be interesting, but it has no intention of becoming a new currency. For example, IOTA is in the process of creating a network of devices that should be able to communicate easily with each other.
The future of the Internet of Things must be built around IOTA. That is the goal. Since this is a long-term goal of IOTA, the value of IOTA will not increase in the coming years as it did with other cryptocurrencies. Holding IOTA can be done through a wallet (both software and hardware). It is not recommended to hold cryptocurrency through an exchange because of the danger of a possible hack of the platform. Hardware wallets offer the best security, because this is a physical device.
What should you be aware of when investing in IOTA?
When investing in IOTA, it should be borne in mind that the goal of IOTA will not be achieved within a few weeks. The crypto can be purchased from online crypto exchanges. However, it will be many years before IOTA can be used on a large scale. This is because the network, which is formed by means of the Tangle system, will become stronger and more reliable by connecting more devices.
These can then form new tangles and provide consensus, making the entire network more secure and faster. In the future, this offers many advantages. Until then, it may be wise to buy low and wait for the potential of IOTA.
To invest in IOTA or not?
The technology of IOTA seems to have great potential for the future. More and more homes are becoming smart and will need such a system. Smart devices will be able to communicate with each other on the IOTA platform in order to easily and quickly control your device.
On the other hand, this change will not happen overnight. It will take a few years before this technology will be in widespread demand. Do you see the potential of IOTA in the long term? In that case, it may be interesting to get in now. To do this, do your research. Something that promises a lot of potential now does not always have to come true.
When to buy IOTA?
If the news is good, buy IOTA
In case of bad news, sell IOTA
Author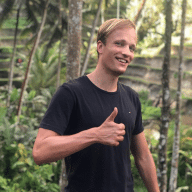 About
When I was 16, I secretly bought my first stock. Since that 'proud moment' I have been managing trading.info for over 10 years. It is my goal to educate people about financial freedom. After my studies business administration and psychology, I decided to put all my time in developing this website. Since I love to travel, I work from all over the world. Click here to read more about trading.info! Don't hesitate to leave a comment under this article.