Buying Komodo: how can you invest in Komodo?
The rise of blockchain technology has not gone unnoticed in recent years. The technology and the underlying cryptocurrencies, are receiving more and more attention and the value of bitcoin, for example, is rising rapidly. Komodo is the next step in the blockchain revolution. Komodo is often referred to as blockchain 2.0.
This all sounds very intriguing and therefore we would like to take a closer look at Komodo in this article. We will discuss how the cryptocurrency originated, and we will investigate whether it is interesting to invest in Komodo.
Would you like to actively trade Komodo?
Would you prefer to actively trade CFD cryptocurrencies such as Komodo? Then you can open an account at Plus500. Plus500 is a broker that is ideal for the trader who actively wants to respond to the latest market developments. For example, you can open short positions, allowing you to speculate on decreasing prices. Use the button below to open an account at Plus500 immediately:
How to buy Komodo?
Komodo is a cryptocurrency that has privacy at the top of its list. Many users value cryptocurrencies for their high level of privacy. Therefore, an investment in Komodo may turn out to be a good one.
Do you want to invest in Komodo by adding the cryptocurrency to your portfolio? You can do so at Bitvavo. Bitvavo is a reliable company where you can buy and sell Komodo crypto coins at low rates (maximum 0.25%). When you open an account with the button below, you also pay no transaction fees on the first €1000 you trade:
What is Komodo?
As mentioned earlier, Komodo is a blockchain 2.0 technology. Komodo is therefore a decentralized network on which transactions of data or money must be passed. These decentralized transactions use the highest possible form of anonymity. For example, pseudonyms have even been used for the developers. Nobody therefore knows exactly who developed the company and the technology.
The absence of an intermediary (such as a bank or government) in every transaction should benefit the privacy of users. Furthermore, maximum security is offered to users by means of a 'Delayed Proof of Work' protocol. This system cannot be hacked. How this works exactly will be explained later in this article under the heading functions of Komodo.
How did Komodo come about?
Komodo was founded in 2016 as a result of the anonymity problem with the then already large Bitcoin platform. Komodo is therefore a derivative of the blockchain network that Bitcoin also uses. In addition to anonymity being at the forefront of Komodo's development, scalability was also crucial.
The problem with blockchains, which were developed until 2016, is that they were not scalable. The system was not capable of handling huge amounts of transactions in a short period of time. Thus, the cost per transaction remained quite high. By scaling up the volume of transactions, transaction costs could be reduced. Komodo found a solution to this problem in the form of parallel transactions called 'Multichain Syncing Technology'. We will explain this in more detail in the next paragraph.
What are the goals of Komodo?
Komodo's features focus on increasing anonymity and scalability compared to Bitcoin's blockchain network. Komodo does this through the use and development of Delayed Proof of Work and Multichain Syncing Technology.
First, we will start with a bit of explanation about Delayed Proof of Work. This technology ensures that there is an extra layer of protection around the Komodo blockchain, in the form of a Bitcoin blockchain. This blockchain forms a figurative shield around the Komodo core. Hackers must first hack the Bitcoin blockchain before they can access Komodo's data. This makes the Komodo platform one of the most secure systems in the field.
Secondly, it uses the 'Multichain Syncing Technology'. This ensures scalability. By performing parallel transactions, it becomes possible to perform many more transactions simultaneously. This does not compromise the security and reliability of the system. Moreover, it significantly reduces the cost per transaction.
What are the advantages of Komodo?
Scalability through Multichain Syncing Technology
safety through Delayed Proof of Work
lower costs per transaction
faster execution of transactions
As you can see, there are certainly advantages to the Komodo cryptocurrency. You should therefore definitely consider an investment.
What are the disadvantages of Komodo?
In addition to the many advantages that Komodo offers, there is also a disadvantage. The makers' starting point of putting anonymity first has been crucial in its development. For example, the developers are not directly mentioned by name, but pseudonyms are used. This is beneficial to privacy, but may also attract fraud or crime.
Earlier studies have shown that criminals are happy to use crypto and blockchains to share data anonymously. This therefore poses a risk to the normal user who values his or her privacy.
Buying Komodo
Komodo also has its own crypto called KMD. You can easily trade KMD through an online exchange for cryptocurrencies. In January 2021, the price of KMD stood at %0.59. This is a big difference compared to the peak in December 2017 of almost $10 per KMD.
We will never make any statements about the future value of cryptocurrencies, but KMD and the Komodo technology behind it seem to have a lot of potential. When the Komodo network is used by many individuals, and it becomes mainstream, the value of KMD might increase significantly in the near future.
What should you pay attention to when investing in Komodo?
When investing in Komodo, or KMD in this case, one should pay particular attention to the criminality often associated with such systems. Research has shown that many criminals use a blockchain platform to exchange data anonymously. Komodo is now extra secure thanks to the 'Delayed Proof of Work' protocol.
Moreover, Komodo is very fast due to the 'Multichain Syncing Technology'. Furthermore, the anonymity of the user was crucial for the makers during the development of KMD. All in all, this makes it a perfect platform for criminals to abuse. As an investor, you should not want to be a part of this in the form of a falling price value of KMD.
To invest in Komodo or not?
Investing in Komodo seems to offer a lot of potential. The platform guarantees optimal anonymity, high security, low transaction costs and fast transactions. The decentralized network eliminates the need for an intermediary in every transaction.
In addition to the many strengths of Komodo and KMD, this article has also looked at important points to watch out for as a user. More and more criminals want to use a blockchain platform and this is therefore a risk. Do you have faith in the potential of Komodo and KMD? Then KMD could be a very interesting investment. Always conduct your own research before investing in a crypto.
Author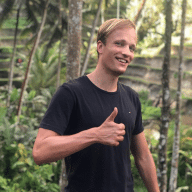 About
When I was 16, I secretly bought my first stock. Since that 'proud moment' I have been managing trading.info for over 10 years. It is my goal to educate people about financial freedom. After my studies business administration and psychology, I decided to put all my time in developing this website. Since I love to travel, I work from all over the world. Click here to read more about trading.info! Don't hesitate to leave a comment under this article.