Trading hours New York Stock Exchange (NYSE)
The NYSE is not only a well-known stock exchange in America, but also the largest exchange in the world in terms of value. But when does the NYSE open? On this page, you can find the trading hours of this exchange, as well as the days the NYSE will close.
Tip: Want to try investing in the NYSE? Then open a free demo account with eToro:
When does the the NYSE open?
The NYSE opens at 9:30 American time and closes at 16:00 local time. This means you can buy shares on the NYSE from ##T|14:30## until ##T|21:00## in your time zone.
When is the pre-market or early trading session NYSE?
You can also choose to invest in the NYSE before the official opening hours. This is also called trading in the pre-market. The pre-opening session starts at 6:30 am US time.
The early trading session then starts at 7:00 am and lasts until 9:30 am.
When is the post-market or late trading session on the NYSE?
Is the NYSE already closed, but aren't you done yet? Then you can make use of the late trading session. This session runs from 16:00 to 20:00 local time.
Even after closing, you can still invest in the NASDAQ with many brokers. The times for this are from 4:00 pm to 8:00 pm. Transaction costs may be higher during the late session due to lower trading volume
On what days does the NYSE close in 2023?
The NYSE is not open all year round. But when can you not invest on the NYSE? Below is a list of the days when there is no trading on the New York Stock Exchange:
| Date | Bank holiday |
| --- | --- |
| January 2 | New Year's Day |
| January 16 | Martin Luther King Junior day |
| February 20 | Washington's Birthday |
| April 7 | Good Friday |
| May 29 | Memorial Day |
| June 19 | Juneteenth |
| July 3 | Independence Day |
| July 4 | Independence Day |
| September 4 | Labour Day |
| November 23 | Thanksgiving Day |
| November 24 | Thanksgiving Day |
| December 25 | Christmas |
It goes without saying that the NYSE can also be closed unexpectedly. This happens, for example, after a shocking event. The purpose of the closure is then to prevent a total crash of the markets.
What are the trading hours of NYSE Chicago?
From 6:30 7:00 you can already place orders.
From 7:00 to 9:00 there is the early trading session.
From 9:30 to 16:00 the normal trading session is active.
From 16:00 to 20:00 the late session is active.
What are the opening hours of NYSE American options?
Equity options from 9:30 a.m. to 16:00.
EFT options from 9:30 to 16:00.
Index options from 9:30 to 16:00.
ETN options (GAZ, OIL, VXX, VXZ) from 9:30 to 16:15
There is a list of EFT options open until 16:15 instead of the usual 16:30. This means you can trade these options until 21:45 instead of 22:00. The following EFTs are included: DBA, DBB, DBC, DBO, DIA, EEM, IWM, IWN, IWO, KBE, KRE, MDY, MOO, QQQ, SLX, SPY, SVXY, UUP, UNG, UVXY, VIXY, XHB, XLB, XLE, XLF, XLI, XLK, XLP, XLU, XLV, XLY, XME, XRT.
Where can you invest in the NYSE?
Do you want to invest in shares listed on the NYSE? Then it is important to choose a reliable broker! Below is an overview of brokers where you can try investing in the NYSE:
| Broker | Fees | Register |
| --- | --- | --- |
| | Invest in stocks without commissions! Other costs applicable. | |
| | Speculate on price increases and decreases with a free demo! | |
| | Invest in stocks & ETF's against low fees. | |
| | Actively speculate in shares by using CFD's. 82% of retail CFD accounts lose money. | |
| Compare? | Compare the best brokers & open a free demo! | |
Want to learn more about investing in the NYSE? Read this article!
Frequently asked questions about the NYSE
If you want to invest in America, it is essential to take the opening hours into account. Outside the trading hours of the New York Stock Exchange, you cannot invest in stocks. When the market is closed, things can still happen: the stock prices on the NYSE can still fall.
The NYSE was founded in 1817. At that time, there were only a handful of stocks that could be traded on the exchange. This is different now: the NYSE is the largest stock exchange in the world, with a market capitalization of over 30 trillion dollars.
Author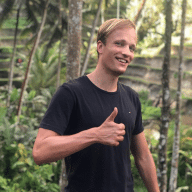 About
When I was 16, I secretly bought my first stock. Since that 'proud moment' I have been managing trading.info for over 10 years. It is my goal to educate people about financial freedom. After my studies business administration and psychology, I decided to put all my time in developing this website. Since I love to travel, I work from all over the world. Click here to read more about trading.info! Don't hesitate to leave a comment under this article.