How to buy Peloton shares?
Fitness is booming and Peloton is capitalizing on this trend! This American company sells fitness equipment and memberships that allow you to take classes online. In this article, we discuss how you can invest in Peloton by buying its stocks.
Do you want to buy Peloton shares? You can directly trade in Peloton stocks with one of these reliable brokers:

| Brokers | Benefits | Register |
| --- | --- | --- |
How can you actively invest in Peloton ?
Would you like to actively follow the latest stock market developments? You can! At Plus500, by using CFDs, you can open positions on both rising and falling prices. This is beneficial, as it allows you to trade in all market conditions. Use the button below to try trading Peloton CFDs immediately:
What is the current stock price of Peloton ?
Are you curious about Peloton 's current CFD share price? Use the buttons below to directly open an investment on the company:

Your capital is at risk. Other fees apply. For more information, visit etoro.com/trading/fees.
Company details of Peloton
In the overview below, you see the most important company details of Peloton:
Analysis of Peloton
Before you decide whether you want to buy or sell Peloton, it is important to analyse the stock. In the overview, you see how Peloton developed in the last period.   
Stock prices of the last 5 days
In the table, you can see the latest stock prices of Peloton in the last 5 days:
What will the stock price of Peloton do in 2023?
Are you curious what analyst believe that Peloton will do in 2023 and the years to come? With the help of the date of Alpha Vantage we combined the predictions of analysts. Please remember that these predictions are uncertain. Therefore, always conduct your research!
About the company Peloton
In the Netherlands, the various gyms and online fitness classes are popping up like mushrooms, but in the United States they are going even further. Here, Peloton is a big hit. This company focuses on all aspects of fitness for gyms and for the home, from producing fitness equipment such as treadmills and fitness bikes to providing online home classes for different types of training.
The company is listed on the US stock exchange and there it seems that the activities are moving with the same intensity and drive as the participants who are customers of this umbrella brand.

Two operating modes
Its services are divided into two departments. The first department deals with the supply of fitness equipment. These devices can be delivered to both gyms and people who want to be able to do a spinning class at home.
In addition, Peloton makes sure that you, especially as a home athlete, don't have to exercise at random without being sure that you are doing your work-out properly. Peloton also has a service where you can follow unlimited fitness classes to make sure that you do your work-out at home as good and extensive as possible. The lessons can be requested through a subscription service, so users pay a fixed amount per month and can take as many lessons as they want.
The beauty of a subscription service is that it allows the company to build up recurring revenue. This can be an extra attractive reason to buy Peloton stocks.
Popularity drives value increase
Going to the gym has become an increasingly popular trend in recent years. Especially young people between 16 and 35 are sold on working up a sweat and taking care of their bodies. As a result, subscriptions and services in the field of fitness are unstoppable and companies such as Peloton are increasing in value. The shares of the American sports company are rising all the time, so that one share is now worth almost four times as much as when the company was first listed on the stock exchange.
Do you think that this focus on health will continue in the future? In that case, it may be smart to invest in Peloton shares.
The road to profitability
What is special about this value is that the increase in the value of the stocks is at odds with the profits made by the company itself. Peloton is a loss-making company with tens of millions of dollars in the red every year. Yet, this is not noticeable when you look at the figures on the stock exchange. The reason for this may be that the largest buyers of the fitness equipment are large gyms, and since these have enough equipment after a large delivery, they can also open less often or not at all in the current circumstances. As a result, this source of income virtually disappears.
The main source of income for Peloton is the subscriptions that people buy to exercise at home. Because of the gigantic hype surrounding home sports, they managed to attract millions of users in America, but not enough to make a profit.
Author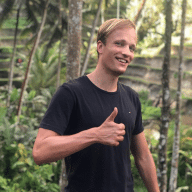 About
When I was 16, I secretly bought my first stock. Since that 'proud moment' I have been managing trading.info for over 10 years. It is my goal to educate people about financial freedom. After my studies business administration and psychology, I decided to put all my time in developing this website. Since I love to travel, I work from all over the world. Click here to read more about trading.info! Don't hesitate to leave a comment under this article.