Plutus credit card review (2023): get up to 8% cashback!
The Plutus crypto credit card offers some attractive benefits, such as 8% cashback and various perks. Are you curious about the possibilities of the credit card? In this Plutus crypto credit card review, I will cover them!
Do you want to try Plutus for free? Open an account with the button below and we both receive €10 worth of PLU crypto for free!
| | |
| --- | --- |
| Card type: | Visa |
| Fees: | Free, €4,99 or €14,99 |
| Deposit money: | Bank transfer or crypto |
| Supported crypto: | ETH & PLU |
| Cashback: | 3% - 8% |
| Physical card: | Yes |
| Online card: | Yes |
| Availability: | Only in the EU |
What are the biggest advantages of Plutus?
Free benefits: you receive one perk + 3% cashback on €250 right away.
Highest cashback: receive up to 8% cashback.
Useful perks: you can use many services for free with the Plutus credit card.
Customer service: Plutus' customer service is fast & reliable.
What are the biggest disadvantages of Plutus?
Costs: withdrawing money and paying in other currencies is expensive.
User-friendliness: using the credit card is a hassle.
Small: PLU is still small with a market capitalization of €25 million.
Slow: it takes a long time to apply for the credit card.
How does applying for the Plutus credit card work?
By clicking on this link, you can directly apply for a Plutus credit card. You will receive €10 worth of free PLU to use upon signing up.
Like with other credit card applications, you will need to share some personal information. This includes uploading your passport and a selfie to verify your identity. You will also need to provide your address details to indicate where the credit card should be delivered.
A major disadvantage of Plutus is the slow processing time. I ordered the Plutus credit card in September 2022, but it took almost 4 weeks to receive the credit card due to the company's busy schedule.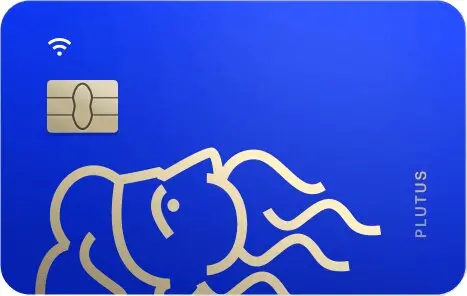 How to use the Plutus credit card?
The Plutus credit card is less user-friendly than the crypto credit card from, for example, Crypto.com.
You can deposit money onto your Plutus credit card by transferring the money from your bank account to Plutus' bank account. Initially, it may take a while for the money to appear in your account, but it speeds up after the first time.
You can then manually add money to your credit card that you can use to make payments. The money that you have on your credit card is lost permanently and cannot be refunded.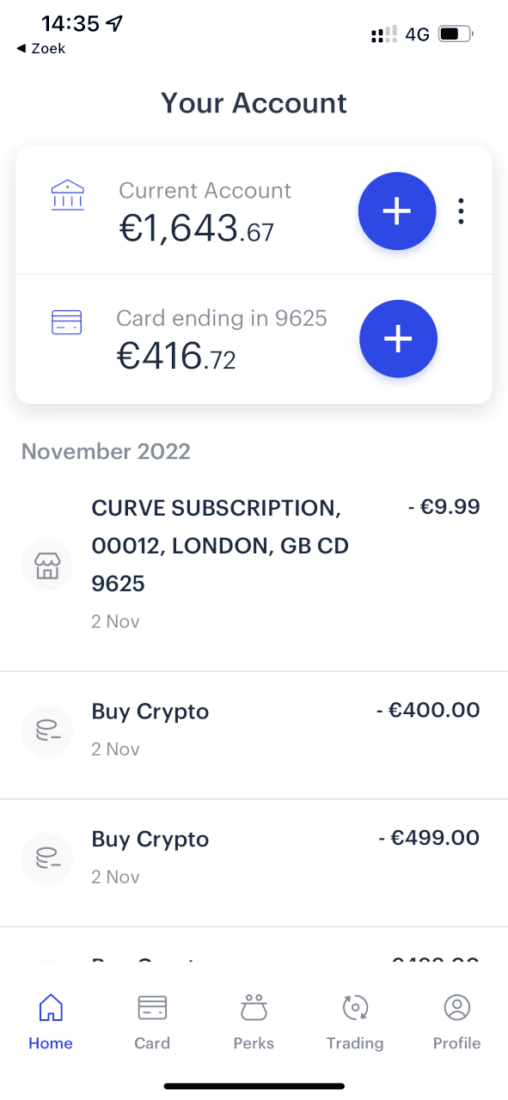 Staking PLU with Plutus
PLU is the cryptocurrency used by Plutus and allows you to unlock various perks. You also receive rewards in the form of the cryptocurrency PLU.
At Plutus, you always use an external wallet. This can be an advantage: this allows you to have full control over your cryptocurrencies. However, it can be a bit more challenging for beginners to get started.
I, personally, use the Trust wallet for my transactions at Plutus. You can easily set it up by downloading the application. It is important to store the private key so that you don't lose access to your crypto.
After your crypto wallet is connected to Plutus, you can easily buy PLU (or Ethereum) within the application. With the free subscription, you pay 1% in transaction fees, which makes it attractive to temporarily switch to a subscription for the first transaction.
It is recommended to not buy more than €500 in PLU at a time. Initially, I tried to buy €2,500 directly, but it took a long time, and I eventually had to cancel the order.
Comparison of the Three Subscriptions
At Plutus, you can use three different subscriptions, and you can compare them in the table below:
[table "173" not found /]

You pay per month, so you can switch to another subscription at any time. For example, if you buy a car or a kitchen, you can switch to the premium subscription for a month and take advantage of a significant cashback on an amount up to €22,500!
Staking and Cashback
You can unlock even more benefits at Plutus by staking PLU. There are no hard requirements: as long as you hold PLU, the requirements apply, and you can use the benefits the following month.
The table below shows the four staking levels:
[/table id=9][/table]
The benefits you can take advantage of are combinable. For example, if you have the everyday plan and stake 500 PLU, you can benefit from 5% cashback on up to €2,000 and 7 perks.
Perks at Plutus
By staking PLU or taking out a subscription, you can also benefit from perks. You must select the perks for the following month before the end of the previous month. With a perk, you get a full cashback on expenses. You can choose from the following perks at Plutus:
[table "174" not found /]
Subscriptions
Netflix: free subscription
Spotify: free subscription
Apple One: free subscription
Disney+: free subscription
Amazon Prime: free subscription
Deliveroo: free subscription
Other perks (monthly)
Apple: €10 in PLU
Asos: €10 in PLU (buy a gift voucher)
eBay: €10 in PLU
Uber Eats: €10 in PLU
Thuisbezorgd: €10 in PLU
Starbucks: €10 in PLU
Uber: €10 in PLU
Curve: €10 in PLU
Shell: €10 in PLU
Airbnb: €10 in PLU
Aldi: €10 in PLU
Sainsbury's: €10 in PLU
Lidl: €10 in PLU
Tesco: €10 in PLU
The Plutus credit card is not recognized by all providers. For example, I had problems using my Plutus credit card with Apple. You can solve this by applying for a (free) credit card at Curve. At Curve, you can add another credit card and use it as a maestro card. It is also possible to take out a paid subscription at Curve for free with PLU.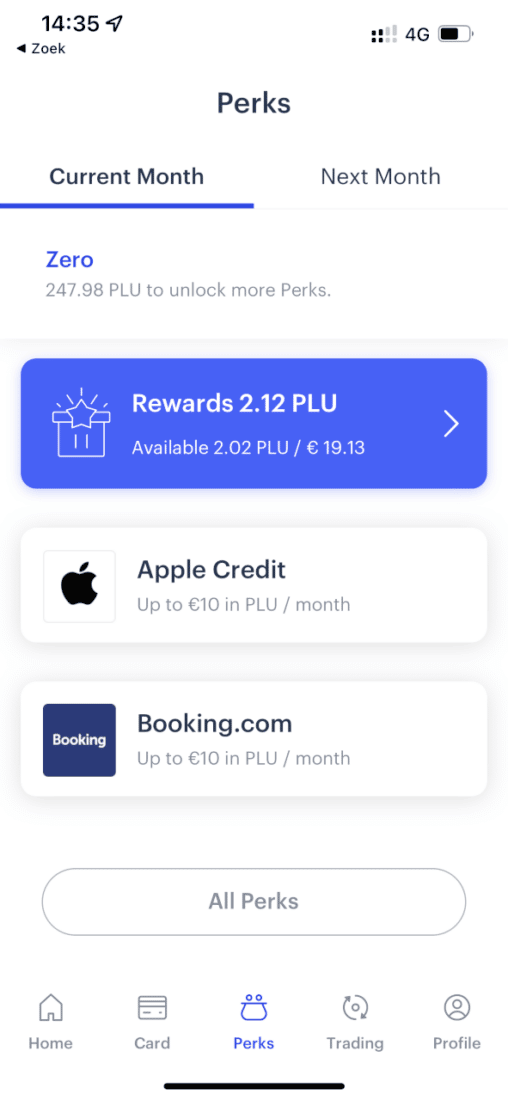 Costs of the Plutus Credit Card
With the free subscription, you pay 1% for all the PLU you buy, but you can avoid these costs by taking a paid subscription. For withdrawing PLU, you pay €5 for all subscriptions.
Transactions in your currency are free, but when you use a different currency, you pay high transaction fees: €0.57 + 1.5%. You should avoid using the Plutus credit card abroad since the transaction costs do not really offset the cashback.
You should also avoid using the Plutus credit card for withdrawing money since you pay €1.35 + 1% for this. Internationally, the costs are even higher at €1.70 + 1.5%, and you do not receive cashback on money withdrawals.
Furthermore, try to prevent mitstakes. When your transaction fails, you pay €0.15, and when withdrawing money fails, you pay €0.50.
Personally, I do not find Plutus as a credit card very attractive. However, the cashback makes it attractive to use Plutus for payments in your country and for the free perks.
Customer Service
I have used the customer service a few times, and overall, I am satisfied. It is advisable to use the live chat since emails are sometimes missed. Problems were always resolved, which gives Plutus a reliable impression.
Conclusion Plutus Credit Card
Plutus is an interesting crypto credit card because of the high cashback. Even if you would rather not spend any money on a crypto credit card, you can already benefit from 3% cashback on €250 per month and get a free perk worth €10. This means you receive €17.50 in benefits every month without any fees.
If you do a lot of online shopping or travelling, staking and perks can also be appealing. This provides you with a solid discount on all your expenses. However, it is unfortunate that the credit card is not yet very user-friendly. If it becomes easier to buy PLU and top up your credit card, Plutus might become much more popular!
Author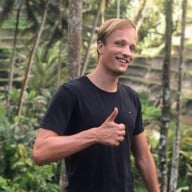 About
When I was 16, I secretly bought my first stock. Since that 'proud moment' I have been managing trading.info for over 10 years. It is my goal to educate people about financial freedom. After my studies business administration and psychology, I decided to put all my time in developing this website. Since I love to travel, I work from all over the world. Click <a href="/about-us/">here</a> to read more about trading.info! Don't hesitate to leave a comment under this article.