How to buy Reddit shares (2023)?
Reddit's IPO is coming up! Are you curious about how & where to buy Reddit stocks? In this comprehensive analysis, I discuss the strengths and weaknesses of Reddit. That way, you can decide whether this is an interesting investment for you.
You can buy Reddit stocks from one of the popular stockbrokers below. Make sure you have an account with funds ready, so you can place an order the moment Reddit shares go public:
| Brokers | Benefits | Register |
| --- | --- | --- |
| | Buy Reddit without commissions. Your capital is at risk. Other fees may apply. | |
| | Speculate with CFD's on increasing & decreasing prices of Reddit! 82% of retail CFD accounts lose money. | |
| | Benefit from low fees, an innovative platform & high security! | |
| | Speculate on price increases and decreases of Reddit with a free demo! | |
What is Reddit?
Reddit is an online platform also known as the front page of the internet. Today, it is the world's 19th most popular website and attracts around 50 million active users a day.
Reddit is popular because users can create so-called subreddits for different topics. For example, there are subreddits for gardening, stocks & life questions.
Since subreddits are sorted by different topics, it is easy for advertisers to find the right audience. This can make Reddit an appealing investment.
The value of Reddit & the IPO
Reddit was originally supposed to go public as early as 2022, but they decided to postpone the IPO. They did that because of the current market sentiment. Growth stocks perform less well currently, resulting in the shares to likely underperform after the IPO.
The exact value of Reddit is still unknown, but estimates range from $10 billion to $15 billion.
Active speculation on Reddit
Reddit could become an interesting stock for speculation. The platform became much more popular during the corona pandemic and users collectively decided to buy certain stocks as a group. As a result, the price of Gamestop shares took off like a rocket.
When Reddit users start speculating on the platform's shares in the same way, the stock price can also become very volatile. Therefore, ask yourself whether Reddit fits your risk profile.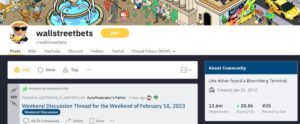 The infamous subreddit Wallstreetbets
Why could Reddit be a smart investment?
With 50 million daily visitors, Reddit is one of the largest websites in the world. Its users are also engaged and constantly share intriguing content. As a result, the high-quality content attracts many users and the website grows stronger every day.
Moreover, because specific topics are covered, advertisers can effectively target the right users. Reddit makes a lot of money from selling this ad space.
Because of the aforementioned volatility, Reddit can also be an interesting investment. If you decide to buy the share, be sure to hold on tight, as it is likely to be a wild rollercoaster ride!
What are the risks of investing in Reddit?
Reddit's strength is that its users share a lot of valuable content, but this is also a risk at the same time. For example, when users share inaccurate or racist content, the platform has to take proper action against it. If the company fails to do this, its share price could come under pressure.
Competition can additionally throw a spanner in the works. Other social networking sites are constantly fighting for the attention of their users. If a competitor manages to steal market share from Reddit, its stock price may plummet.
Reddit's share price is not known at the time of writing. Reddit's valuation is likely to be between $10 billion and $20 billion. As soon as there is more information about Reddit's (future) stock price, you'll be able to read it here.
The future of Reddit
Reddit plans to use the money raised during the IPO for further international expansion. The IPO should also help put Reddit on the map: a listing could have a positive effect on Reddit's image.
Buy Reddit stocks indirectly
Although Reddit is not yet listed on the stock exchange, you can invest in companies that co-own the company. Tencent has invested a hefty amount in Reddit.
Whether it's wise to buy Reddit stocks is ultimately up to you. The share is likely to be very volatile, so you shouldn't fear big (temporary?) losses. In any case, compare Reddit to its biggest competitors. By doing so, you can determine whether Reddit is the best stock for your portfolio.
Author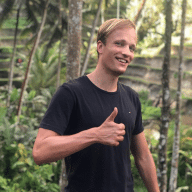 About
When I was 16, I secretly bought my first stock. Since that 'proud moment' I have been managing trading.info for over 10 years. It is my goal to educate people about financial freedom. After my studies business administration and psychology, I decided to put all my time in developing this website. Since I love to travel, I work from all over the world. Click here to read more about trading.info! Don't hesitate to leave a comment under this article.