Buying Request Network: how to invest in Request Network?
Cryptocurrencies are extremely popular these days. This is not strange when you consider that you can earn a lot of money by buying and selling different digital currencies. You can choose to actively trade cryptocurrencies yourself. However, you can also choose to invest in cryptocurrencies for the long term.
A well-known cryptocurrency that is widely invested in is Request Network (REQ). Request Network is a network that can be used as a payment system. In addition, Request Network also has its own cryptocurrency, the Request Network Token, which you can use when you want to invest in Request Network.
Where can you trade in Request Network?
A good party where you can trade cryptocurrencies such as Request Network is Plus500. At Plus500 you pay no commissions when you trade in crypto CFDs. By using short positions (besides buying), you can also speculate falling prices and because of this you can optimally anticipate on the movement of crypto's. Would you like to try the possibilities for free with a demo?  Use the button below to open a free demo immediately:
How to buy Request Network?
Request Network wants to make it possible to transfer payments easily. Request Network should make services like PayPal and Tiki redundant in the future. Do you also have faith in this vision of the future? In that case, it might be interesting to invest in Request Network by buying the cryptocurrency:
| Brokers | Information | Register |
| --- | --- | --- |
| | Speculate on increasing & decreasing crypto prices with the CFD provider Plus500 using a demo account. 82% of retail CFD accounts lose money. | |
What is Request Network?
Request Network (REQ) is a decentralized network that allows anyone to request or receive peer-to-peer payments. This network runs on the Ethereum Blockchain platform, which means that payments can be made all over the world. Thanks to this blockchain technology, it is possible to keep transaction costs extremely low.
This makes it attractive for companies to make use of this network. The Request Network is proud of the fact that they are flexible and would like to grow further in the world of digital currencies. The cryptocurrency of Request Network is the Request Network Token. The exchange rate of this token, like the network, is in full development.
The creators of Request Network
Behind Request Network is a group of experts who have extensive knowledge of the financial industry and, of course, experience with blockchain technology. The team consists of 9 professionals who also founded the platform 'Moneytis'. Moneytis is a website that allows you to make secure and fast transactions all over the world. The creators of Request Network have a clear goal.
They want to reinvent the world of commerce with the help of the network they have set up. They do this by keeping Request Network's transaction costs very low and ensuring the privacy and identity of users.  The low transaction costs and privacy are good reasons to buy Request Network crypto.
A new payment system
Request Network Token is still a relatively unknown cryptocurrency. People who already have a lot of experience with digital coins argue for a good future for the Request Network Token. This is because the platform of this crypto-currency is very extensive, which gives the crypto-currency many development opportunities.
Thus, Request Network may eventually overtake payment systems such as PayPal and credit card. Once this happens, it could be a huge boost for the implementation of crypto money in everyday life. As mentioned before, the transaction costs at Request Network are also extremely low. This ensures that this network attracts large companies and investors. This will benefit the price of the digital currency that belongs to this network.
What can I use Request Network for now?
Currently, there are 5 different applications for Request Network and the Request Network Token:
When you order things online, you can choose to pay with Request instead of other payment services. This is often safer, faster and cheaper.
It is possible to create and share invoices on the blockchain. This includes advanced payment terms such as down payments and taxes.
Request Network can also be used as a real-time accounting system that allows you to easily switch accounting providers without data migration.
Request Network can also be used to communicate financially. This is linked to a strong framework for the Internet of Things.
For government, non-government organizations and municipalities, Request Network can be used to provide budget transparency.
The future prospects of Request Network
At the moment, the future prospects for Request Network are very positive. The application of the platform has a lot of potential. As soon as cryptocurrencies become more popular, Request Network will automatically be used more and its price will rise. After all, you can use the Request Network for crypto money payments and the number of crypto money payments will increase when the crypto market grows in popularity. You do not need to own Request Network Tokens to be able to use the Request Network.
How can I purchase Request Network Token?
Are you planning to invest in Request Network? In that case, you need to buy Request Network Tokens. The Request Network Tokens are the digital coins of Request Network (REQ). This crypto money can be easily obtained through different online platforms. Some of these platforms require you to pay extra fees to purchase Request Network Tokens. It is therefore useful to first compare some of these trading platforms with each other before you buy Request Network Tokens.
Request Network Wallet
When you have bought Request Network Tokens, you need a place to keep them. After all, you do not always want to sell all your digital coins right away. There are two types of wallets you can choose between. There are digital wallets in which you can store your Request Network Tokens. Besides that, there are also hardware wallets you can use. Below is a short description of both wallets. It is important to carefully weigh the pros and cons of each wallet so you can choose the right one.
Digital wallet
A digital wallet, also known as a mobile or desktop wallet, is very convenient but less safe. A digital wallet is convenient for storing your crypto money because you can access the wallet at all times. All information about your digital currency is stored in a cloud that you can access on your phone, laptop or other device with an internet connection. This form of management is less safe because it can be susceptible to hackers.
Hardware wallet
A hardware wallet is a lot safer than a digital wallet. When you use a hardware wallet, this means you store your crypto money on external hardware like an USB stick. This type of wallet is also called an offline wallet. A hardware wallet is less vulnerable to internet criminals. However, the hardware cannot be connected to every device, which means you will not be able to access the wallet at all times.
Invest in Request Network
Once your crypto wallet is filled with Request Network Tokens, you can start investing. When investing in Request Network you spend with the expectation that eventually a return will be obtained. If you are going to invest in cryptocurrencies, you are assuming that these cryptocurrencies will automatically become more valuable and that they will generate a return. If you want to invest in Request Network, it's sensible to study the course of the price in the past beforehand and to research this token.
Strategies for investing
Simply put, there are two strategies you can use when investing in Request Network. These strategies are called the "short term" strategy and the "long term" strategy. One strategy is not much better than the other. The main issue when choosing the right strategy is which strategy suits you and which strategy suits the course of the Request Network Token.
Short-term strategy
When using the short-term strategy, you must keep an eye on the daily prices of the cryptocurrency. When you are using this strategy, it means that you are trading very actively on the crypto market. You buy and sell your digital currency on a rather short term and in doing so, you try to make as much profit as possible. Of course, you do this by selling your crypto coins when they are worth a lot.
Long-term strategy
The opposite of the short-term strategy is the long-term strategy. In this strategy you buy cryptocurrencies, and you keep them in your wallet for a longer period of time. Instead of daily prices you look at the development of the price over a longer period. You keep the cryptocurrency for a longer period of time, hoping that in the future it will increase in value. When the coins are worth a lot to you, you sell them and make a profit.
Conclusion: it is smart to invest in Request Network?
Request Network is a relatively new cryptocurrency, which is still being developed. For this very reason, it may be wise to invest in Request Network now. It is possible that this cryptocurrency will become extremely popular in the short or long term. More people will buy cryptocurrency and the value of this digital currency will rise. Therefore, Request Network will be a huge boost if it is used more often as a payment option.
However, the future of Request Network is obviously not fixed. The crypto market is a very volatile market, which makes it difficult to predict the future of this cryptocurrency. If you are planning to invest in Request Network, you must consider all the pros and cons of the network. Remember that investing in cryptocurrencies always involves risk.
Author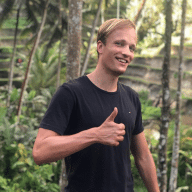 About
When I was 16, I secretly bought my first stock. Since that 'proud moment' I have been managing trading.info for over 10 years. It is my goal to educate people about financial freedom. After my studies business administration and psychology, I decided to put all my time in developing this website. Since I love to travel, I work from all over the world. Click here to read more about trading.info! Don't hesitate to leave a comment under this article.